We have a winner for our spectacular new Rosetta Stone version III Latin program! I used the website, Random Number Generator and it spit out the number 145. Hooray for Fruit Bearer! Enjoy your program. AND, as a bonus, our most excellent and fabulous Rosetta Stone friends said I could pick a second winner since we had so many entries. And so our second winner is number 247, so CONGRATS also to Jennie!
And just so you know, the offer for the $100 off of the levels 1-3 or 1-5 (for Spanish) is good thru the end of the month with the promo code hsb59
In other news, me and Coie are off to NC later today for the big convention in Winston Salem. Make sure you stop by to say hi if you're gonna be there. I can't believe how many bloggers (and non bloggers—yes, I'm talking about you, Layle) that we've met so far. That has been so fun.
And here, for your my enjoyment, I'm posting some random pictures
Here's how I spend my days: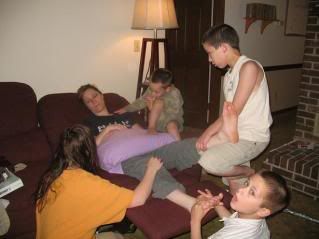 Nice, eh? Foot rubs, Knee rubs, forehead massages and arm scratches…
Um…does this not look like a terribly uncomfortable way to sleep?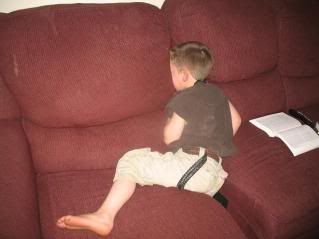 I like this picture of my daughters who love each other. The monkey on their head is an added bonus.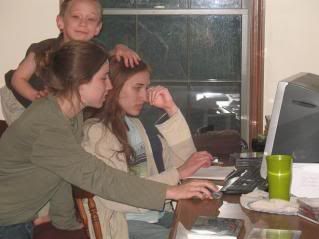 Lastly, the rental car I picked up for our trip to NC has a mind of its own. Several times as I was driving merrily down the road it decided to just start HONKING at random. Jeepers, I don't know what the rental agency is trying to pull but that's a plumb rotten trick to play on a girl. And talk about *totally mortifying* it decided to honk for a straight ten seconds as I was driving past my neighbor's house. I could just hear them inside… "There goes that weirdo homeschool lady with her billion kids". And yes, I did take that car straight back from whence it came. The rental fellows were nice enough to pretend at being sympathetic and then gave me a free upgrade (since there were no other cars on hand). Egads. I'm glad I figured out that first car was a chronic honker before taking it to NC. That's not the sort of entrance I want to make before a show.
Lastly last, since I'm still in give-away mode, you ought to check this out… my friend Lisa is giving away free e-books to all new and renewing subscribers to New Harvest Homestead. Fun, yes?
And just in… My friend Susan is also having a neat give away on her page:
And truly last, many of you have already heard that Jessica Hulcy was in a pretty bad car accident recently. Please be praying for her and her family!
And one more thing…head over to to my friend's blog and enter to win a A SpellQuizzer program!