…it's a temporary addition.  Don't get the wrong idea.
Remember how I said I was getting tired of blogging?  It's still true.  But since Jess won't leave me alone, here is a brand new exceptionally boring blog post.
Anyways, I've been too busy to blog.  Ryann's friend Tessa is here and that has kept us busy — and it's been a lot of fun.   I praise God for the relationships I have in my life, and I am so thankful that my daughter has a like minded-friend who loves God as much as she does.  Those two are a funny pair.  It's been great having her here for the week.
my ryann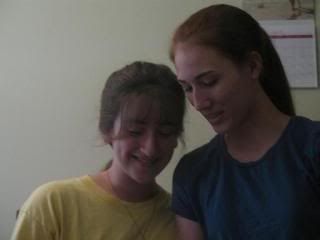 tess and ry
They met in a grocery store when we were on vacation in MI four years ago (Ryann was 11 or 12).  Ryann had spotted this family – all the girls were wearing dresses – and she starting begging to go over and introduce herself. She kept saying, "Mama? Can I go over there? I just KNOW they're homeschoolers!" I kept telling her, "That's weird, Ryann, leave them alone" but then finally I relented and she went and met her best friend.
So this last week has been the first time they've finally met in person again after four years.  I really like her whole family (Tessa's, I mean.  Well… I like Ryann's whole family, too)
In other news, uh, I can't remember.  I always post everything to Facebook straightaway because it's so much faster and easier.  But to wrap up my boring post, I will leave you with a couple of books that I'm reading.
First, I've started a book called All Things for Good by a dead Puritan fellow named Thomas Watson.  I used to think I couldn't stand the Puritans because they used to persecute other Christians who had been baptized in infancy but decided to get baptized 'for real' as adults.  The Puritans said getting baptized again dishonored God by implying the first baptism (as a baby) wasn't legit. They also had a lot of rules in place that I find nonsensical.  Never-the-less, what I didn't realize is that a lot of those Puritans were not over zealous pharisaical pompous pack-rats.  Many of them, in fact, had a true and full understanding of who (and how loving) God is, and fully grasped the gift of suffering, and had a right idea of how to pursue God.  Anyhow, that has sort of been a surprise to me. The book has been a treasure trove.
Another book that I've just recently rediscovered is a quick easy read called, Child Training Tips by Reb Bradley.  When Coie was five and Geoff and I had just gotten married, God had put a group of godly men and women into our lives who helped monumentally shape us and our philosophies early on.  One of the main issues was 'child training'.  We went to a church where the little children there were able to sit still (cheerfully!) thru out the service, and where big brothers and sisters helped their parents instead of running around like crazed lunatics.  We saw toddlers obeying quickly and cheerfully – and obeying after only being told something once!  We were astonished.  We figured they were doping everybody up or dropping crack cocaine in the church coffee maker, but no.  These families had stumbled upon very basic principals and information that has been lost to these last couple of generations. This is also where we were introduced to Homeschooling and the totally foreign idea that 'dating' was not an inevitable process that our kids would have to stumble thru.
Child Training Tips by Reb Bradley was the foundational means that Geoff the Great and I used for setting goals, teaching obedience and strengthening relationships within our family.  It has served us and our children *very* well.  It's best to get a copy of this book when your kids are young, yet still beneficial to read if they are older.
Here are some topics the book covers:
Can children obey when spoken to calmly and only one time?

How do parents accidentally train their children to disobey?

Can different children be held to the same standard?

How can one determine if a toddler understands simple directions?

What exactly is 'sass' and how can it be stopped?

How can parents help children SKIP the 'terrible twos', 'trying threes' and 'rebellious teens'?
Anyways, like I said, this book has served my family well.  I'm thankful to God that He put it in our path early on in our marriage.  Lately I've been buying copies in bulk and handing them out to everybody I love.  If you have young kids, I highly recommend it.
PS I get to meet my little new niece Eden in just six weeks!!!