The short answer is, yes… I'm tired of blogging, and no, I don't plan on starting up any time soon.  Thanks for the nice emails and such.  I've been posting on Facebook and to be honest, I really prefer that format.  It's so much more interactive and I feel like I'm actually having conversations with my internet friends rather than me just blathering on and on about this that and the other.  So add me if you have an FB account so I can keep up with you.
But I wanted to post a couple of things…
First, if you're on Facebook, you probably already know that Coie is indeed in an official courtship.  Wow, what a fun, exciting, confusing, new thing this is!  Someday Coie and I (and probably Ryann from a 'sibling's perspective') will write out the story.  I've had a lot of people ask about how we're doing things.   I've been looking (a lot!) to friends who've been thru the courtship experience.  But yes, it's an exciting time.  Our whole family is becoming pretty attached to Mr. M. Watson and we're excited to be a part of his and Coie's adventure.  If we come to mind, we'd appreciate your prayers!
I'd also like to ask you to pray for our friends, the Blacks.  We love this family and have been so blessed by their love and dedication to the bringing the gospel to parts of Africa.  We've just learned that Mrs. Black has been diagnosed with an aggressive type of uterine cancer.  Please pray for this dear family.  Dave has been chronicling their journey here
Lastly, I'd like to extend an open invitation to any believers in the Morristown/ East TN area to visit East TN Baptist Church.  The church plant that we are a part of has been growing and is such a blessing.  Email me for more info. Jeneferig @ gmail dot com It has been so exciting to be a part of this new body of believers.
Ok… that's it for now.  I will probably update sometime in the future.  I can only imagine that next year is going to be even more eventful than this one
August 14th, 2009 - Posted in Uncategorized | | 12 Comments
…it's a temporary addition.  Don't get the wrong idea.
Remember how I said I was getting tired of blogging?  It's still true.  But since Jess won't leave me alone, here is a brand new exceptionally boring blog post.
Anyways, I've been too busy to blog.  Ryann's friend Tessa is here and that has kept us busy — and it's been a lot of fun.   I praise God for the relationships I have in my life, and I am so thankful that my daughter has a like minded-friend who loves God as much as she does.  Those two are a funny pair.  It's been great having her here for the week.
my ryann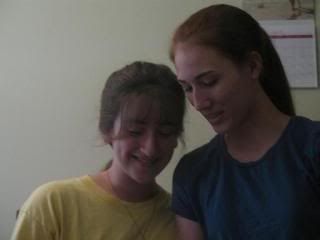 tess and ry
They met in a grocery store when we were on vacation in MI four years ago (Ryann was 11 or 12).  Ryann had spotted this family – all the girls were wearing dresses – and she starting begging to go over and introduce herself. She kept saying, "Mama? Can I go over there? I just KNOW they're homeschoolers!" I kept telling her, "That's weird, Ryann, leave them alone" but then finally I relented and she went and met her best friend.
So this last week has been the first time they've finally met in person again after four years.  I really like her whole family (Tessa's, I mean.  Well… I like Ryann's whole family, too)
In other news, uh, I can't remember.  I always post everything to Facebook straightaway because it's so much faster and easier.  But to wrap up my boring post, I will leave you with a couple of books that I'm reading.
First, I've started a book called All Things for Good by a dead Puritan fellow named Thomas Watson.  I used to think I couldn't stand the Puritans because they used to persecute other Christians who had been baptized in infancy but decided to get baptized 'for real' as adults.  The Puritans said getting baptized again dishonored God by implying the first baptism (as a baby) wasn't legit. They also had a lot of rules in place that I find nonsensical.  Never-the-less, what I didn't realize is that a lot of those Puritans were not over zealous pharisaical pompous pack-rats.  Many of them, in fact, had a true and full understanding of who (and how loving) God is, and fully grasped the gift of suffering, and had a right idea of how to pursue God.  Anyhow, that has sort of been a surprise to me. The book has been a treasure trove.
Another book that I've just recently rediscovered is a quick easy read called, Child Training Tips by Reb Bradley.  When Coie was five and Geoff and I had just gotten married, God had put a group of godly men and women into our lives who helped monumentally shape us and our philosophies early on.  One of the main issues was 'child training'.  We went to a church where the little children there were able to sit still (cheerfully!) thru out the service, and where big brothers and sisters helped their parents instead of running around like crazed lunatics.  We saw toddlers obeying quickly and cheerfully – and obeying after only being told something once!  We were astonished.  We figured they were doping everybody up or dropping crack cocaine in the church coffee maker, but no.  These families had stumbled upon very basic principals and information that has been lost to these last couple of generations. This is also where we were introduced to Homeschooling and the totally foreign idea that 'dating' was not an inevitable process that our kids would have to stumble thru.
Child Training Tips by Reb Bradley was the foundational means that Geoff the Great and I used for setting goals, teaching obedience and strengthening relationships within our family.  It has served us and our children *very* well.  It's best to get a copy of this book when your kids are young, yet still beneficial to read if they are older.
Here are some topics the book covers:
Can children obey when spoken to calmly and only one time?

How do parents accidentally train their children to disobey?

Can different children be held to the same standard?

How can one determine if a toddler understands simple directions?

What exactly is 'sass' and how can it be stopped?

How can parents help children SKIP the 'terrible twos', 'trying threes' and 'rebellious teens'?
Anyways, like I said, this book has served my family well.  I'm thankful to God that He put it in our path early on in our marriage.  Lately I've been buying copies in bulk and handing them out to everybody I love.  If you have young kids, I highly recommend it.
PS I get to meet my little new niece Eden in just six weeks!!!
June 5th, 2009 - Posted in Uncategorized | | 26 Comments
I'm excited for the weekend – more specifically I'm excited for this Monday, June the 1st. We are doing another A.T.I.C in the park, and if you are within driving distance to Pigeon Forge you really really really ought to make plans to show up.
A.T.I.C is basically a huge free garage sale. We used to do this at our church in California. Everybody is welcome to participate (even if they do not contribute). But here's the basic gist of it:
You go thru your house and put all the stuff that you don't want anymore in a big bag (or box), and then bring it to A.T.I.C and put lay it out on the different tables. Boy clothes, girl clothes, mom clothes, dad clothes, books, shoes, pots, pans, curtains, nick nacks, roller skates – whatever. And then you browse thru the tables and take whatever you want and as much as you want that others have brought. It's a real keen idea, eh?
This used to be a real life-saver for our family back in Cali. Our church actually did this every month and my kids always had clothes, schoolbooks, etc; and we always had things to contribute because we were always outgrowing things. The best part is that EVERYTHING IS FREE.
The more people who show up, the better browsing it makes. Afterwards, me, Ryann and Coie will take the leftovers to a Salvation Army (unless anybody else wants to take it home with them).
Plus it's fun to visit with everyone who shows up. Try and make it! If you want more details email me jeneferig@gmail.com.
June 1 from 11 – 2 Pigeon Forge City Park Pavillon #2.
Bring your family and a picnic lunch and come out to enjoy the fellowship!.
Restrooms are nearby as well as a great playground for the children.
May 27th, 2009 - Posted in Uncategorized | | 15 Comments
We have a winner for our spectacular new Rosetta Stone version III Latin program! I used the website, Random Number Generator and it spit out the number 145. Hooray for Fruit Bearer! Enjoy your program. AND, as a bonus, our most excellent and fabulous Rosetta Stone friends said I could pick a second winner since we had so many entries. And so our second winner is number 247, so CONGRATS also to Jennie!
And just so you know, the offer for the $100 off of the levels 1-3 or 1-5 (for Spanish) is good thru the end of the month with the promo code hsb59
In other news, me and Coie are off to NC later today for the big convention in Winston Salem. Make sure you stop by to say hi if you're gonna be there. I can't believe how many bloggers (and non bloggers—yes, I'm talking about you, Layle) that we've met so far. That has been so fun.
And here, for your my enjoyment, I'm posting some random pictures
Here's how I spend my days: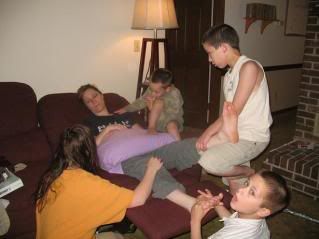 Nice, eh? Foot rubs, Knee rubs, forehead massages and arm scratches…
Um…does this not look like a terribly uncomfortable way to sleep?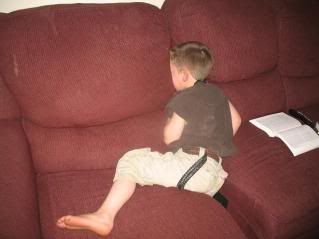 I like this picture of my daughters who love each other. The monkey on their head is an added bonus.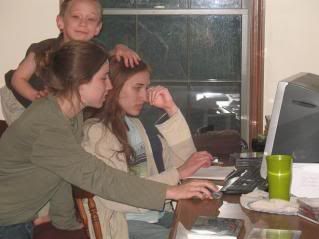 Lastly, the rental car I picked up for our trip to NC has a mind of its own. Several times as I was driving merrily down the road it decided to just start HONKING at random. Jeepers, I don't know what the rental agency is trying to pull but that's a plumb rotten trick to play on a girl. And talk about *totally mortifying* it decided to honk for a straight ten seconds as I was driving past my neighbor's house. I could just hear them inside… "There goes that weirdo homeschool lady with her billion kids". And yes, I did take that car straight back from whence it came. The rental fellows were nice enough to pretend at being sympathetic and then gave me a free upgrade (since there were no other cars on hand). Egads. I'm glad I figured out that first car was a chronic honker before taking it to NC. That's not the sort of entrance I want to make before a show.
Lastly last, since I'm still in give-away mode, you ought to check this out… my friend Lisa is giving away free e-books to all new and renewing subscribers to New Harvest Homestead. Fun, yes?
And just in… My friend Susan is also having a neat give away on her page:
And truly last, many of you have already heard that Jessica Hulcy was in a pretty bad car accident recently. Please be praying for her and her family!
And one more thing…head over to to my friend's blog and enter to win a A SpellQuizzer program!
May 20th, 2009 - Posted in Uncategorized | | 23 Comments
******* EDIT AND UPDATE – Thanks to all who entered the contest.  The winners have been chosen and were announced on the next post up.
http://jeneralities.com
Ok, so last year when Rosetta Stone let me give away a new Version III language program, it was a big big big hit. And now they are letting me do it again in celebration of the brand-spankin' new Latin course that's being rolled out this week in Version III!
Here's how you enter. Post the information below (the paragraphs between the ***'s) on your blog – and if you have multiple blogs you can enter multiple times with separate entries. Don't have a blog? You can still enter by "facebooking" the link to the contest here, OR email the info to your homeschool support group (or to homeschooling friends). Easy, yes? Make sure to include the link back to this original post when you blog and then leave a comment letting me know so I can enter you to win.
***
Rosetta Stone is the fastest way to learn a language and has been the #1 foreign language curriculum among homeschoolers for a while — and you can WIN the *all new* version 3 Rosetta Stone Homeschool LATIN program… FOR FREE! This is the first year you can get Latin in the brand new Version III update.
This is a $259 program (and believe me it's worth every penny!)
This is a computer based curriculum and Rosetta Stone will also include a headset with microphone, and a supplementary "Audio Companion" CD so you can practice lessons in the car, on the go, or where-ever! Students participate in life-like conversations and actually produce language to advance through the program. Rosetta Stone incorporates listening, reading, grammar, vocabulary and writing along with speaking and pronunciation lessons. For parents, the new Parent Administrative Tools are integrated into the program to allow parents to easily enroll up to ten students in any of 12 predetermined lesson plans, monitor student progress, grade completed work (the program grades the work automatically as the students progress- I love that!), and you can view and print reports for transcripts. Homeschooling a lot of kids at your house? This program is designed to enroll and track up to ten students (five users on two computers) and will work for nearly all ages — from beginning readers up to college students.
To win this most excellent Latin program copy these paragraphs and post them in (or as) your next blog post, and/OR link to the contest from your facebook page and/OR email the information to your homeschool support group – Then go to the original page http://Jeneralities.com and leave a comment saying that you've posted about, or have linked to, the contest. Please make sure the link works to get back to the original contest page when you post. And good luck!
****
The winner will be picked randomly next week, and notified by email. The program will be shipped to you free of charge. You may enter multiple times by posting on more than one blog and by also 'Facebooking' the contest pg link and emailing friends. Submit those entries with separate comments here on the original contest page for more chances to win. Anybody may enter. And if there are enough entries, I may try to wrench some arms over at Rosetta Stone to see if we can get more than one winner. Grin grin.
And here is a bit of additional, non-contest-related Rosetta Stone news that you might be interested in….
I have also been allowed (for the rest of May) to offer my blog readers a special discount — $100 off by entering the promo code hsb59 at checkout if you buy levels 1-3 (of any language) regular price $549. This would also include 1-5 levels for Spanish, regular price $699. I'd also like to point out that Rosetta Stone has just (this week) begun offering Latin, Tagalog (Filipino), Vietnamese and Turkish in the brand new Version III curriculum. Pretty awesome. And another new thing is Rosetta Stone is now offering levels 4&5 for Spanish (and English). Levels 1-5 is equivalent to FIVE years of language. That would look pretty awesome on a transcript.
Lastly, Rosetta Stone is now on Facebook. Become a fan at http://www.facebook.com/home.php?#/pages/Rosetta-Stone-Homeschool/74459073912?ref=ts
Ok, that's it for now. Good luck on the contest! Go post the info and come back here and leave a comment to enter. I know there are a bunch of you out there (especially you Classical Homeschooler types) who would love the brand new first level of Rosetta Stone Latin in the new Version III program… here's your chance!
YAY for FREE stuff!
May 13th, 2009 - Posted in Uncategorized | | 334 Comments
Ok, so today was a good day, even tho I broke one of the arms off my dumb reading glasses.
…as if I wasn't already nerdy enough.
We are in Arlington, TX right now. On our way out, our pilot's name was Captain Kirk. Neat-o, eh? And not once did I panic, freak out, hyperventilate, or gnaw on Coie's arm. I am becoming a total pro at flying the friendly skies.
Anyways, I hope we do well at the convention this weekend – I'm a little bummed because our booth is hidden way back in the back corner. They might have well just set us up in the broom closet. Aint no way anybody is gonna be able to find us way back in Yonder-ville. Ah, well. We shall still try and sell well.
In other news, here's a picture for Jess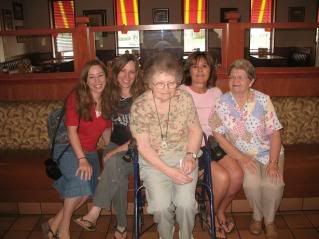 Here's Coie, Me, our Gramma Nile (my mom's mom), my cousin Beverly and my Aunt Dora. We haven't seen them in over ten years. Dora was at Jess's wedding. I love that lady. The whole group was a lot of fun and we had a real special time with them.
And lastly, since I miss my splendid kids, here's a video that Ryann recently put together. It was a response to a funny little video that one of our friends made about his brilliant, over-achieving, five year old sister (and the kid is sweet and super cute to boot). Anyhow, Ryann figured she'd put something together about her own favorite 5 year old sibling. I think it turned out cute.
Ok, I gotta go. These ridiculous glasses keep sliding off sideways and I can't hardly barely see a dang thing
May 8th, 2009 - Posted in Uncategorized | | 17 Comments
Oh my heavens, I'm about to have a heart attack.  Coie, as I type this, is outside backing up the trailer so we can get our new Whirlpool fridge into the house.  And I'm just sure that she's going to lurch sidewards and my brand new shiny appliance is going to topple over, bust thru the side of the trailer and plunk into the mud. I had to flee inside and blog to distract myself or else have an apoplectic fit.
Me and Coie and Ryann went to pick it up just now since Geoff the Great is still at work.  Coie called and found a great deal and we zipped over to Lowes (yes, Lowes) to grab it. I was feeling pretty proud about our big-girl selves, until the fellow who sold it to us wheeled it out to the parking lot and we realized that we hadn't brought any rope to tie the thing down.  The guy was kind enough to toss us a ball of dental floss.  Apparently he'd just gotten off the clock and was in a big hurry to get home. He said, "Well… here yeh go" and stomped off across the parking lot.  I spose it wasn't quite as thin as dental floss, but it sure was thin scrawny stuff.  No matter.  I am thankful for it.
And besides, we Igarashi girls are made of stern stuff (and when I say 'we', naturally I mean Coie and Ryann – I just sat in the suburban and listened to Mark Levin).  We tied it down something fierce and we *did* make it home without incident
On a side note, I'm convinced that God likes me.  How else can you explain that the VERY day that my fridge decided to conk out was the same day that Rosetta Stone sent me a check for our OH show?  Holy Moly that $$$ got here quick and I'm so so so super extra thankful for it.
Ok, I'm gonna go.  Once she gets the trailer backed into the court I might actually go out and try and help shimmy that brand new beautiful big 21 cubit foot box of frosty icy paradise into the kitchen.  Hooray for cold milk!
PS Stay tuned… Rosetta Stone said they may let me give away a brand new Version III Latin language program.  Wouldn't that be awesome?  I'll let you know soon…
PPS Me and Coie will be in Arlington, TX this weekend.  Any of you gonna be at that convention?  Make sure to stop by and say hi if you are!  And I'm going to get to see my Aunt Dora and Gramma Nile – I haven't seen them in ten years. I'm excited.
May 4th, 2009 - Posted in Uncategorized | | 13 Comments
Remember a couple posts back when I was screaming and ranting about my photobucket account not working?  Coie fixed if for me.  Gee, she's the swellest.  
Look, I told you it was spring around these here parts and I weren't lyin':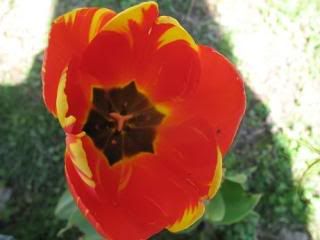 Spring. Ha. Actually, it now already feels like summer.  It was nearly 90 yesterday.  That's way too bloomin' hot.
And now since I can post pictorial stuff… Look, here's EEEEMommy from the Cinci convention. 
I think I scared her, though.  Marshie was making fun of me because every time Angel came around I was like, "oooooh, you's puh-retty".  She IS though.  She was downright gorgeous. And I like her trendy glasses. Pictures don't do her justice.
And here's a picture of my pal, Julie Park.  I'm so nice to post this picture, especially after the monstrosity of me that she slapped up on Facebook.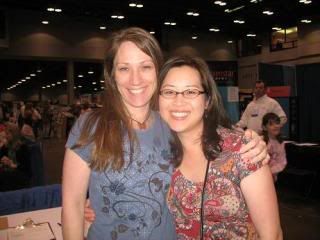 She's so deucedly tiny.  I look like an Amazon next to her.
All right, and here… here is a great gift that Emmiko, builder-of-all -things-fun-and/or-edible (or both), made for me.  I told her, "Ems, Mama wants a big big big swing".  And 20 minutes later I had this: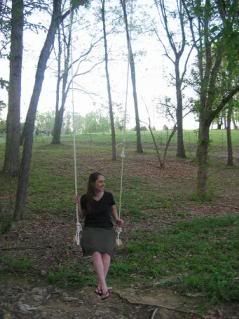 April 27th, 2009 - Posted in Uncategorized | | 23 Comments
I used a website called Truly Random Number Generator to pick our winner… and it came up with number 41.  So, yay for Kathy!  I'm glad she won because her nick name made me laugh out loud.  Catheter.  Good golly that's funny.  Enjoy the show, Kathy.  I'll send you an email to get your addy.  Thanks to everybody who played.  Some of you have got some pretty jacked-up nicknames.
So this last week has been a real treat.  Guess what my friend gave me?  Two kiwi trees!  My all time favorite fruit.  I love getting stuff.  Especially when it's something I like or that I want. I have to admit, it was a better Birthday Gift than the Schwans Meatballs and Coconut Shrimp that Geoff the Great brought home.  Not that I didn't love that, too…  I mean, really…how can meatballs *not* be considered romantic? Aren't you jealous that *you* don't own a Schwans Man?
In other news, I bought myself a present.  I just couldn't resist.  It's got all these nifty Indian songs that are just super excellent.  Here, I'll prove it to you, but make sure you get at least 1:15 seconds into it, because that's when it really starts hoppin':
Admit it.  That's the grooviest thing you've ever heard, isn't it?  This song, and the second song on the cd (Ringa Ringa) are impossible NOT to dance to.  Believe me, I tried.  You can't do it.  Even Coie was practically almost tempted to get up and bust a move with me.  But she refrained, especially when Ryann pulled out the video camera.  I am not afraid of the evidence my child obtained because I fully embrace my inner Funk and there aint nobody in the whole world who can out-dance me.  Cept for maybe this guy… or Kate Kessler. And Laurie Bluedorn.  Whatever.   
Lastly, congrats to my dear friends, George and Chris.  They had a little baby boy today!  And now Eden has somebody to grow up and marry (if one of the Lockwood boys don't scoop her up first)
April 23rd, 2009 - Posted in Uncategorized | | 14 Comments
Ok, this is highly irksome.  I just got home from the OH convention (where I was nearly robbed or worse in my hotel room – my facebook friends know what I'm talkin' bout) and now I'm back and dead tired but I'm composing this dumb post at 2:22 in the morning.  And why?  Why am I not sleeping?  I *was* sleeping soundly as a big fat snoring princess but then Geoff the Great woke me up about an hour ago.  And now an hour later, while he's asleep and snoring his head off, here I am WIDE awake. 
I spose that's ok, because I have all sorts of news to share.  We had a *really* super excellently fabulous time at the convention.  Plus, jealous you, just LOOK at all the people me and Coie got to play with:
We met Ryann's friend Tess and her mom (boy is Ryann mad she didn't get to come), Julie Park, Spunky, EEEEMommy, Amy W, Jen (Mrs. Incredible), Marshie with her crew Amy and Darcy, Christine Field, Jay Ryan along with his beautiful family, Kim Wolf and her gorgeous daughter, the Prices, Maggie the Magnifico' and her crew, Carol Barnier …and I just KNOW I'm forgetting somebody really important.  Tell me if I forgot to list you.  I know Gina D was there but I never actually got to see her because I was busy when she came by.   
Anyways, on Thursday afternoon (our first day up there) we were able to get together with the famous Home School Enrichment publishers.  Ok… can I just say how much I LOVE the Lewis family?  They are so hilarious.  And they especially love ME because they almost got me to completely promise not to start blabbing their secrets (are you guys starting to panic? HA! I love the power I wield.  I bet you wish you'd never even told me…).  But no, I will be a good friend and be content to drop non-hints and teasers.
Alright. Moving on.  I mentioned contest and I meant it.  The Lewis brothers have been telling me for a while about some so-called incredible movie that was put together by this homeschool family.  And naturally I just smiled and nodded and such whenever they'd start talking about it.  So anyways, at the convention, it just so happened that this family was there as a vendor, so young Mr. Lewis brought me over for an introduction, and then the Burns family was kind enough to give me a free copy of their DVD.
And of course at that point I was thinking, "Ok, this could very well be dreadful but I will take it home and watch it with my family anyways".  I mean seriously.  This is a homeschool family.  Not a slick Hollywood outfit.  I was envisioning two or three families running thru a neighborhood in Illinois putting on a play about King Arthur.
… fast forward to yesterday… I showed all the kids the movie cover when I got home and they were excited, because the graphics on the front really do look good.  So we set up the couches and laptop and got all cozy and set up.  Right off the bat I realized that no… we were not simply dealing with some hodge podge cutsie play.  This is a real movie, and it's actually professionally done.  Me and Geoff the Great sort of looked at each other like, "wasn't expecting this" and kept watching.  The first 20 minutes or so took a little getting used to.  Like I said, it's *not* a slick Hollywood outfit.  That being said, I think it was better done than Flywheel and Facing the Giants.  Yes, I am serious.  And yes, this is a homeschool family that put it together.
My husband, who hates it when I blog about him (because he always gets phone calls from people saying things like, "so, how's the inside of your arm doing? I heard your wife bit it really hard), anyways he told me that I had special permission to quote him about what he thought.  And for the record, my husband has a very critical eye.  But he was astounded.  He said he couldn't believe the detail they put into the sets, the soundtrack (the soundtrack was amazing), the weapons, and the costumes.  The storyline was also really good.  REALLY good.  And the fellow who plays the bad guy in the movie is one of the best actors I've ever seen.  He stole the show. 
Here is a link, watch the trailer clip on the front page.  And then to win my own personal copy, which I will mail straight to your house, all you need to do is leave a comment telling me what some of your nick names were/are thru out your life.  Why nicknames?  Because this movie is called Pendragon, which is a reference to King Arthur, and I've decided that Pendragon must have been his nickname. That's my whole story.
On another note, the movie takes place in 411 AD, right when the Roman hold on Britain was collapsing and all of Europe was falling into the Dark Ages.  The Saxons, Angles and Jutes moved into the area to seize the land for themselves.  The movie doesn't necessarily go into all of that background history, but I just wanted you to know how smart I am.  I already knew the historical background because we've been going thru Bright Ideas Press Mystery of History for the last three years.
SPEAKING OF WHICH, oh my heck, I almost had a heart attack… guess what my friend Maggie handed over and placed in my sweaty little hands for FREE? She gave me the brand new Mystery of History volume THREE that I've been drooling over for an entire year. It covers the middle ages and it is SO beautiful. I LOVE THAT WOMAN!
And on the same train of people whom I like for giving me free stuff, I ALSO ran into Jay from Cleveland (I haven't seen him in forever!) and he gave me a copy of his new astronomy book called Signs and Seasons along with a corresponding workbook.  I can't wait to start that with the kids.  They've already been pawing thru it and it looks super.
Ok, it's 2:51 now.  Hopefully I'll be able to post this fast and get some sleep.  And I didn't even go into my whole story about Geoff the Great and his new friend he met from work.  I haven't met him in person yet (his friend, I mean, I've met Geoff in person several times), but his friend did come with me and Geoff on a date last night.  We were having a cozy dinner all alone at my favorite Chinese restaurant, but instead of talking to ME, my husband was text messaging his buddy the whole time to chat about what they had for lunch earlier.  Total dorks.  Anyhow, I'm looking forward to meeting him and his wife soon.  I just found out they read my dumb blog.  How's that for pressure?
PS I am not proof reading this before I post it, so it will most assuredly have even *more* typos than usual.
Don't forget to leave comments telling me your nicknames (or your kids' nicknames) for a chance to win Pendragon, Sword of His Father I'll do a random drawing later this week.
April 20th, 2009 - Posted in Uncategorized | | 46 Comments
Next Page »