… or a choice of 21 other languages?  Drum roll please…. I'd like to announce an exciting project I've been working on (with help from a fabulous friend and a mix of other great writers / contributors).
There are several reasons why you would want to sign up for the new Rosetta Stone e-newsletter.  First and foremost, the monthly issues will be packed full of great info, helpful tips, and fun contests — and you will recognize a lot of the writers.
And trust me; you'll want to sign up right now.  Click HERE to enter your email addy (it's on the right hand side) to get on the list, and then click on the option to "view the newsletter", which will bring you to the current issue that just went out.
And why would you want to sign up right now?
Because this month you have a chance to win Level 1 of the new Rosetta Stone Homeschool Version 3 Program (language of your choice!). Enter by emailing us at homeschool@rosettastone.com with your ideas for what to name this new newsletter. If your title is chosen, you win! The winner will be notified by email, and their name will be announced in our next enewsletter.
This is (roughly) a $250 value!  So start thinking hard and come up with a great name and send your ideas in to the email addy I listed above!
PS The emails you send will go directly to my boss, so make sure you don't say anything exceptionally silly or even worse, don't blow my cover by asking questions like, "Golly Jen, how'd a dork like you get to work on such an important neat-o project like this?" 
GOOD LUCK! 
February 9th, 2009 - Posted in 2009, Uncategorized | | 19 Comments
I really have nothing particular to blog about – well, that's not absolutely true, but for some reason my kids object to me broadcasting any interesting items that are going in their lives.  They are *so* selfish.  
With that said, instead of talking about something neat-o, I will simply post a list of things wives ought not do on Valentines.
 

They should not weigh themselves.

 

Nothing good can come of it.

 
That's my whole list.  But really, that advice is good for any day.  You're welcome.
Speaking of Valentines Day, if you've been around long enough you know that I detest this dumb holiday.  It's just an excuse for women to get all worked up in frantic expectation for something they don't actually know what they want.  They are just expectant for the sake of being expectant – all they know is that they are waiting for something spectacular or by golly, their man's gonna be in trouble.
My husband never cooperates, though.  He knows I hate Valentines Day and yet he always brings me something anyway.  And this year he even jumped the gun and brought home a dozen white and dark chocolate covered strawberries.  My very favorite. 
Ok, while I'm trying to type now all of a sudden my whole room is permeated with a mix of combating fragrances. And I mean that literally. My son will not stay out of my bathroom.  He goes in there and makes the lotion bottles fight with the hairspray and perfume.  Or he takes all the toilet paper rolls out and builds a huge double-ply pyramid… how come he won't just sit down, hold still and read a book for several hours?
Ok, I'm off to get the five year old off my bathroom counter.  Oh! But before I go… Maria and her kids spent the morning at Home Depot playing with my daughter and sent these over: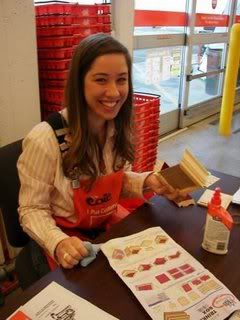 I can't believe Coie gets paid to glue stuff together.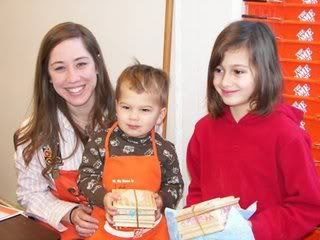 PS WHOOOO HOOOOOO Jess and Cha Cha will be here in six days!!!  And this Monday she has an ultrasound so we'll find out if I get a niece or a nephew.
 PPS The barn dance is coming up quick… are you registered yet?
 PPPS My laptop is seriously about to conk.  Any suggestions on where I can get a super cheap replacement?
February 7th, 2009 - Posted in 2009, Uncategorized | | 28 Comments
Ok, so I think I've grown out of the whole E-Harmony "get Coie hitched" phase.  Maybe I will sign her up for reals in six years if she's still in the house.  I just feel bad for Ryann because she's *never* going to get to take over Coie's room at this rate.  Actually, with Coie's luck, Ryann will be married before she is. Ha Ha. 
I must be absolutely nuts because even though I am overwhelmed with the awful thought of her ever actually leaving, I end up working against myself.  It's sort of like when you have a baby and you can't wait for them to walk and run and talk even though you just KNOW it's going to make your life 80% more complicated.  But I think I've learned my lesson.
Congrats to my beautiful friend who is expecting a new family member.
And yippee for me because Jess and Charley will be here at the end of next week.  I cannot wait to go maternity clothes / baby stuff shopping with my sister.  Did you see how cute she looked with her pregnant tummy?  This is such a fun time.
Also, I got word that Coie and I are slated to do homeschool conventions again this year for Rosetta Stone.  HOOORAY!  I will post our schedule as soon as we get it.  I'm keeping my fingers crossed for IL and FL again.  You absolutely assuredly entirely must plan on coming out to see us if we're in your area.  And I promise not to pawn Coie off on you if you have a marriageable-aged son. 
And I thought this year was going to be boring.
February 4th, 2009 - Posted in 2009, Uncategorized | | 11 Comments
EDIT UPDATE:  Just got back from the hospital.  Good news, the mass  does not look cancerous (at all) says the doctor.  He thinks it may have stemmed from an infection; so they're sending it off to the lab. But the short story is that all looks really well.  Thanks SO much for praying.  What a great relief.  Coie has more updated info posted on her page
Well this is odd after my last silly post – and I debated whether or not to mention it at all but here it goes:
Yesterday afternoon I took my oldest son, Bo, into the Dr. to have a lump in his leg checked out. The dr. did not like the looks (or feel) of it at all. So he called in another dr who also didn't like the look of it and they scheduled me to see a specialist right away.
So I took my son in this morning and the specialist said that usually they would start by giving antibiotics and watching the lump, but that instead he would rather get the tumor out sooner than later and send it off to a lab for testing.
I'm taking Bo in this Friday morning at six. He'll be put completely out while they take the mass out and then they said it will take a week or so to confirm whether or not it's cancer.
I figured you guys would pray for us, and we'd all really appreciate that. I'll try and give an update soon as I can.
January 28th, 2009 - Posted in 2009, Uncategorized | | 48 Comments
Ok… it seemed like a good idea at the time.  And I think maybe it was Ryann's fault.  She encouraged me and then helped me fill the whole thing out (which took FOREVER by the way)
But when I submitted Coie's profile on E-Harmony I didn't think it would actually go THROUGH because I didn't put in a credit card number.
So here's the kicker… the next day there were like 22 potential matches emailed to me.  Um.  Whoops.  I was actually afraid to let her know what happened – I really truly seriously did not think the profile would have gone UP.  And when Coie came home – hoooo boy — she was like,"Mama!? What. Did. You. Do?!"  Geoff the Great, on the other hand, saw the humor in it and wanted to know what the heck she was complaining about.  I love that man.
At any rate, I showed her all the friendly young fellows who were scientifically matched up to her based on 'up to 90 something similar characteristics'.  So then she started showing a nominal amount of interest (but was still glaring at me) – and she sat there as I clicked thru all the profiles mutterering things like, "No mama, he's not a missionary… no mama, he's not a farmer… no mama, he sounds like he's already dated people… no mama, his profile doesn't say anything about homeschooling…no mama, he watches TV… no mama, he's a vampire"  etc etc etc
Anyhow, I guess the good news is that my daughter will continue to stay single.  And I think she's right when she says the type of husband she's looking for wouldn't be on a 'dating' site.  And I couldn't find a 'courting site'.  Believe me.  I checked.  I'm considerate like that.
But at any rate, I think it was the most fun I've had in at least three weeks.
Now aren't you all happy that I wasn't YOUR momsie?
January 27th, 2009 - Posted in 2009, Uncategorized | | 20 Comments
What does my (almost 15-year-old) daughter Ryann do for entertainment?  I don't know that I have an apt description.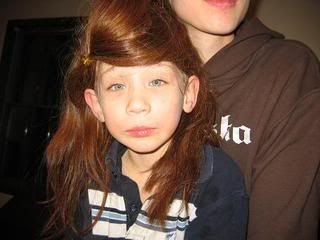 I suppose this would be Tyrannical James had he been born a red-headed girl.  Let us all be thankful he was not.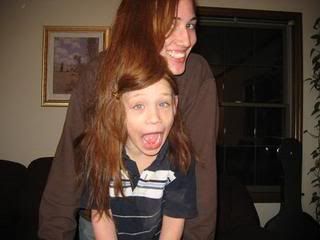 In non somewhat-disturbing news, Ryann was given an exceptionally fabulous gift by a family from our church.  Everybody loves Ryann.  They not only gave her this beautiful piano, but they also got a moving truck and brought it up and unloaded it for her.  Isn't it lovely?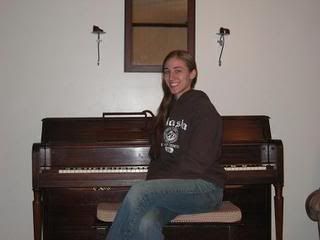 Lastly, I have some good news and some bad news.  The bad news is that last night (while Geoff was gone) we had trespassers on our property again near the barn (I think they were looking for their hunting dog).  Since we're way out in the middle of nowhere this always induces a wee bit of anxiety.  But the good news is that they found the electric fence.
BBBBBZZZZZZZZZZTTTTTTTTTTTTT !!!!! 
We heard them screaming from the goat pen. And then within seconds they, their flashlights and their dog were out of sight.  Good clean fun.
Feb 14 Barn Dance Update… we have a location and time!  Check HERE (scroll down for the updates) and register today!
January 19th, 2009 - Posted in 2009, Uncategorized | | 21 Comments
I was blessed with an over abundance of pet peeves.  Almost everything annoys me.  It's a gift.  Anyways, somewhere on the (very long) list of things that drive me nuts include 'children trying to tell me something when I'm in the bathroom'.
Usually when this happens I just bellow maniacally, "I… AM… IN… THE… BATHROOM!!!"  But every once in a while I panic about possibly missing something important.
So the other day when I was in the shower and I heard an imperative sounding BANG BANG BANG BANG BANG, I let the five year old state his case from behind the door.  It was an urgent statement followed by a question:
"Something something something something!!!… something something R-i-i-i-i-i-i-i-I-I-I-CE???!!!
Me: "WHAT?!"
"Dippy something something teeth!!… something something Ri-i-i-i-i-i-I-I-CE?!"
Me: "WHAT??!!"
"Dippy is something breaking my teeth… something something R-i-i-i-i-i-I-I-CE?!"
Me: OK HOLD ON A MINUTE!
So after getting OUT of the shower and begin investigating, I learn that the ever-so- important message that HAD to be delivered RIGHT THEN was:
"Dippy is making me some tea…. Isn't that N-i-i-i-i-i-I-I-CE?!"
In other news, I came up with a new idea to help my beginning reader.  I've been sort of unsatisfied with the reading curriculum I have for him.  I mean, I do like it (Explode the Code) but he needed extra work and the Bob Books just don't do it for him because he's a little too old to be interested in 'Meg and Her Ten Cats"
So I got a notebook with 70 sheets and I started writing one-page stories.  And I told him after he reads every single page I will take him on a date.  This has been a huge hit.  Plus, he likes the stories I write for him.  Here's an example of two:
A bunch of snow fell. The boy made a snowman.  He stuck a bomb inside the snowman and then he blew off the snowman's head.
And:
The Mom said, "If you do not clean up my room I will shoot the dog."  The good boy cleaned up her room, so then the mom shot the cat.
I wish I would have thought of this sooner.  He is begging me to write him four or five stories a day.
In other news, my non-blogging daughter has been blogging more than me lately.  Freaky Friday.
January 10th, 2009 - Posted in 2009, Uncategorized | | 18 Comments
I love living in Tennessee, but there are some weird things about the south.  Ok, let's be honest, there's sort of a lot of weird things about the south.  Anyways, Geoff the Great has been coming home from work with odd stories.  Some of the people he comes in contact with are very southern and have a plethora of distinctly southern, um, charms, that we are entirely unaccustomed to. 
He told me that over the last week he's heard pages of 'little bits of advice' for the upcoming New Year.  For instance, one lady told him that she's saving all her laundry to do on January 1 so that she won't have to do laundry for the rest of the year.  Apparently, the saying goes that anything you do after the stroke of midnight on New Years will be something you don't do for the next 364 days.  My husband promptly ended his story by telling me he'd be sleeping on the couch New Years Eve. 
He also heard that it's good luck to eat black eyed peas and hog jaw on New Years Day.  It took him forever to figure that one out because the southern customer who told him that piece of important counsel kept pronouncing it as, "Yeh'needs teh east you sum b'eyed peas and hoshzaw come New'Ears".  I don't know if I'll ever get the language down while we're out here.
In other superstitious news, according to Chinese folklore / history, we are going into the year of the Ox.  Geoff the Great happens to match up as an Ox according to his birthdate.  Last year was the year of the Rat, which happens to match up to my birthdate.  What does that mean in a practical sense?  Um.  I have no idea.
In the Philippians, children jump up and down when the clock strikes 12 to ensure they will grow taller.
In Norway a rice pudding is made with a hidden almond, the person who receives the almond is guaranteed wealth in the coming year.
I wonder how these things get started and who thinks them up. 
In other news, I hope you are making plans for the upcoming Valentines Benefit / Dance.  There are some updates here. It will be a very fun time, and it will also serve to help this beautiful family. We are really looking forward to seeing old friends and some new friends.  You should make plans to come.  It will be really special.  Plus…they say that dancing in the south on Valentines Day will keep you safe from being hit by giant meteors for the next three years.  So, um, yeah, you should definitely try and make it. 
I am glad that it is 2009.  I am looking forward to seeing what the Lord will bring our way.  I pray He will strengthen my faith, increase my love for Him and keep me, and my entire family, walking closely with Him and each other.  I pray the same for you, as well.  : )
Rejoice in Him always.  I say it again, Rejoice!
Philippians 4:4
January 1st, 2009 - Posted in 2009, Uncategorized | | 23 Comments
Everybody needs a partner.  It started with Adam.  When he named the animals and saw them all paired up, the poor fellow figured out he was lonely.  So God arranged Eve for him.  Such is life.   
So Coie, my oldest daughter, also looked about her and realized something was missing.  There was something wanting.  There was a void and an emptiness.  And… being the kind soul that she is, she went out of her way to remedy this deficiency. 
Thus, she found a wife for Banjo, our Great Pyrenees.
Is that not the most fluffiest sweetest bit of puffery that's ever walked on four legs?  Coie named her Fiddle.  And hopefully in a year or so Banjo and Fiddle will produce a basket full of duplicate Great Pyrenees.  Who says arranged marriages aren't glorious?
I have a sausage jingle stuck in my head.  It's so catchy that I can't get it out.  I hate that sausage jingle.  I will never buy Wampler's even if it is "…the best in all in the land".
Ok, in non sausage news, we had a superbly brilliant Christmas.  Once again Charley and Jess (our favorite North Pole Elves) sent the most incredible presents imaginable.  No, seriously, they should get some sort of award.  They just seem to instinctively know what to get to make people go thru the roof.
I won't list all 500 things they sent, but the highlights include a new handmade wooden butterfly necklace for me (I cried when my last one broke), an espresso/coffee maker, an Alaskan survivor video from the late 60s that puts Bear Grylls and Les Stroud to shame and other sundry delights.
The only thing Coie really really wanted was Lazy One pajammies and a wooden thumb ring, and Jess and Charley came thru big time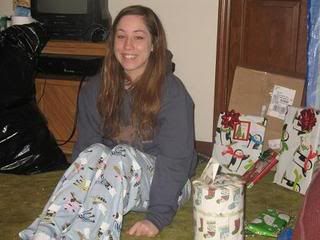 But the funnest thing they sent was an Xbox with games.  Geoff the Great and all the kids think it was the best present of all.  Me? I am happy they are happy.  For now.  But I'm guessing in about a week I will probably turn into the Xbox Game Warden Nazi.
Even the cat had fun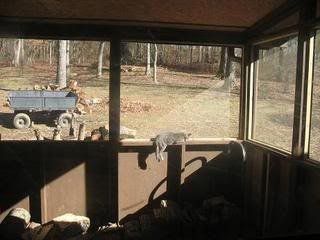 December 28th, 2008 - Posted in Uncategorized | | 20 Comments
 Just popping in with a short note to say Happy Christmas. 
I feel like a heel because I did not send out all the Christmas cards I wanted.  In particular, I missed all of my favorite blogging friends.  And now every time a card comes in from one of them, I feel like a dolt.  Anyways, I'm going to (try and) post the family video that Ryann put together within the next couple of days.  She did a great job on it. I don't really know what dolt means.  I hope I used it right.
In other news, I've not blogged for a while on account of several things.  I've been sick – and whatever I have will *not* go away.  I've also been reading a lot.  I'm going thru The Tyranny of the Status Quo by Milton Friedman (everybody in America ought to read that book), America's Gilded Age: Intimate Portraits from an Era of Extravagance and Change, 1850-1890 by Milton Rugoff (which is a biography of 35 different lives from the second half of the 19th century — superb), Future Grace, by John Piper (another book that everybody in America ought to read) and then I've started a new 1800s author, Thomas Hardy, that I am having a hard time 'getting'.
I wish I could live in a library. 
Lastly, Jess  suggested that we come up with three resolutions for the New Year. She's cute like that.  I sent her my resolutions but I was only joking around to make her laugh (Jess, don't you dare even make hints about what I said!).  But seriously, I think if I do make a resolution, it will be to blog less and to make a more concentrated effort in making and investing more time into my IRL friendships.  I have an inordinate compulsion to be very hermit-ish.  I hate phones (hate them), and I'm not good at getting together with friends (even those whom I totally love).  The internet is just so easy, you know what I mean?  But I really am a bad IRL friend, so I think I ought to maybe work on that.
Anyways, I am keeping this short.  I should be sleeping right now, but holy mozers, you should hear how loud Geoff the Great is snoring.  It's utterly beyond anything human sounding.  Seriously… why can't anybody in this great age of knowledge and progress find a simple remedy for snoring?
December 24th, 2008 - Posted in Uncategorized | | 27 Comments
« Previous Page
—
Next Page »