I'll save the most remarkable report (to me, anyways) until last, because I'd already designed to post several delightful updates from our OH trip, and I'd be loathe to leave them out, despite my very over excited anticipation to impart the news/confirmation that landed in my inbox this morning.  And you'll have to excuse any and all typos because I have not been much in the frame of mind to catch them.
Firstly first — Happy birthday to Annemarie on July 1.  I am so lucky to have four very best friends.  She is one of them and I love her dearly.
second, first of all – I'm excited because Barnes & Nobles gives 20% discounts to homeschool teachers and when we were in OH I got the following titles:
Silas Marner, by George Eliot (whom I believe is a girl.  How'd you like to be a girl named George?)
The Scarlet Letter, by Nathaniel Hawthorne (I read this one a while ago and liked it – I got it for Coie who has wanted to read it for a while)
Daniel Deronda, by George Eliot
The Woman in White, by Wilkie Collins (the cover is *so* pretty)
Wives and Daughters, by Elizabeth Gaskell (my most favorite CA Reading Chum has been telling me to read this for quite a while but I couldn't ever find it)
The Tenant of Wildfell Hall, by Anne Bronte (I'm half way thru with it and I am obsessively intrigued with this book.  It very well may be my new favorite book of all time. I can't stop reading it, but at the same time I am becoming more and more despondent because I shall soon be finished, and then all of my overwhelming delight and awe will be done and over with.  Good books ought to never have to end.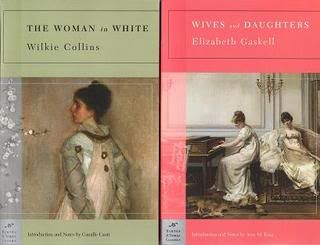 Next, guess who I got to meet?  You'll be jealous.  Blogger Angela. 
She is the sweetest, neatest lady.  I was bummed, tho, because Jen (Mrs. Incredible) *should* have been there, but she was absent.  No matter.  I've talked Angela into convincing her own family (as well as Jen's family) to move down the street from me…
Next next, Bo made the neatest 'friend' at the convention.  He met a man named Mr. McClellan — a brilliant scientist who had a never ending supply of fascinating tricks and experiments to show him.  We bought his book and my son has been devouring it.  He was also given (for free!) a very neat-o Morse Code Kit, which my son has been having a ball with.  What a nice man he was! He left quite a brilliant impression on my son.
And I also made a neat new friend.  I was standing at my booth and all of a sudden this very beautiful Asian lady came over and looked at me funny… as if she knew me.  At first I was thinking, MARSHIE??!!!!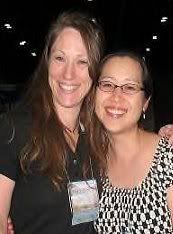 But no, it tweren't she.  And then the lady said, "It IS you!  I thought 'That looks just like Jen Ig' but you were at the Rosetta Stone booth so I didn't think it was, but your name tag proves it!"  and then, in response to my startled, 'grasping-to-remember-who-she-was' look, she told me that we hadn't met in person before, but she knew me from my articles.  She was the nicest, sweetest, encouraging person and I felt like I had instantly met a long lost friend whom I'd known forever.  
And here is where I'll preface my lead in to my truly remarkable piece of news.  My new friend said, "I was really moved by the article you wrote about a while back– the one about your son whom you gave up for adoption"  I said 'thanks' and we chatted some more and then she left, leaving me happier and more encouraged than I had been minutes earlier
Here's where things get stunning.  While I was in OH, guess who emailed me? 
But wait, first, for those of you who don't know, I'll give you a bit of background.  16 years ago, before I was saved, I was a pathetic heap of teenage depravity and despondency.  I was already a mother to Coie, and when she was two, I got pregnant again.  I had tried to get an abortion, but the sovereignty of God prevented me.  It was thru this pregnancy that I came to live with a Christian family who loved me and who 'lived out' Christ for me – even though I was a very unlovable girl.  And it was thru this crisis pregnancy that I saw my utter depravity and realized my need for a Saviour. I ended up not having an abortion, and instead, found a beautiful young couple to raise my son as their own.
He was born Feb 26, 1992, and was named Aaron. And, naturally, I have loved him and prayed for him all of his life.  Yes, it killed me to put this perfect and beautiful little boy into the arms of another, better suited mother. But I never doubted for one moment that it was the right thing to do and the best thing to do.
His mama was so kind and has always kept in touch with me – sending pictures, giving updates, etc.
Ok… so now here is the news.  When I was in OH, his momsie emailed me and said that if we were willing, they could come and visit…  THIS WEDNESDAY.  Um… pausing… blubbering like a walrus again… still weepy but sort of able to type.  I will get to see my son, and my children will get to see their brother in two days.  They are driving out to visit us and are staying two days and one night.
Can you believe that?  Am I the luckiest girl in all creation or what?  First, a year ago I was reconciled to my beautiful sister Jess – She and Charley were here just four weeks ago.  And then, this last November, I was reconciled to my father, and only last week he was here meeting (and delighting) my family for the very first time ever.  And now… within one week of that.  Ok.  Crying again.  I better go, but I will most certainly post pictures and let you know how it goes.  And also, unbelievably, they are also going up to AK in a few weeks so Jess will also get to meet her nephew.  Who is this God of ours and how is it that He has so much love for me?
June 30th, 2008 - Posted in conventions | | 46 Comments
Geographically, IL is still not my favorite state.  It's flat. Nor do I like their toll booths. And the entire state has these white floaties that drift thru the air and coast up your nose.  It looks like snow.  I'm guessing it's pollen; I know it ain't snow.  I was not expecting IL to be so hot.  BUT, I am in love with IL because everybody who lives here is entirely excellent.  This trip has been unbelievable so far.
It even started out fun.  I wanted to post a picture of the vanilla PT Cruiser rental we ended up with, but didn't get around to it.  It's super cute.  Originally we had ordered a little puny car from Enterprise, but they accidentally ran out of everything Matchbox so we had to make do with a free upgrade.  This is one fun car.  I like how the doors sound when you shut them: "FwwhhhUUUMMP", instead of " tink " like the little rental we took to FL.
Anyhow, on our way up we make good use of our driving time (I'll be posting the videos in my next post especially for Marshiemellow).  
When we got to Il, the first thing we did was head over to the fancy Bolingbrook Mall to do some shopping because I wanted to get a swim suit and Coie wanted to get some clothes.  This is how our shopping date conversation went :
"Hey mama, do ya like this skirt?"
"Totally. Very cute.  I'll be happy to borrow it"
"Is it $45 cute?"
"Um…"
"How bout this skirt?"
"Cute"
"$25 cute?"
"Um…"
"How bout this one?"
"Uhhhh… how bout we just go clothes shopping at Meijers?"
"That's a grocery store"
"Good.  I need some bananas"
Anyways, I did not find a bathing suit, but I still went swimming in shorts and a shirt when we got to the hotel.  That was the first time I've been swimming in a pool for like 12 years.  Last year I swam in a lake (sorta gross, but my kids were ecstatic).  It's pretty good exercise.  I think I lost 40 pounds.  I'm still sore.
Ok, so then the next day was a real treat.  Unbeknownst to us, one of our very very awesome friends, Trish Tirado, was in Chicago, she happened to have come up from SC to meet with some people (who we were also planning to get together with).  We haven't seen her in person for almost a year and a half. We were very excited.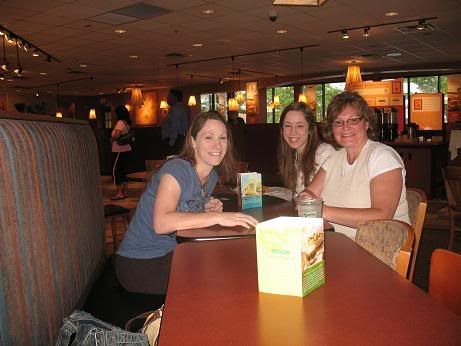 Then later on that same afternoon we had lunch with the Lewis family – the famous publishers of Home School Enrichment (and also upcoming movie stars)  They are *very* fun;  Mr. Lewis belongs on a stand up comedy stage. 
We had a fabulous time (they are all lined along the left hand row… sort of looks like we're getting ready for a round of Family Feud– admit it, you suddenly have that theme song playing in your head now, don't you?).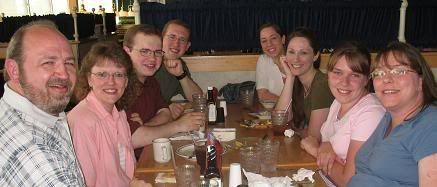 And our "publisher" friends, the Masloskes, came too (front right hand side).  They drove out to Naperville to help us at our Rosetta Stone booth. I love this family!  We have had more fun than we've known how to process.  We've also eaten more Chinese food in the last two days than I've eaten all year.  That's what happens when you get a six month pregnant lady in your group.  All she wants to eat is egg rolls.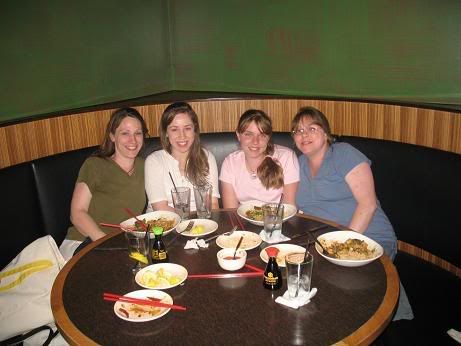 I keep accidentally forgetting that we're up here to WORK.  The convention has gone awesomely well so far. And check out this cute kid who wandered by our booth: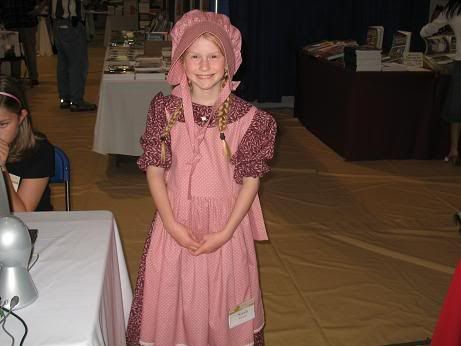 Isn't she darling? – and get this, her last name is Farmer.  It just doesn't get any sweeter than that.  I really would have liked to bring this one home with me.
Another huge highlight was having dinner with the lovely Mrs. Bluedorn.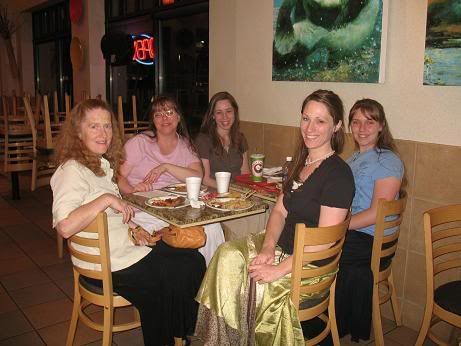 What an amazing lady.  I am very honored to count her as a friend.  We had a lovely and encouraging time, even tho *somebody* was sorely missed at our party.  If you have not checked out the resources from Trivium Pursuit, I highly recommend that you do.  Laurie is also live blogging the ICHE convention, so you can see what's going on at this link
Ok, I need to go to bed, tomorrow is our last day and I have a feeling it's gonna be busy. 
June 7th, 2008 - Posted in conventions | | 27 Comments
I really like WordPress. This is cool. I am having fun figuring out all the options and stuff. I am not sure if you have to have an account to leave a comment but I am going to try and set it up so that it doesn't.  I'm all about making things easy.
And thanks for the billions of emails and kind words being sent.  I appreciate the concern, but I am sure you will understand why I'm not giving any concrete explanations.  Geoff and I are praying (as we have been for the last year) that in the end God will be glorified and that we will do things biblically and in a spirit of love and gentleness and maintain a true desire for restoration – and that we would be quick to repent for words, thoughts or attitudes that are counterproductive (yet so tempting to fall in to).  
Geoff and I were going over some of the emails you've sent this morning and have been so blessed and really surprised at the tremendous love from brothers and sisters whom (for the most part) we only know thru the blogosphere.  You guys are cool.  I do not take your friendship for granted.  And I appreciate your ongoing prayers.
I had also wondered what my traffic would be since my long-time blog home is unable to give a forwarding address, but I was surprised to see that my traffic (according to my site meter) is higher than what I normally get.  So apparently it hasn't been too hard to find me.  Either that or it's just that train wrecks have a tendency to quickly draw a big crowd.
Lastly, thank you to all and any of you who have put up a quick note on your own pg to let others know where to find me.  I appreciate that.
And lastly for reals, I will try and blog again in IL.  I am super excited about the ICHE convention.  Me and Coie are gonna have *big-time* fun.  I can't believe I am this excited about another 10 hour road trip.  I can't help it.  It's splendid.  Me and Coie are getting really good at singing in harmony together.  I might have to post a video soon… 
I gotta go pack!
June 3rd, 2008 - Posted in conventions | | 37 Comments
What a weekend, there's just too much to tell. This was by far the funnest trip so far. I guess I should start with the most important highlight: Me and Coie went to Chevys three times.
It was pretty much all we ate over the whole weekend. The first time we went I almost cried. After dinner Coie and I both got ridiculously giddy. I ordered the same thing every time. Soft chicken taco (no tomatoes) flautas with chipotle sauce — but most importantly, four baskets of chips and 14 bowls of salsa. And that is no exaggeration. Phylis and Jennifer E, came with us on and they will testify.
Actually, when Phylis was with us we needed 28 bowls of salsa. She is my Chevys soul-sistah.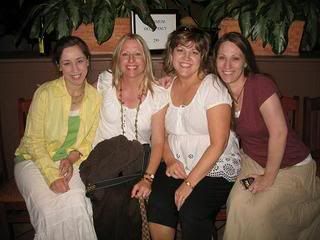 Coie, Jennifer E (my wardrobe twin) Phyllis (does she look like a Phyllis?!!?) and me
Ok, to be honest, the real highlight was seeing all my friends. First, we stopped part way thru SC to see Shayand her fam. Here they are with Coie (minus Mr. Shay)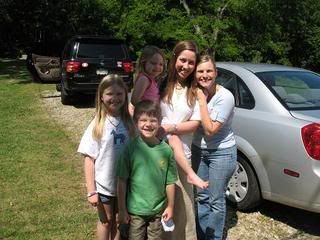 I love this family so much. I wish we could have stayed longer. But they are gonna come stay with us for a week in Aug. As we were leaving, her little girl came charging out of the house with an old box and ran up and said she had a present for me. So I peeked inside and saw a very much-loved doll. When she handed it to me, she looked like she might cry, but she insisted she wanted me to have it. Then I looked like I was about to cry.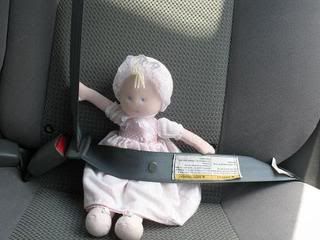 We are taking good care of her.  We named her Daisy-melon, and she was a great help at the convention.  She carried all the heavy luggage for us. 
Ok, so when we got to Orlando it was a shocker… Florida is CIVILIZED. Restaurants, shopping malls, neighborhoods with sidewalks. Weird. At first, me and Coie didn't know what to do with ourselves.  Oh yeah, but before that, it took us a total of 15 hours to drive there. That was on account of me having to hit rest stops every 15 minutes and then our trip was considerably lengthened when a semi burst into flames and we were trapped in a line of cars on the freeway for two hours. Felt like 12 hours. 
Anyhow, on Thurs, before the convention started, me and Coie splurged and treated ourselves to a pedicure at a fancy spa. It was the best $25 I've ever spent.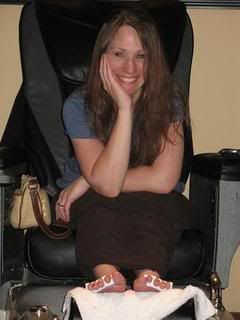 This was the first time we've gotten our toesies done in three years. That was great fun. And look how original we are… we picked the same nail color and got the same design.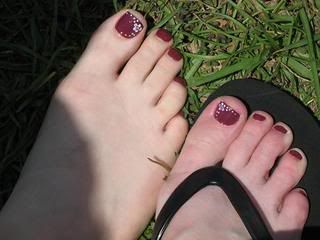 The other major highlights were seeing bloggers Kim , Judi and (two)Lisa('s). Kim brought me a huge bag of presents from South Carolina INCLUDING a big bag of chocolate covered caramels. Apparently "thieving children" is genetic because Coie practically ate the whole thing before I got *any*. And she was entirely unrepentant.
And thanks to Judi, we were able to stay alive. She kept stopping by to make sure we were ok and kept us supplied with peanut butter crackers.  For the record, I did NOT get to spend enough time with Kim and Judi… and I also was very sad that Micki and Jo's Boys were not there. 
We also partied with Maggie Hogan one of the nights we were there. Since she is a big-time speaker, FPEA put her up in a hospitality suite. Just guess what the room occupancy sign said for her room? SEVENTY SIX. Good Heavens. I think there were about 10 of us and I can't tell you anything that happened up there. You wouldn't believe me anyways. Maggie's crew is Cuh–RAZY. I just hope they don't get charged for the guitar amps they threw off the balcony. 
So anyways, I am in the car right now on the way home and we're listening to Blue Man group to keep awake. I cannot WAIT to pull up to my house because my sister and her most excellently awesome husband are there waiting for us. Hopefully my most excellently awesome husband is also there along with my kids — it is unlikely they even realize I am gone with Jess and Chachi there. This is shaping up to be the best summer of my life. 
And oh yeah, the 'convention part' was exceptionally smashing. We sold an incredible amount of programs (even more than the other two shows!). Simply thrilling. What an inconceivable blessing.
May 26th, 2008 - Posted in conventions | | 17 Comments
Lucky for me, no kidney issues yet.  We fly out of Boston tomorrow, so hopefully it'll stay a non-issue till I get to my cozy little house. Thanks for all the tips and the helpful-hint emails.  You guys are awesome.
And the conference went really well. Superbly well, actually. This job is *the* greatest.  I love Rosetta Stone, and they even surprised us by having lunch delivered to us both days.  That's just plum nice.  And see? I finally got my affiliate banner up over there in my side bar, so iffen you're planning to buy the greatest language program know to humankind, feel free to buy it over here
And the workshop I taught went well. As tempting as it was, I ended up *not* giving the presentation in song or with dance numbers.  A lot more people showed up than I expected. But I didn't get nervous at all, and it was nice because everybody asked a lot of good questions. 
One of the best parts of the weekend was getting to hang out with fellow blogger, Prodoceo.  She and her crew were manning the Alpha Omega table.  She is so great – despite the fact she is extraordinarily pretty (seriously, it was intimidating).  Me and Coie went with her whole crew to a 50's diner the first night and we had a great time.  Our waitress's name was Flo.  How can you not have fun when you have a waitress named Flo? I hope I get to see her again soon (Prodoceo I mean… not Flo).  One warning tho… do not drive with that lady.  S.C.A.R.Y.  Linda, next time let me drive, K?
 And the saddest part of the weekend was seeing Maggie Hogan the Magnifico …but only in passing.  We didn't get to hang out once — talking in the convention hall just doesn't count..  No worries, tho, we've got a party planned for our trip to FPEA.  Whoo hoooo!  I wish I would have gotten a picture of her.  My eyes popped out when I saw her. She has lost like 100 pounds.  She looks like a super model.  
In other news, taxi drivers are not normal.  I never knew that before. *yipes*  But I figured out that I do like MA.  It looks nothing like what I pictured.  I mean, you can't even SEE it on the map.  I figured it would just be a little hill with about four streets, but it's actually big enough to hold two cities.  And it's really beautiful.  So that was fun.
So now we're done with trips until the end of May.  It'll be good to get back to the farm.  Happy sigh. 
April 26th, 2008 - Posted in conventions | | 0 Comments
The winner for this contest has been chosen.  Thanks for participating!
Coie and I are going to rep for Rosetta Stone at homeschool conventions this season, right? AND lucky for us, we are also getting a language program (Spanish) for our whole family to go thru.  They are launching an *all new* program on March 24 and hooooooo boy is it ever a humdinger! The new curriculum will be available in three levels for each of the 14 languages released.  This is not just the same Rosetta Stone program redone, it's an all new curriculum.  And hip hip hooray, Ryann is now covered for her High School foreign language requirement! yippppeeee!
Ok… but here is the cool part. Being naturally prone to ask for free stuff, I said, "Um… hey, how about you guys let one of my fellow bloggers win something… ?"  So without batting an eyelash they said, "Sure, we'll give the winner the ALL NEW Rosetta Stone Homeschool Version 3, FREE"  I'm telling you,  I *love* those guys!  So, without further ado, here's the contest:
Rosetta Stone has been the #1 foreign language curriculum among homeschoolers for a while — next week they are unleashing a brand new curriculum, and you can WIN the *all new* Rosetta Stone Homeschool Version 3… FOR FREE! 
This is a $219 program (and believe me it's worth every penny!) and the winner gets to pick from any of these 14 languages: Spanish (Spain or Latin America), English (American or British), Arabic, Chinese, Japanese, French, German, Italian, Portuguese, Irish, Hebrew, or Russian.
This will also include a headset with microphone, and students will participate in lifelike conversations and actually produce language to advance through the program.  Rosetta Stone still incorporates listening, reading and writing as well, in addition to speaking.  Many homeschoolers requested grammar and vocabulary exercises, and with Rosetta Stone Homeschool Version 3, they're included!  For parents, the new Parent Administrative Tools are integrated into the program and allow parents to easily enroll students in any of 12 predetermined lesson plans, monitor student progress, and view and print reports. 
To win this most excellent program — in the language of your choice — copy these (blue) paragraphs and post it in (or as) your next blog post — then to enter the contest, go to the original contest page HERE: http://www.homeschoolblogger.com/JenIG/501132/  and leave a comment with the link showing where you blogged about it.  And please make sure the link works to get back to the original contest page when you post it.  And good luck!  The winner will be picked randomly on March 26, and will be notified thru the link they left to their blog pg.   And if you have more than one blog, you can post them and enter those separately for more chances to win.   Yay for free stuff!

March 19th, 2008 - Posted in conventions | | 367 Comments