******* EDIT AND UPDATE – Thanks to all who entered the contest.  The winners have been chosen and were announced on the next post up.
http://jeneralities.com
Ok, so last year when Rosetta Stone let me give away a new Version III language program, it was a big big big hit. And now they are letting me do it again in celebration of the brand-spankin' new Latin course that's being rolled out this week in Version III!
Here's how you enter. Post the information below (the paragraphs between the ***'s) on your blog – and if you have multiple blogs you can enter multiple times with separate entries. Don't have a blog? You can still enter by "facebooking" the link to the contest here, OR email the info to your homeschool support group (or to homeschooling friends). Easy, yes? Make sure to include the link back to this original post when you blog and then leave a comment letting me know so I can enter you to win.
***
Rosetta Stone is the fastest way to learn a language and has been the #1 foreign language curriculum among homeschoolers for a while — and you can WIN the *all new* version 3 Rosetta Stone Homeschool LATIN program… FOR FREE! This is the first year you can get Latin in the brand new Version III update.
This is a $259 program (and believe me it's worth every penny!)
This is a computer based curriculum and Rosetta Stone will also include a headset with microphone, and a supplementary "Audio Companion" CD so you can practice lessons in the car, on the go, or where-ever! Students participate in life-like conversations and actually produce language to advance through the program. Rosetta Stone incorporates listening, reading, grammar, vocabulary and writing along with speaking and pronunciation lessons. For parents, the new Parent Administrative Tools are integrated into the program to allow parents to easily enroll up to ten students in any of 12 predetermined lesson plans, monitor student progress, grade completed work (the program grades the work automatically as the students progress- I love that!), and you can view and print reports for transcripts. Homeschooling a lot of kids at your house? This program is designed to enroll and track up to ten students (five users on two computers) and will work for nearly all ages — from beginning readers up to college students.
To win this most excellent Latin program copy these paragraphs and post them in (or as) your next blog post, and/OR link to the contest from your facebook page and/OR email the information to your homeschool support group – Then go to the original page http://Jeneralities.com and leave a comment saying that you've posted about, or have linked to, the contest. Please make sure the link works to get back to the original contest page when you post. And good luck!
****
The winner will be picked randomly next week, and notified by email. The program will be shipped to you free of charge. You may enter multiple times by posting on more than one blog and by also 'Facebooking' the contest pg link and emailing friends. Submit those entries with separate comments here on the original contest page for more chances to win. Anybody may enter. And if there are enough entries, I may try to wrench some arms over at Rosetta Stone to see if we can get more than one winner. Grin grin.
And here is a bit of additional, non-contest-related Rosetta Stone news that you might be interested in….
I have also been allowed (for the rest of May) to offer my blog readers a special discount — $100 off by entering the promo code hsb59 at checkout if you buy levels 1-3 (of any language) regular price $549. This would also include 1-5 levels for Spanish, regular price $699. I'd also like to point out that Rosetta Stone has just (this week) begun offering Latin, Tagalog (Filipino), Vietnamese and Turkish in the brand new Version III curriculum. Pretty awesome. And another new thing is Rosetta Stone is now offering levels 4&5 for Spanish (and English). Levels 1-5 is equivalent to FIVE years of language. That would look pretty awesome on a transcript.
Lastly, Rosetta Stone is now on Facebook. Become a fan at http://www.facebook.com/home.php?#/pages/Rosetta-Stone-Homeschool/74459073912?ref=ts
Ok, that's it for now. Good luck on the contest! Go post the info and come back here and leave a comment to enter. I know there are a bunch of you out there (especially you Classical Homeschooler types) who would love the brand new first level of Rosetta Stone Latin in the new Version III program… here's your chance!
YAY for FREE stuff!
May 13th, 2009 - Posted in Uncategorized | | 334 Comments
Ok, so today was a good day, even tho I broke one of the arms off my dumb reading glasses.
…as if I wasn't already nerdy enough.
We are in Arlington, TX right now. On our way out, our pilot's name was Captain Kirk. Neat-o, eh? And not once did I panic, freak out, hyperventilate, or gnaw on Coie's arm. I am becoming a total pro at flying the friendly skies.
Anyways, I hope we do well at the convention this weekend – I'm a little bummed because our booth is hidden way back in the back corner. They might have well just set us up in the broom closet. Aint no way anybody is gonna be able to find us way back in Yonder-ville. Ah, well. We shall still try and sell well.
In other news, here's a picture for Jess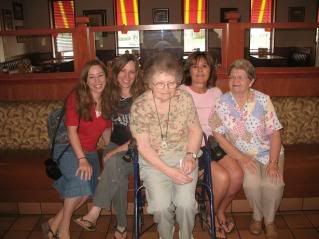 Here's Coie, Me, our Gramma Nile (my mom's mom), my cousin Beverly and my Aunt Dora. We haven't seen them in over ten years. Dora was at Jess's wedding. I love that lady. The whole group was a lot of fun and we had a real special time with them.
And lastly, since I miss my splendid kids, here's a video that Ryann recently put together. It was a response to a funny little video that one of our friends made about his brilliant, over-achieving, five year old sister (and the kid is sweet and super cute to boot). Anyhow, Ryann figured she'd put something together about her own favorite 5 year old sibling. I think it turned out cute.
Ok, I gotta go. These ridiculous glasses keep sliding off sideways and I can't hardly barely see a dang thing
May 8th, 2009 - Posted in video | | 17 Comments
Oh my heavens, I'm about to have a heart attack.  Coie, as I type this, is outside backing up the trailer so we can get our new Whirlpool fridge into the house.  And I'm just sure that she's going to lurch sidewards and my brand new shiny appliance is going to topple over, bust thru the side of the trailer and plunk into the mud. I had to flee inside and blog to distract myself or else have an apoplectic fit.
Me and Coie and Ryann went to pick it up just now since Geoff the Great is still at work.  Coie called and found a great deal and we zipped over to Lowes (yes, Lowes) to grab it. I was feeling pretty proud about our big-girl selves, until the fellow who sold it to us wheeled it out to the parking lot and we realized that we hadn't brought any rope to tie the thing down.  The guy was kind enough to toss us a ball of dental floss.  Apparently he'd just gotten off the clock and was in a big hurry to get home. He said, "Well… here yeh go" and stomped off across the parking lot.  I spose it wasn't quite as thin as dental floss, but it sure was thin scrawny stuff.  No matter.  I am thankful for it.
And besides, we Igarashi girls are made of stern stuff (and when I say 'we', naturally I mean Coie and Ryann – I just sat in the suburban and listened to Mark Levin).  We tied it down something fierce and we *did* make it home without incident
On a side note, I'm convinced that God likes me.  How else can you explain that the VERY day that my fridge decided to conk out was the same day that Rosetta Stone sent me a check for our OH show?  Holy Moly that $$$ got here quick and I'm so so so super extra thankful for it.
Ok, I'm gonna go.  Once she gets the trailer backed into the court I might actually go out and try and help shimmy that brand new beautiful big 21 cubit foot box of frosty icy paradise into the kitchen.  Hooray for cold milk!
PS Stay tuned… Rosetta Stone said they may let me give away a brand new Version III Latin language program.  Wouldn't that be awesome?  I'll let you know soon…
PPS Me and Coie will be in Arlington, TX this weekend.  Any of you gonna be at that convention?  Make sure to stop by and say hi if you are!  And I'm going to get to see my Aunt Dora and Gramma Nile – I haven't seen them in ten years. I'm excited.
May 4th, 2009 - Posted in Uncategorized | | 13 Comments