I'll save the most remarkable report (to me, anyways) until last, because I'd already designed to post several delightful updates from our OH trip, and I'd be loathe to leave them out, despite my very over excited anticipation to impart the news/confirmation that landed in my inbox this morning.  And you'll have to excuse any and all typos because I have not been much in the frame of mind to catch them.
Firstly first — Happy birthday to Annemarie on July 1.  I am so lucky to have four very best friends.  She is one of them and I love her dearly.
second, first of all – I'm excited because Barnes & Nobles gives 20% discounts to homeschool teachers and when we were in OH I got the following titles:
Silas Marner, by George Eliot (whom I believe is a girl.  How'd you like to be a girl named George?)
The Scarlet Letter, by Nathaniel Hawthorne (I read this one a while ago and liked it – I got it for Coie who has wanted to read it for a while)
Daniel Deronda, by George Eliot
The Woman in White, by Wilkie Collins (the cover is *so* pretty)
Wives and Daughters, by Elizabeth Gaskell (my most favorite CA Reading Chum has been telling me to read this for quite a while but I couldn't ever find it)
The Tenant of Wildfell Hall, by Anne Bronte (I'm half way thru with it and I am obsessively intrigued with this book.  It very well may be my new favorite book of all time. I can't stop reading it, but at the same time I am becoming more and more despondent because I shall soon be finished, and then all of my overwhelming delight and awe will be done and over with.  Good books ought to never have to end.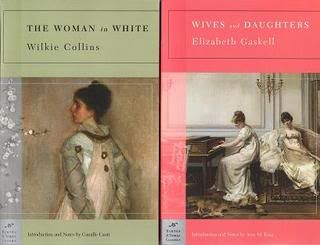 Next, guess who I got to meet?  You'll be jealous.  Blogger Angela. 
She is the sweetest, neatest lady.  I was bummed, tho, because Jen (Mrs. Incredible) *should* have been there, but she was absent.  No matter.  I've talked Angela into convincing her own family (as well as Jen's family) to move down the street from me…
Next next, Bo made the neatest 'friend' at the convention.  He met a man named Mr. McClellan — a brilliant scientist who had a never ending supply of fascinating tricks and experiments to show him.  We bought his book and my son has been devouring it.  He was also given (for free!) a very neat-o Morse Code Kit, which my son has been having a ball with.  What a nice man he was! He left quite a brilliant impression on my son.
And I also made a neat new friend.  I was standing at my booth and all of a sudden this very beautiful Asian lady came over and looked at me funny… as if she knew me.  At first I was thinking, MARSHIE??!!!!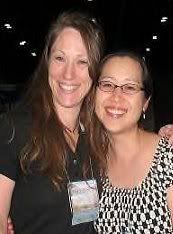 But no, it tweren't she.  And then the lady said, "It IS you!  I thought 'That looks just like Jen Ig' but you were at the Rosetta Stone booth so I didn't think it was, but your name tag proves it!"  and then, in response to my startled, 'grasping-to-remember-who-she-was' look, she told me that we hadn't met in person before, but she knew me from my articles.  She was the nicest, sweetest, encouraging person and I felt like I had instantly met a long lost friend whom I'd known forever.  
And here is where I'll preface my lead in to my truly remarkable piece of news.  My new friend said, "I was really moved by the article you wrote about a while back– the one about your son whom you gave up for adoption"  I said 'thanks' and we chatted some more and then she left, leaving me happier and more encouraged than I had been minutes earlier
Here's where things get stunning.  While I was in OH, guess who emailed me? 
But wait, first, for those of you who don't know, I'll give you a bit of background.  16 years ago, before I was saved, I was a pathetic heap of teenage depravity and despondency.  I was already a mother to Coie, and when she was two, I got pregnant again.  I had tried to get an abortion, but the sovereignty of God prevented me.  It was thru this pregnancy that I came to live with a Christian family who loved me and who 'lived out' Christ for me – even though I was a very unlovable girl.  And it was thru this crisis pregnancy that I saw my utter depravity and realized my need for a Saviour. I ended up not having an abortion, and instead, found a beautiful young couple to raise my son as their own.
He was born Feb 26, 1992, and was named Aaron. And, naturally, I have loved him and prayed for him all of his life.  Yes, it killed me to put this perfect and beautiful little boy into the arms of another, better suited mother. But I never doubted for one moment that it was the right thing to do and the best thing to do.
His mama was so kind and has always kept in touch with me – sending pictures, giving updates, etc.
Ok… so now here is the news.  When I was in OH, his momsie emailed me and said that if we were willing, they could come and visit…  THIS WEDNESDAY.  Um… pausing… blubbering like a walrus again… still weepy but sort of able to type.  I will get to see my son, and my children will get to see their brother in two days.  They are driving out to visit us and are staying two days and one night.
Can you believe that?  Am I the luckiest girl in all creation or what?  First, a year ago I was reconciled to my beautiful sister Jess – She and Charley were here just four weeks ago.  And then, this last November, I was reconciled to my father, and only last week he was here meeting (and delighting) my family for the very first time ever.  And now… within one week of that.  Ok.  Crying again.  I better go, but I will most certainly post pictures and let you know how it goes.  And also, unbelievably, they are also going up to AK in a few weeks so Jess will also get to meet her nephew.  Who is this God of ours and how is it that He has so much love for me?
June 30th, 2008 - Posted in conventions | | 46 Comments
46 Responses to ' Another Unexpected and Astounding Visit '



WOW!!! – HE is our AWESOME GOD!!! That is exactly the article I was referring to in my comment on your last post! Jen, this is very neat and special. I am very, very happy for you! Keep us updated…wow…

Angela




This would almost be unbelievable, except that we serve an awesome God who able to do exceeding, abundantly above all that we ask or think. I'm excited for and with you all and can't wait to see pics!




Oh, my that is such awesome news. The Lord is so awesome in how He blesses us. I can't wait to hear all about it and see the pictures. 🙂
JoAnn




That is SOOOO awesome and so amazing! I can't wait to hear how it goes!!

Oh, and George Eliot's real name is Maryann (or Marian) Evans. And I love THE TENANT OF WILDFELL HALL. It's a much unknown Bronte book!




A good Father knows how to give good gifts. AMEN, or WHAT!!!! wow.

I am so happy that the ugliness of our pasts doesn't stop God from seeing the beauty that's still there. Afterall, we were made in His image, right?

I was just thinking last night how depressing it would be to have me for a daughter. Why does God pursue me so much? I'm totally a dork and not worth it….I don't spend enough time with Him, and am just plain unworthy.

But again….a Good Father knows how to give good gifts….He's a giver at heart. He just has been waiting to save up this AAAWESOME gift of getting to see your son that you DID NOT abort, but you gave him life. wow. double wow. He's been saving up this big one.
wow.
I think I'm rambling now, but I'm pretty overwhelmed with God today.




Wow, that is truly remarkable. Can't wait to see the pictures.

I had to come look at your zip line pictures too. We put up a little beginner one and I'm not totally happy with the way it stops. It's crazy and we don't have a whole harness like you do!




you brought tears to my eyes. god is really blessing you this year and that is exactly what i prayed for you, healing for your family and many, many blessings. i'm so excited to see it come to pass.




Oh, Jen, I am so happy for your family, and especially for you. What a joy to have such a great thing happen. I am truly rejoicing for you.

Much love,
Kate




I am crying for the amazingness of the mighty God we serve!!! But…. I am sooooo not surprised, He gives the BEST gifts!!EVER!!!! Rejoicing with you!!!:):)

Love you!
Angie:)




HOW WONDERFUL!!!!

What blessing for you over the past year!!!

I'm sure you're doing one incredible happy dance!!!

Blessings,
Laurie




Wow and Wow and oh yeah, WOW!!! What an amazing God we serve. How endless is His perfect love for us. I weep tears of joy with you my friend. How unspeakable are His ways. Yours is certainly a beautiful picture of grace raining down. I would love to hear the whole story of your family one day that includes all these wonderful reconcilations and healing. Blessings and much happiness to you all while we praise the Father with you and your family.

Jennifer




WOW. i am SO excited for you! I can't wait to see pictures! Your kids have got to be beside themselves excited! Charley just informed me that Aaron's mom called our house the other day and I didn't even know it. Gosh darn it. Speaking of getting ahold of people, I tried calling you all day with no luck! I'll try again tomorrow when I get home from the hospital. Love you!




Wow, Jen!! That is so awesome! I'm in tears, I'm so happy for you!!! Can't wait to see the pics chica!




Wow….so very glad for you. God's ways are beautiful…He makes all things beautiful in His time…




Oh Jen! That is wonderful news! Will pray that you have a wonderful day!




Lots of sniffing and tearing up here…I can't believe you spelled my name right.

🙂

God is SO good! I am sitting here in amazement because He thinks of ways to bless us that we would never imagine. Wow and wow again. Mark and I are praying that your visit with Aaron is wonderful.

~Annemarie




This was just the most beautiful entry I've ever read. Ever! So much happy. *sigh*

But why won't you guys come to the middle of the woods where you would probably make no money so I can meet you??!!




God is so much bigger than we ever give him credit for. We are thrilled at your news and look forward to hearing about your reunion. Truly amazing. Praise God from whom all blessings flow!!




WOW! That was one tremendously wonderful conference for you!
How exctiting to get to spend time with the son you gave up for adoption- can't wait to see the pictures of you together! Enjoy every precious moment!
Our God is so awesome!
Have a great week!
SchoolinRHome




You are a Very Loved woman!

Jen, thank you for being so transparent…I have a yucky past as well that seems to linger some days and make me feel like scum of the earth. I can hear in your writing what it feels like to be set free from your past and I pray for that freedom for myself.

From the bottom of my heart, I hope you and your family have a wonderful day tomorrow.

Your blessings are falling like rain!

-Gina D.




Jen,
That is so incredible, I literally got goosebumps!
I pray that you and your dear son have a happy, joyful reunion! I can't wait to hear all about it!

Blessings,
Michelle




Praise the Lord! That is so marvelous! God truly is a God of reconciliation and restoration! I am encouraged so much by this, because there's some of that that needs to happen in my family as well. He is faithful!
I will be praying for you and can't wait to see and update! 🙂




I know some of my bloggy friends really love you. I can see why. 🙂

Emily sent me over. I'm so thrilled for you! What amazing gifts from your Father! Praying right now that your time with Aaron and his family is full of blessings for all of you, and that God will show Himself to you again in an intimate way!




What a precious, precious thing your Father has done for you, Jen.
I am so happy for you and I will be praying for you tomorrow. I can't even imagine…




Jen, I am weeping right along with your touching testomony to God. What an amazing story. You make me feel like there may be hope for my sister who is in a situation much like what you were in. Praise the Lord. I can't wait to see the pics. 🙂
Megan




You know this is ALL because you came to Ohio, don't you?! lol 🙂 Seriously, how COOL is THAT?! I am SO excited for you, girl. Can't wait to read all the details and see the pictures. Miss you, too.

Blessings from Ohio, Kim Wolf<




THAT, my dear, is just WAY too awesome. I'm so happy for you with all of the mended relationships….but you must all be incredibly delighted about the upcoming visit with Aaron.
*utterly speachlessly stunned with excitement for ya!*




This is an amazing story –
I hope there will be blogs and picture to follow – but if not know that we rejoice with you – AND respect your privacy.




Oh Jen… I am so excited for you. My heart is just full… please let us know how it goes. I will be praying!

Love you!




Incredible. I LOVE how He continues to blow our minds when we think the best has already come. I too have a yucky, yucky past which He has used to usher me into a present time of unimaginable blessings. He is soooo wonderful. Rejoicing with you, friend.




Jen Ig!!! I knew that was you!!! 🙂
You put my pic up! I'm so thrilled! Jen, you did it again. I was talking excitedly to my sister that I met you and while chatting, I went to your blog and saw my pic!lol then I continued reading to her and ended up being all choked up and blubbering. Oh, how wonderful our Heavenly Father is! And to know and be known by such a God!! How did your visit go? I hope you will blog a bit about it as I'm anxiously awaiting the sequel.

I'm so glad I got to meet you, Jen Ig. I will be checking out your articles in the enrichment mag. We are like old friends! We MUST keep in touch. Please email me!

ps. love the science guy. we were so wanting to buy his kit but it was like $150!! we will save and get it next year. 🙂

Jules




INCREDIBLE! We'll be praying for your reunion–thanks for sharing this with all your readers.




Seems to me I remember a certain world famous blogger posting something about how hard 2007 was and how she was looking forward to 2008 hoping that surely it would only get better….

looks like she was right! The steadfast love of the Lord never ceases and his mercies are never failing. They are new every morning. Great is Thy Faithfulness oh Lord!




Jen, that is AWESOME! What a great God we serve!!! I am thrilled for you and your family!

Love, Tami




Our God is awesome. That is such a great thing and I'm really happy for you and all of your kids. I can't imagine how happy and excited you must feel.

The Woman in White is a really great book.




Yippee!!




Hi Jen and family! I am so happy to hear that you are being reunited with your son. That is just so amazingingly wonderful and I am praising the Lord for this! May the Lord bless you guys abundantly! Sharra




How wonderful, Jen. I know you were thrilled to be reunited with your father. And, to be looking forward to a visit from your son! I would love to talk to you about the adoption and all of that some day. We have a letter writing relationship with Marissa's birthmother, and are beginning the process of searching for Daniella's. Marissa would love to meet hers. We're praying.
Thanks for stopping by. James and Ashley got to Guatemala safely yesterday~~8 1/2 days to go. Yep, I'm counting!




That is so incredibly awesome! I am so happy for you!




Joshua has just been reading through your blog and laughing and ooohing and aaahhing over your pictures!! He really like the pictures of 1)your kids and the gun and 2) Dippy's birthday box, the foot and a silly Miss Jen:):) all in one picture. "Nice combo!" in his words.

Love you!




Wasn't George her pen name because it was hard to sell anything under a woman's name–iow, apparently back then women weren't considered smart enough or something?

That is incredible news about your son!!! You all are having a really amazing sort of year! God is so merciful!




Hey, hurry up and post pics from your visit yesterday. and how's Emmi doing?




First of all, I am SO sad that that beautiful lady up there is not ME! boo hoo

But WOWZERS, I am crying right with you Jen! Your son!!! Oh how good and gracious God is!!! I will be praying for a joyful reunion– may God be glorified! And they are going to stay WITH you?! What an amazing set of parents your son has… I don't think I've ever heard of such a loving and trusting thing as that.




May the miracles continue as you trust in Him. Blessings.




Hi Jen, I'm nancysnook on HSB but I have my own site now and was wondering if I could add your link to my site and if you would add me to yours? I really love reading all that you write about, I even cry with you too…how wonderful that you got to reconcile with your family and see your son! That's just awesome!!!

Nancy

Do you still need someone to write for you?
Let me know..




Hi Jen, It's Denise of Denise and Nathan the other dynamic duo of Rosetta Stone Homeschool teams! Wow so I read your story and was like WOW 🙂 How great is the Lord for the things He has done! Only He could have orchestrated that meeting. I loved reading the testimony of it and it blessed me to see how He is using Rosetta Stone to bless you too.
I have so many stories of meeting so many wonderful people and have been so blessed by this company for the chance to travel and witness God's hand of providence. Thank you for sharing you life story – it is a – WOW God how do you do that story. Maybe we'll meet someday too. God Bless!
Leave a reply