I noticed after I posted the last entry that I didn't include any pictures of Aaron and my husband.  That tweren't on purpose.  Geoff thought Aaron was splendid and he had fun getting everyone hooked up on the zipline.  We also made Aaron and his mom milk goats. Heh heh.  We'll turn them city slickers into back woods farm-billies yet.  They also helped pick plums.  He played about 140 games of chess with all his brothers and sisters; wrestled Bo, Dippy and James (and won even when all three pounced on him at once), beat Ryann in several arm wrestling rounds; spent hours playing with them on the monster tree swing, and basically just made everybody in our family feel entirely loved.  He is so  sweet, caring, and thoughtful.  I praise God for the person he is, and I cannot thank his momsie and daddems enough for shaping him into who he is.  God is so merciful.
They may come back next year.  I sure hope so.  I did really well until about 15 minutes before they left.  Then I bawled my head off.  And then his momsie teared up.  And then Aaron took off his silver cross necklace and put it around my neck.  Then I lost it again.  Ughhhh.  I thought my eyeballs were going to flood right out of my head.  Ryann and Coie also had a hard go of it.  Before he left he gave each of them one of his t-shirts, and both my girls have been wearing them since he's left.  They should probably wash those eventually.  And James keeps telling me to bring "his friend' back.  He had an immediate attachment to his big brother and he was always planted on Aaron hip, back or shoulders.  So sweet. 
Thank you for rejoicing with me.  This has been, hands down, the best summer of my life.
In non-self-inducing-blubbering news.  Notice anything different about Ryann?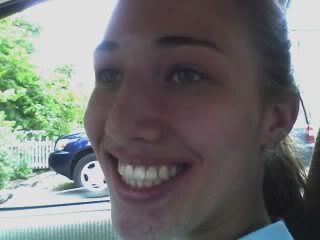 I'll give you a hint.  It has to do with a big mouthful of missing metal.  Her teeth may be the most expensive thing I own.  I bought them; that means their mine.
But before the metal removal happened, our friends, George and Chris Calhoun (and their six perfectly behaved and extraordinarily delightful children), drove down from MO (Thursday night) and stayed with us until Sunday evening.  They are our oldest friends (as in 'we've known them longer than anybody else').  As a matter of fact, George introduced me to my husband about fifteen years ago.  I had just moved into an apartment and became friends with the upstairs neighbors.  Those neighbors, in turn, introduced me to their goofy, single friend, George. I was newly saved and had zero Christian friends.  I started going to church with him and he included me into his group of 'college and career' friends.  He would pick me and Coie up (I had no car) and bring us to the get-togethers, game nights and swim parties at Geoff's house – actually, it was Geoff's grandparents enormous house.  They were really nice to let everybody hang out there. Anyways, that's how me and Geoff met.
We had a superbly excellent time with the Calhouns over the weekend — and check this out… all those plums we picked with Aaron went to good use: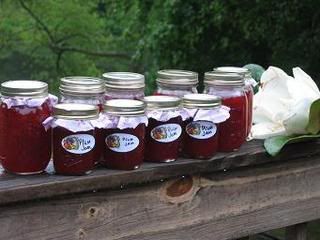 Me and Chris canned about 60 jars (while Geoff and George drove around town and played).  Aren't they beautiful???  I feel like such a farm-girl.  I can't tell you how satisfying that was.  And all the kids helped us cut out material squares to spiffy up the jars.  This may have been the busiest week I've ever lived.     
And oh yeah! The new edition of Home School Enrichment came out last week.  It was fun seeing my article in print.  I am scheduled to appear in their next issue, too.
July 7th, 2008 - Posted in Uncategorized | | 24 Comments
24 Responses to ' Plum Perfect '



Saw your article. It was great.
I am so very thankful to see how the Lord is blessing you and your family this year.
HE is good and faithful!!




You keep making me cry!




What a blessing of a time! What a gift the Lord has given you in Aaron and the rest of your beautiful children. I bet it was hard to say good-bye. I pray you can all reunite before next year. And the jam looks delicious. We made grape jelly a couple of weeks ago and loved it. We're out though, and I don't feel like picking more grapes. Are ya selling any of your beautiful jars??




Oh, and Ryann's teeth are gorgeous! I'd better start saving because I'm certain all 4 of mine will need those someday.




Jen,

I look up to you and how wonderful your heart is. First, to make the difficult, but wise decision to give Aaron to a wonderful home and then to not be bitter about the situation. I can't help but think how much bitterness I would have (as a selfish, prideful sinner) if I had gone through the same situation. How wonderful it is that through it all you have remained a mother at heart and his love for you and your family is proof. And even more so that you acknowlegde his adoptive parents as his mom and dad. Jen, you are truly someone the Lord has given a wonderful heart and I look up to you very much.

And in other news, Ryann those teeth look sparkly and bright! I am sure you can't stop licking your teeth. That's what I remember my brother doing when he got his off. It looks like the braces did a great job!

Hey Jen, is that my present that you gave away in those pictures? Still waiting and waiting and waithing for those kittens to come. She'll probably wait and have them when we're asleep or not home. I'll find them in the corner of a closet instead of the box I put together. Well I better go before this thing starts to charge me for more words! LOL 😉

Megan




I'm tearing up again too. Sometimes this personal, deep stuff is really hard to put into words. (had posts like that.) and then people come out of the woodwork to comment. I think that's God saying, "Hey, I know that was hard for you….you did good."

Can't believe he gave his sisters his shirts and you his necklace. They did a great job with that kid.




Aw, YAY! It's so exciting to see the Lord blessing you guys this year after 2007… Also, another YAY for metal-free slimy teeth.

And finally, I'll be waiting for my jar of plum jelly.

Luv ya sista,

CP

PS. Thanks for the card – and you're right, that nailed me 110%. Yes, I meant 110%.

🙂




I'm coming to your house and bringing toast. That looks yummy!

Congratulations to Ryann and you for a metal free and paid for mouth. YEAH.




You keep making me cry, too! That is so neat and special!

I appreciate you so much! Your article was great – so true. I also appreciate how you allow yourself to be transparent. You cause me to examine myself…..thank you.

Ryann looks wonderful, too. Question – do you pronounce her name like Ryan or Ry-ann? 'One of those curiosity things.

The plum jam looks yummy also.

Lastly, I'm very happy for you, Jen. I'm glad you've had a wonderful summer so far. 🙂

Love ya,
Angela




LOVE Ryann's beautiful teeth!! I know what you mean about "owning" her teeth…Jasper had braces, too. So…how many times has she eaten popcorn since she got them off?! lol

What an AWESOME time you all had w/Aaron. Blessing upon blessings…and that you seem to get along w/his adopted mom, too. THAT'S a GOD thing! God's timing – once again – is SO perfect…a very precious young couple at our church are expecting and they have repented and prayed and have elected to adopt out their coming baby. I will give them a link to your last entry. I think it will be very encouraging to them. They are feeling like all eyes are upon them and I think a story like yours will bring a little light into their eyes.

Hey! Are you selling any of those plum preserves?! I would LOVE to try some. 🙂

Also…you are WAY TOO FUNNY!! Loved your comment on my blog! Fledder right back at 'cha! 😉

Blessings from Ohio, Kim Wolf<




Wow…those were some moving posts to catch up on. I'm just stunned at God's…multiple adjectives. I can't even think of the perfect words, but he is amazing. I'm so happy for His blessings dumped and dumped upon you. Isn't it awesome how He never just gives you a little blessing, he pours it on until it overflows.

I made strawberry preserves for the first time a couple of weeks ago. You are right in that it's very satisfying. I used Pamona's Universal Pectin so I wouldn't have to use a ton of sugar. Oh…my…gosh. The BEST preserves we have ever had. Unfortunately we only got three jars out of the batch, and one I felt I should give to my mama. Now that I'm down to the bottom of the second jar, I want it back. 🙂

By the way, you only own the metal on Ryann's teeth. You should have talked to the ortho. about saving it, cause there went your money out with the trash. Of course her smile is priceless. I do feel your pain though. Our Emma is 9 and just got her first round of braces. I thought what we paid for included the second set of braces she will get after she gets these off and her baby teeth all fall out…but therein lies the rub. That's okay, her teeth were all crooked and now they're already straightening out beautifully. She's the second one to have braces. Lord help us if the next two need them!




Jen,
That is so sweet about your son giving you his necklace and the shirts to his sisters! Such a sweet young man! Wow…your posts keep making me cry!! I too hope that you get to see Aaron again soon.
Ryann's teeth look awesome! Yep..I remember getting my braces off AGES ago. Megan's right…ya keep licking your teeth cause they are metal free! Feels great! I think a caramel apple was the first thing I indulged in after getting them off! ha ha!
Plum preserves…not had that yet. Hmmm…how much did you say you were selling them for? Yum!




Ryann sure looks perty with her new teeth that you own. Tell her to obey her orthodontist's "wear your retainer for the first 3 months" rule. It's totally worth it. I didn't, and now i'm paying the price: 4 years later, married, and still slip'n the dumb thing in my mouth every night after Charley falls asleep. HOw embarrassing.




ps i like your plum jars… I'm totally going to steal your cute little fabric-around-the-top idea (actually, I know that's not your idea, but I wish I'd have done that myself when I canned all that blueberry and cranberry jelly last fall). Hey, I'll send you a blueberry or cranberry jelly for one of your plum ones.




Jess you can have ten jars of jam. But you have to COME HERE AND GET THEM.

Angela… it's pronounced 'Ryan', just like the boy name. : )




Oh, Jen! I'm so happy to read all your wonderful news. Aaron is such a handsome boy! You are indeed a very blessed lady. Our God is so good! Miss seeing you around. ~Betsy




ya-the fabric around the jars is too pretty. I have to learn to do that.

ditto on the posts making me cry. and so far I own one set of teeth and we're working on the next. hmmm around 9k worth I suppose and they want to start on #3 next year.

oh, per your comment, feel free to ask away by email! lol




…. and yes, Megan, that was your gift. You better be there this sunday to get it!




Very beautiful smile on Ryann!
(My DD is just starting the whole braces process…so I hear you about the cost! I wanted to cry when we got our estimate!)

That jam looks SO good! We just picked 15 lbs of berries, so I really should learn how to make jam, too! 😉

Blessings,
Michelle




Well that gives me insentive to be there Jen! Unless I am struck down I will be there. (I better not say that) This last Sun. I didn't get to make it through the service. When I woke up that a.m. my head felt like someone had poured cement into my sinuses. Well, all that singin' to the Lord did me some good cause the flood gates opened during prayer and as soon as they said amen I said I'm outta here. I spent the rest of the service gabbing with the moms, drinking water & blowing, blowing, blowing. I am feeling lots better now with all this rain we've had, as it washed away whatever clogged me up. Praise the Lord for commanding us to sing His praises!

Megan




Boy, is Aaron handsome or what? Both on the inside and out!! What an incredible blessing to have spent the time with him for all of your family!!!:) We are rejoicing for you!!

Your plum jelly looks scrumptious!! Yummy!! Yummy!!

Love you!
Angie:)




Hi Jen!

I just glanced at pictures of you & your family with Aaron and read through how he came to be born. What an amazing story!




Beautiful Children.
Beautiful Visit.
Beautiful Teeth!
Beautiful Mother's Heart.
Thanks for being real.




I'm going to make my husband read your blog. I am so interested in homesteading. I had a little wee taste of it when I lived at home in the later years. My parents live on a tiny lot in the city,but one year we had chickens we raised, and then butchered ourselves, keeping four egg layers. We gathered eggs, grew a garden, and canned. It was deeelightful. Alas, my husband has no interest whatsoever in it. What can I say, he's a techie. It sounds lovely, though, and one day I may even drag him down there to visit with you so he can see what a real farm is like. Grin.

Jen.
Leave a reply