Heavens to Betsy I hate the dentist.  Well, not personally.  Apparently, not only do I have a raging cavity, but I also ground out one of my bottom fillings.  I did not know I had a teeth grinding problem.  It all makes sense now, because for the last nine months or so, my jaw has been killing me and I couldn't figure out why.  That's gross. 
The dentist was going to take care of the cavity while I was in the chair but all of a sudden I went white, broke out in a sweat and started shaking… so he told me, "um… I'm gonna set you up to come back on another day so I can hook you up to the happy gas machine".  That was awfully nice of him, don't you think? 
As I was leaving, the nurse said, "How'd a big chicken baby like you give birth to so many kids?" 
To which I brilliantly responded with a dumb blank stare. 
In other news, Coie is selling the Civil War dress that she made (size 8-10).  I will link to it when it goes up on Ebay.  We were looking at Civil War dresses the other day and they're going for like $125.  She took pictures of Ryann wearing it and I thought they (the dress and Ryann) looked really lovely.  What a talented girl I own.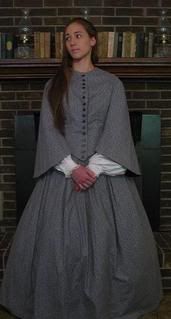 .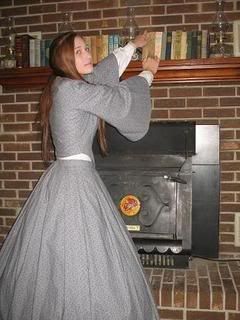 Also, if you live in Canada and have a blog, will you email me at Jeneferig @ gmail. com ?  I will tell you why when you email me.  Don't worry, it's a fun thing.
Also, I am looking for a writer to pen an article for a project I am working on — I need a 750 word article on the benefits and advantages of learning a foreign language; if this is something you could do, email me, k?