Ok, so yesterday when Coie was at work, I got an email from her cell phone, which was simply a picture of a cat in a box and the words, "Sorry mama, I couldn't resist".   Who could?  Isn't she pretty?  We called her Claudia, which we got from Southworths, Ishmael –and she's just as feisty.  Feisty.  That's a funny word.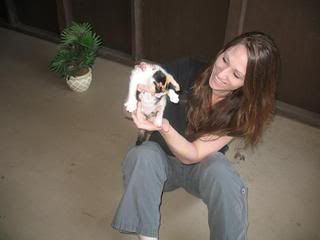 I tried to get a better picture, but that thing is all claws and long limbs.  And yep, Megan, we're still gonna want one of your kitties, too.  That's if they *ever* get themselves born…
In other news, we also finally FINALLY got eight ducks.  We were supposed to pick up ten of them, but when we showed up, the lady who was selling them told me, "Ok, that'll be five bucks a duck".  So I gave her one of my crazy goggle-eyed "Ohhhh Nuh-uh!" looks and told her, "Your husband said I could have ten ducks for $40 since I was buying so many".  To which she replied, "Well that's just too bad, they're $5 per duck and next week they'll be $6 per duck".  So then I grabbed her by the back of the hair and banged her head against the barn door. Translation:  I grumbled and muttered and paid her five bucks a duck.  Wow, it just hit me …  part of my life now includes bartering over the price of poultry.  I simply don't know when or how that's happened.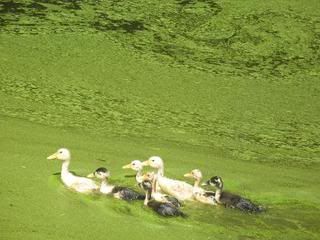 But as you can see, they were sorely needed.  It looks like they're floating on the lawn, but nope, that's our grodie pond. Sick! Hopefully those little fellas will clean it up in a hurry.  The last ducks we had always kept it nice and bright and sparkly and shiny.  I'm also hoping that the two snapping turtles — which Emmiko caught and, uh, lovingly, er, sent to a better place — were the reason that the other ducks disappeared.  Now that the snapping turtles are, ahem, not here, perhaps our little fluffy quackies will stick around to keep Lake Curry in tip top shape.
In otherly-ish news, believe it or not, we might have more excellent news coming up.  I dunno yet. And I'm not getting my hopes up. We should maybe know by Monday afternoon.  I was telling one of my friends that I felt like I was going to drown in all the blessings that's been poured out. 
And I never thought I would say this and mean it, but I am actually really, truly thankful for the year we had in 07 because it has only made 08 all the more impossible perfect.  And it's funny, because in 07 I was so overwhelmed that whenever somebody would say 'God would surely bless us in the future' – I didn't even care.  I was so ground down and crushed that the idea of 'future happiness' seemed only to mock me.  I hope you have never been in that place.  And if I am ever there again (which is entirely possible), I hope I remember that excruciating circumstances never last.  Neither do the emotions that come with those circumstances.  And it's especially during these times that 'feelings' are irrelevant.  They should never dictate decisions.
I did not lose my faith, but I knew I was utterly at the mercy of God's sovereignty and I could only plead with Him and beg Him to keep me from turning into a total raving psychotic fruit bucket.  And He upheld me.  If you get a chance, read Psalm 16.  Actually it's short; I'll just type it out for you:
"How long, Oh Lord?  Will You forget me forever?  How long will You hide Your face from me?  How long shall I take counsel in my soul, having sorrow in my heart daily?  How long will my enemy be exalted over me?  Consider and hear me, O Lord my God; Enlighten my eyes lest I sleep the sleep of death; lest my enemy say, "I have prevailed against him"; lest those who trouble me rejoice when I am moved.   But I have trusted in Your mercy; my heart shall rejoice in Your salvation.  I will sing to the Lord, because he has dealt bountifully with me."
All that to say, I was deceived when I thought those present sufferings could extinguish future joy. How naive and immature.  And yet I do not know that I could have made myself "feel" any different at the time.  And that's why it's so important not to take ourselves or our feelings too seriously.  Our most excellent pastor just preached on this very Psalm – it's well worth the time.  You can find it HERE
Ok, see you later, I've got ducks to gaze at.