Ok, so yesterday when Coie was at work, I got an email from her cell phone, which was simply a picture of a cat in a box and the words, "Sorry mama, I couldn't resist".   Who could?  Isn't she pretty?  We called her Claudia, which we got from Southworths, Ishmael –and she's just as feisty.  Feisty.  That's a funny word.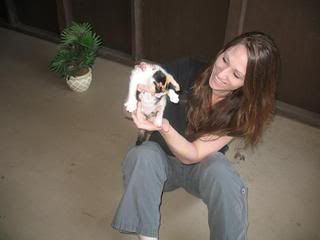 I tried to get a better picture, but that thing is all claws and long limbs.  And yep, Megan, we're still gonna want one of your kitties, too.  That's if they *ever* get themselves born…
In other news, we also finally FINALLY got eight ducks.  We were supposed to pick up ten of them, but when we showed up, the lady who was selling them told me, "Ok, that'll be five bucks a duck".  So I gave her one of my crazy goggle-eyed "Ohhhh Nuh-uh!" looks and told her, "Your husband said I could have ten ducks for $40 since I was buying so many".  To which she replied, "Well that's just too bad, they're $5 per duck and next week they'll be $6 per duck".  So then I grabbed her by the back of the hair and banged her head against the barn door. Translation:  I grumbled and muttered and paid her five bucks a duck.  Wow, it just hit me …  part of my life now includes bartering over the price of poultry.  I simply don't know when or how that's happened.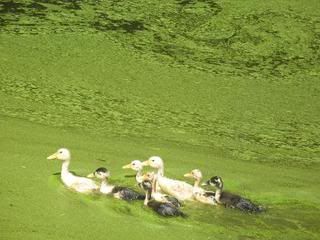 But as you can see, they were sorely needed.  It looks like they're floating on the lawn, but nope, that's our grodie pond. Sick! Hopefully those little fellas will clean it up in a hurry.  The last ducks we had always kept it nice and bright and sparkly and shiny.  I'm also hoping that the two snapping turtles — which Emmiko caught and, uh, lovingly, er, sent to a better place — were the reason that the other ducks disappeared.  Now that the snapping turtles are, ahem, not here, perhaps our little fluffy quackies will stick around to keep Lake Curry in tip top shape.
In otherly-ish news, believe it or not, we might have more excellent news coming up.  I dunno yet. And I'm not getting my hopes up. We should maybe know by Monday afternoon.  I was telling one of my friends that I felt like I was going to drown in all the blessings that's been poured out. 
And I never thought I would say this and mean it, but I am actually really, truly thankful for the year we had in 07 because it has only made 08 all the more impossible perfect.  And it's funny, because in 07 I was so overwhelmed that whenever somebody would say 'God would surely bless us in the future' – I didn't even care.  I was so ground down and crushed that the idea of 'future happiness' seemed only to mock me.  I hope you have never been in that place.  And if I am ever there again (which is entirely possible), I hope I remember that excruciating circumstances never last.  Neither do the emotions that come with those circumstances.  And it's especially during these times that 'feelings' are irrelevant.  They should never dictate decisions.
I did not lose my faith, but I knew I was utterly at the mercy of God's sovereignty and I could only plead with Him and beg Him to keep me from turning into a total raving psychotic fruit bucket.  And He upheld me.  If you get a chance, read Psalm 16.  Actually it's short; I'll just type it out for you:
"How long, Oh Lord?  Will You forget me forever?  How long will You hide Your face from me?  How long shall I take counsel in my soul, having sorrow in my heart daily?  How long will my enemy be exalted over me?  Consider and hear me, O Lord my God; Enlighten my eyes lest I sleep the sleep of death; lest my enemy say, "I have prevailed against him"; lest those who trouble me rejoice when I am moved.   But I have trusted in Your mercy; my heart shall rejoice in Your salvation.  I will sing to the Lord, because he has dealt bountifully with me."
All that to say, I was deceived when I thought those present sufferings could extinguish future joy. How naive and immature.  And yet I do not know that I could have made myself "feel" any different at the time.  And that's why it's so important not to take ourselves or our feelings too seriously.  Our most excellent pastor just preached on this very Psalm – it's well worth the time.  You can find it HERE
Ok, see you later, I've got ducks to gaze at.
July 12th, 2008 - Posted in Uncategorized | | 30 Comments
30 Responses to ' Critters '



I must say this is a great article i enjoyed reading it keep the good work 🙂




Dear Jen-
I always enjoy reading your honest heart
Thank you for sharing.
I am so blessed to be able to call you my friend.
See you soon!
Love,
Maria




Lovely quackers. Are you going to eat them someday or are they pets?

I agree on your emotions comment. I just read about how those who only have an emotional response to the gospel will have trouble when calamity strikes. True faith is knowing the truth even when you might not feel it. Very thankful for your 2008, friend.




i can't tell you how happy it makes me that you are now drowning in blessings! can't wait to hear more good news from you. though i don't know the details, i know last year was so hard on you. i prayed that god would pour out his blessings on your family and he has.




JenIg,
Funny Story…I was chatting with a gentleman in my community who had just moved to our town from TN. I shared with him that I used to live in Nashville and He said that he was from east Tn…"Mur-i-vul" to be exact. I told him that I read a blog of a lady who lived near "Maryville" and ask it he knew where that was. He explained to me that I was pronouning it wrong and even went as far to tell me that Blount Co. is pronouned "Blunt". I guess that was suppose to mean something to me…

Anywho, I will ,in the future, always pronounce Maryville "Mur-i-vul" because I have been set straight!

Gina D.




No Gina… don't succumb. I need you to stand with me and keep pronouncing it MARY VILLE.
Fight the power. It's my mission to convert all southern accents into normal sounding Cali tones.




You are so neat…..I really, really like you…..

Angela 🙂




Thanks for sharing! I just love the psalms! The Lord knew we would question as David did "How long?" or "Where are you?" but that we should always come back to the place (as David did) of saying "You are my Rock and my Refuge and I will trust in You". He is worthy of our trust and praise! Don't you love the title of one of Dobson's books….."Emotions: can you trust them?" to which I'd respond: "No way, Jose!!" 🙂 Hope all is well with you and Gena Suarez…..kind of worried that I don't hear anything of her in your blog and things with TOS. I'm praying for that situation (if there is one!!)




Psalm *13* right? I like to sing that one! I'm so thankful for all the blessings God is pouring out on you!




Ducks will clean my pond?! Will they eat all the icky seaweedy stuff floating around it? Because if that is the case, then I need some ducks too. As to the lady and her $5/$6 comment, I don't think I would've handled it so well. Grr…

I am so glad that your 2008 has been so FULL of bountiful blessings!!! Thanks for the scripture too– there is no replacement for God's Word… always true, always relevant!




Cute kitty. Did you know that calicos can only be female? I have a calico and she is beautiful. Enjoy her and the ducks and I hope you can keep all your pets alive. LOL
Susan




Melissa… you get 40 points and a bag of Oreos. Nice catch on my typo! If I had a bible badge, i'd send it straight over to you.

Marshie… I *think* they clean ponds because when we got our other ducks it was cleaned up about a month after we got them!

Angela, I totally like you too. Come over to my house when you're in the area.

Susan…no, i did NOT know that but now i feel entirely smarter. i can't wait to tell my kids that




Jen,
So thrilled for your bounty of blessings. Watch out for that calico. We have the most wonderful calico kitty we brought home from the humane society. She actually chose my 13 year old son as soon as we walked in the door 🙂 Fast forward 3 months and we learned that she likes to eat yarn. Lots of yarn. You know those cute pictures of kittens playing with yarn? Don't believe them! $1200 and one emergency surgery later, Chloe is doing fine. Oh, and the vet was so amazed that she saved the 19 inch long piece of yarn to show me! Yuck!




I'm sure glad you got some ducks for your nasty pond. I cant wait until it looks fabulously fabulous like the year before last that we came for a visit. Now it'll look spectacular again when I'm riding over it on the zip line at Christmas time (hopefully pregnant). hmm. can pregnant people ride ziplines? i'll google it.




oh, and you're welcome. Thanks for always being such a great commenter even though you always had to log in before. You're a great sister.




Jess – It's tempting to drive on down to TN to try out that zipline 9 months pregnant, but my dh says "NO!" You'll have to be the test rider (please post video!)




AWH! You got another kitty and ducks now. We've got to come out to your house, the boys would love it out there. Wow, I can't believe ducks really make that big of difference in keeping up a pond. Do they clean houses too? Guess not 🙁

P.S. Your kitty is here Igarashi's! Come see it on the blog. http://www.reedsoftn.blogspot.com I figured atleast 5 kittens in her big old tummy, but nope-3 and only two born alive.




yippeeee! i'm a the proud owner of more cats. Thanks for the pictures. they are SO lovely!! I love the colors!

and jess… i think you've got everybody suspecting that you're pregnant now. you ought to go ahead and make that happen so as not to disappoint us all.




Oh, I love the kitty and the duckies! You all love animals the way I do. And yes, I would have paid the 5 bucks a duck, too, but I would have definitely grumbled about it, too!! LOL I'm so glad you are getting so blessed this year! God truly hears our prayers and getting through the hard times are so hard (I've had lots of years where I felt so bereft – I think we all have) but you're right, the blessings are so tremendous when they come. So happy to hear that you are being so blessed!!! Yippee!!!

God bless you ~ Julie




Jen-Jen-Jenny-Jen-Jen,
(Do you remember that from Muppet's Treasure Island?)
FREE CHICKENS AND RABBITS HERE! Come and get them! Now that's a deal! This week would be good. We're keeping some, but not all of our chicky-chicks. Jess has the designated keepers planned out. But the rest will need a new home. We have quite a few babies this year who follow the mommies all over the place. I love to see the mama spread her wings when there is a drizzle and the little baby chickies huddle under her… what a great life analogy of Christ with His children. It's also so interesting how the mama hen teaches them to eat and they all start pecking at whatever she goes after, but she also chastens them if they go a wrong direction or get too far away from her… and if anyone or anything gets near her babies~ LOOK OUT!
—I'm so happy that your '08 has been filled with blessings of all sorts! The joy of the Lord is our strength!




your pond looks just like ours, Green!! We had ducks given too us 2 years ago. Our Pastor's son thought baby ducks were cute and got some. Then his mother found out that they were swimming(and pooping) in the swimming pool. We were thrilled that we were going to have ducks to clean up our pond. Alas, they were terrified of the pond water and would only swim in the kid's kiddie pool!!




Julie, Muppet's Treasure Island is the only version of that story i like. and why couldn't you have DUCKS? i just want ducks. and don't you remember what happened to the last rabbits you gave us?




Actually, I could use some rabbits…

Do we need to pray that Jess conceives really really soon?

I know what you mean about the never feeling that you could be thankful for all the bad stuff and icky years. I'm starting to feel a little anxious as hubby is still out of work, but I went thru a journal I wrote in 2003-2004. And I was suddenly very thankful!

Can't wait to hear your news!




Jen,
I would love for you to add me to your links. It has been sometime since I could stop by and chat. My husband had an accident and broke his foot. He had to have surgery. There are details on my blog.
I am so glad to hear about your blessings.
Ruth




Jen,
I know that I only comment periodically, but I have been reading you since we were both at HSB (I left there almost 2 years ago).
Anyway, I haven't kept up enough to know what you went thru last year, but I have to tell you that your words….right here, today….were a balm to my soul.
My life is pretty ok, right this minute, but I JUST (as in right before I sat down here at this computer for a small reprieve) had a MAJOR hurt in my past come back up and I really had to tell God how I felt…and have been feeling for a LONG time. And it wasn't easy because the truth is, I am a little miffed at Him when I get to the bottom of it all. 🙁
Anyway, lest I ramble any further… This scripture that you posted…it was so timely. SO timely that I can barely see to type. He is good. And this reminded me.
So thanks.




Giiirl! I just don't know HOW you do all the things that you do! The kitty and ducks are cute as can be.

Want to hear my duck story? Sorry…here it is, anyway…

When I was about 5 year old my cousin gave me the sweetest, cutest little yellow duckling you ever saw. My daddy built a pen it and I loved and pat and fed it and watched it turn white and get big and fat. One day I came home from my neighbor-friend's house and the pen had been broken into and my sweet duck was GONE!! I cried most of the day…until that night…we had "CHICKEN" for supper and for SOME reason, everyone was particularly interested in how mine tasted!

Hmmmmmm…

Blessings from Ohio…




Judy, I know what you mean. Our calico eats rubber bands, string, bungee cords, you name it. $1600 later to get that cat fixed, but we still have to watch what she consumes. I had no idea it could be just calicos that did that. But they are beautiful.
Susan




Oh my gosh, Kim W!…..

I can't believe they would do that to your pet duck. My dad knew he would never get away with that in our house! We had rabbits once that did what rabbits do so well and sure we could have enjoyed them on our table, but he gave them to someone else, although later I did find out that, that guy bought them to enjoy on HIS table, oh well! At least my dad didn't try to get me to eat my own pet! LOL

Megan




Lyn,
If you want some bunnies they are yours for the takin'.

Jen,
I choose not to think of past bunnies and their endings. Maybe they all got away and lived happily ever after! You think? Especially that white fluffy one out in the wild on your farm.




I think we might be twins… Except for the duck part. But I'm with you about the dentist, and more importantly, having the end of your rope time. I'm there right now and your post was a real blessing to me today. 2007 was awful, and 2008 is shaping up to be even worse. But I keep turning to God and believing in His goodness. And when I get to the point of panic ravings, where I'm just about to become completely unglued, then I have a little talk with myself and remind myself that as bad as our financial/job situation is, there are so many people in this world who would gladly trade problems with me. My problems can be "fixed" in an instant. There are so many other difficulties that are not so easily fixed. So I needed the extra dose of reminding me that these problems can be dealt with and that all the badness will not last forever. I just wanted to say thank you for that.
PS I'll have to ask my dentist if the Valium is an option for me? I already asked for Versed (that one that makes you forget what happened to you), but he merely chuckled. Maybe he'll think Valium is doable… or maybe he'll think I have a prescription drug addiction???? I don't care as long as he makes my upcoming procedure not so terrible!!! Bye again.
Leave a reply