I have been busy non stop since Thursday.  Emmiko's party was swell.  And all the girls got to go on the zip line.  I can't believe how brave those little squeakers are.  It was a fun weekend, but Jess and Charley were sorely missed.
Ok, so Sunday was the big day when we got the new car – the Suburban… which seats nine… so theoretically I could have another kid and we'd *still* all fit.  Anyways, Geoff, Coie, Ryann, and Emmiko drove to GA to drop off the cutie Carr and pick up the new Ig-mobile.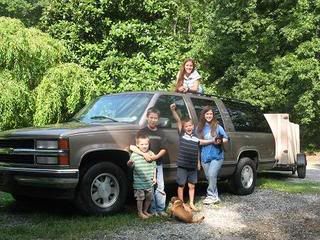 It was nice because they were gone from 8am until about 10pm.  I laid around all day and finished, The Woman in White, by Wilkie Collins.  Ok, first of all, Wilkie Collins is a guy.  I had no idea.  Second of all, I don't know that there is a better novel that's been written in all the whole big world.  I LOVED IT.  I'm sad it's over, but I'm being consoled with, Wives and Daughters by Elizabeth Gaskell. So far so good.
WE LOVE HAVING THE SURBURBAN.  Yesterday we went out and picked up a dryer (we've been dryer-less for over a month) and then went and celebrated at a Chinese restaurant.  ALL OF US… riding in the SAME car together. Minus poor Coie, who had to work and missed out on all the fun.  And the front is a bench seat so me and Geoff can snuggle.  I am so happy.  Plus the AC works great.
Ok, so also on yesterday, before all of our dryer-picking-up-and-Chinese-food fun, I had to go back to the dentist for phase II of my root canal.  It was less stressful than last time.  Afterwards Geoff told me that the only time he took his hand off of my head was when they had to pass this four foot needle behind my back so I wouldn't see it.  Shudder shudder.  When they were done (it took about an hour and a half) they told me, "Ok, now that's just the cap, you'll need to come back in three weeks so we can snap the crown on.  And whatever you do, be careful what you eat; chew on the left side of your mouth, and don't eat anything hard like chips".
So I nodded groggily, and then me and Geoff went out to lunch.  At a Mexican restaurant.  I got a soft taco, and, uh, chips and salsa.
About 3/4ths thru our lunch, the numbness started wearing off and all of a sudden I tasted something weird, and so I put my tongue back to where my new cap was supposed to be, and in a panic, I felt only HALF OF A TOOTH back there.  Boy did I freak.  So I told Geoff, "I think I swallowed my cap".  He started laughing and I felt nauseous and nearly fainted.  So we went back to the dentist and I snuck up to the desk and whispered, "Uh… I, uh, I think I accidentally ate my new cap"  And there was a large chorus of nurses that suddenly rang out, "OH DEAR!! Bley-essssssss yer little haaaaaaaa-errrrt"  I hate it when people say 'Bless your heart', because in the South it means, "Boy you're an idiot".
So the nurse took me right back, looked in my mouth and told me, "Nope. It's still back there".  Apparently, they sawed my tooth down in half on purpose and it's supposed to be like that.  I felt dumb, but I was really glad that I hadn't eaten the cap after all. At any rate, I'm not going to eat any more chips just in case they really meant it when they said it the first time.
July 30th, 2008 - Posted in Uncategorized | | 31 Comments
31 Responses to ' How Many Calories Are in a Cap? '



Congratulations on the new wheels. I bet all the Igs are Igcited!!! Sorry we missed Emmi's party. We'll have to make it up to her one day.
Seems we are staying too busy these days which is good but just busy. Where did July go?

I hope you continue to have a most wonderfully blessed week!

Maria




ROFLOL !!!!
Oh my Jen… Your adventures keep me smiling!!
Congrats on the cool set of wheels! yes, I remind my husband that we can one more and still all fit in the mini-van! 🙂
enjoy!




and um, the book is 800 pages long!!!! Where's the fainting spell emoticon???




You are SUCH a NUT!! You crack me up. I've had a very bad week – since Thursday – and I needed that! (You can check out the last few entries on my blog.) I've been helping the family quite a bit, as the wife is a good friend of mine.

CONGRATS of you SUV!! WOOHOO!! My dream car right now is a Toyota FJ Cruiser! YELLOW baby! Love 'em!

Blessings from Ohio, Kim Wolf<




How cool about the Suburban. What a blessed woman you are to have such great friends. I bet they feel blessed by YOU though….it doesn't usually go just one way. 🙂

and let's not talk dental issues. I have to cringe when I read that part on your blog. I have TWO root canals that I was waiting for insurance to kick in, to have done. It kicks in Aug. 1. aaaaaaaaah!




AheheheEM. You forgot to add that it's MY tan suburban.
And I looked up "How Many Calories In A Cap" and the first result was "Another way to play 'Bubble Gum, Bubble Gum"
And then the 2nd result said "Rootbeer caps are low calories…"
And then it said that they didn't recommend eating soda caps because it's pretty bad for you, as your digestive system really doesn't like them.

I didn't get to the "Dentist Cap" part on Google because there were over 37 pages.

Don't swallow the caps, momma. You shouldn't do the Capsules, either, cause they make you sleep all day.

Hmmm. I don't feel like vacuuming. Can you look up how much it costs for rock climbing while I vacuum?
-Ry

-Me




Yeah I was raised hearing a rendition of that statement

"Bless your cotton pickin' heart"

Which to me was always confusing since we weren't cotton farmers and hearts can't even pick cotton.

Sorry they sawed your tooth in 1/2 but glad you didn't swallow it either.




I love both of those books. Unfortunately Mrs. Gaskell died before she finished W&D, but the movie captures the book wonderfully and adds a very satisfying ending. You probably would like Moonstone by Wilkie Collins too.




Maria… I like it. Igcited. Clever.

And thanks, Melissa, I just had another friend email and recommend The Moonstone, too. I'ma gonna give it a whirl.




Yah, Coie mentioned looking for some clean clothes on the clothesline in the cage last night when she was at home, alone, and feeling VERY sorry for herself about it. I wondered 'why the clothesline and not the dryer?', but failed to ask. Hark! Now not only do i understand, but I'm SO happy that you have a new dryer. I detest hanging clothes on a clothesline. Bad experience once. No. i don't wanna talk about it. Oh, and the suburban is cool too. Ryann looks like Jane from Tarzan laying up on top.




PS reading about your family going to Chinese food made me hungry. Guess what I'm going to eat for lunch? yup. A hamburger.




jess, you big fibber, i was just on the phone with you while you ordered lunch and you said, "gimme some of the pepper beef please, and no I don't want an eggroll"




Yeah!! I am so happy for you all! What a lovely vehicle. God is SO good. :+)

Your dentist story was very funny and I was cheesy grinning all the way though it. LOL

LOVE YOU!
Kate




Wives and Daughters – so happy you are reading that!!

Loved that book so don't diss it. LOL
Kate




Aw, that's where you're wrong my dear sister. While you THINK you heard 'pepper beef and no eggroll', I *actually* said, 'philly cheese, ROCK N'ROLL!" (as in, hurry it up). And it wasn't 'pepper beef' anyways dummy. It was 'BROCCOLI & BEEF'.




I distinctly heard "PEPPER"

and yep, Kate, the whole reason I got W & D is cuzza you. I am enjoying it. I'm at the part where Molly's dad just sprung his new marriage on her.




Eggrolls??? My Mom would love an eggroll right now. She just came out of her surgery (and my new sister is here!) Maybe we can all go back to StirCrazy… only bring Jess and Ryann along this time, too!




Congrats on the new rig! You're making me miss my Expedition now. Then again I'd have had to have 4 more kids to fill the seats. I tried adopting that many but husband vetoed it. LOL (Actually that is semi-serious.)

Anywho…. the little Subaru Forester is a happy camper at our house and I hear tell it's the golden child of the year with good ol' Consumer Reports, so I shall consider myself satisfied until we get out of the military and head out onto some land so I can trade it toward a BIG HURKIN RIG again. 😛




I love that – Bless yer lil heart = "Boy you're an idiot!"

That's finer'n frogs hair…

Since Coie doesn't blog anymore after 12 Point Design set up her new blog, I must resort to merely comment on thine.

PTL for 'Burbans and bench seats!




Oh, I was telling a friend about all of the blessings you've been receiving this year, but I think the dental work must negate at least one excellent thing that has happened to you. I HATE going to the dentist. Take the kids regularly, but I haven't been in almost 2 years. I'm a big baby – hated my one and so-far only root canal and my two crowns. Ick, ick, ick. Dentists and big spiders elicit the same response from me.
Hey – I actually updated my blog. Now THAT is a miracle 🙂




Okay, only YOU would have an entire category dedicated to Awful Medical Procedures!!! *snort*

You know I love you, Jen. Even though I thought it was super hilarious when you thought you ate your crown. Now I have a weird visual of you eating your sash, evening gown and high heels! afsjkl;afdsjkl;adgsljk;gdsa;jkl

OH! I can't believe I almost forgot to tell you. I had goat milk for the first time ever the other day. It was from the store (not fresh). It was HORRIBLE. It tasted like that weird aftertaste that lamb has, kwim? I am assuming that it was just a nastola batch of milk and will give it another try soon. I'll keep you posted because I know you have nothing better to do than wonder what Marshie thinks about leche de goat. You can thank me later.




I noticed your Rosetta Stone icon on the side of your blog.

Do you sell it?

I would like to email you if you do.

Thanks,
Julie




Your new set of wheels looks pretty cool! The snugglin' sounds mighty fine also. 😉

Sure hope the rest of your dental work goes okay. Sorry you've had to go through all the torture of the root canal, but you have certainly made it very entertaining for the rest of us. 🙂




I just mooched The Woman in White on *your* recommendation! I just finished Alcott's The Inheritance. It was her first book when she was only 17. It was pretty dramatic and predictable, but I still enjoyed it. Alcott was very talented at a young age. Little Women though, is still her best work. :+)

I miss you! Email me soon – I am going dry for lack of Jen. :+)

Kate




oh Kate, i am *so* glad that you got it. I was going to email you early this week and tell you that if you didn't get it and read it then I was going to come and burn your house down. You will be able rest easy now. Read it soon; can't wait to hear your thoughts!

love you!




Thanks for the laughs as always. You were a very funny, much needed laugh in our day yesterday. We are going through a bit of an emotional trial this week, share more later in my blog, so it was fun for us all to lean over MissKitty's shoulder and read it.

Congrats on it all!




Thanks for stopping by my blog! If you're ever in the Detroit area, you are more than welcome to stop by, but I'll have the cookies for you so that I can pick *your* brain. 🙂 I have the semblance a plan, but you have experience!

I love Elizabeth Gaskell's books! I was bummed when I got to the end of W & D, though, because she never finished it. You could predict the ending (which the editors did in an ending chapter that I didn't read), but I wanted to read Mrs. Gaskell's ending! It was still a great read, though. After I stopped freaking out, I was glad I read it.

Congrats on your new wheels!

~Andrea




Wow, who knew I would need fire protection for my book choices? LOL!!!

Love you.
ME




Bless your heart also means "better you than me." So neither translation is very complimentary, and you're catching on quick for being a non-Southerner for most of your life. At least it sounds nice when you insult someone. Congrats on the car!




I like how the movie wraps up w&d too. I like North and South by her also and the movie is good but not as good as the book, imo.

Totally jealous of the new ride.

Is it possible to have a theoretical kid?

oh still jealous of the zip line…




Bless your little heart… you crack me up! No, you're not an idiot — I just think it's hilarious that this colloquialism is so popular down here in 'tha Saaaaaaath'.
Leave a reply