I have been busy non stop since Thursday.  Emmiko's party was swell.  And all the girls got to go on the zip line.  I can't believe how brave those little squeakers are.  It was a fun weekend, but Jess and Charley were sorely missed.
Ok, so Sunday was the big day when we got the new car – the Suburban… which seats nine… so theoretically I could have another kid and we'd *still* all fit.  Anyways, Geoff, Coie, Ryann, and Emmiko drove to GA to drop off the cutie Carr and pick up the new Ig-mobile.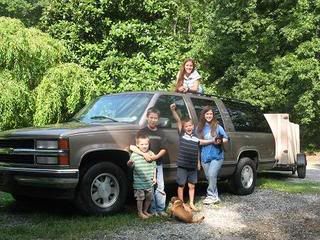 It was nice because they were gone from 8am until about 10pm.  I laid around all day and finished, The Woman in White, by Wilkie Collins.  Ok, first of all, Wilkie Collins is a guy.  I had no idea.  Second of all, I don't know that there is a better novel that's been written in all the whole big world.  I LOVED IT.  I'm sad it's over, but I'm being consoled with, Wives and Daughters by Elizabeth Gaskell. So far so good.
WE LOVE HAVING THE SURBURBAN.  Yesterday we went out and picked up a dryer (we've been dryer-less for over a month) and then went and celebrated at a Chinese restaurant.  ALL OF US… riding in the SAME car together. Minus poor Coie, who had to work and missed out on all the fun.  And the front is a bench seat so me and Geoff can snuggle.  I am so happy.  Plus the AC works great.
Ok, so also on yesterday, before all of our dryer-picking-up-and-Chinese-food fun, I had to go back to the dentist for phase II of my root canal.  It was less stressful than last time.  Afterwards Geoff told me that the only time he took his hand off of my head was when they had to pass this four foot needle behind my back so I wouldn't see it.  Shudder shudder.  When they were done (it took about an hour and a half) they told me, "Ok, now that's just the cap, you'll need to come back in three weeks so we can snap the crown on.  And whatever you do, be careful what you eat; chew on the left side of your mouth, and don't eat anything hard like chips".
So I nodded groggily, and then me and Geoff went out to lunch.  At a Mexican restaurant.  I got a soft taco, and, uh, chips and salsa.
About 3/4ths thru our lunch, the numbness started wearing off and all of a sudden I tasted something weird, and so I put my tongue back to where my new cap was supposed to be, and in a panic, I felt only HALF OF A TOOTH back there.  Boy did I freak.  So I told Geoff, "I think I swallowed my cap".  He started laughing and I felt nauseous and nearly fainted.  So we went back to the dentist and I snuck up to the desk and whispered, "Uh… I, uh, I think I accidentally ate my new cap"  And there was a large chorus of nurses that suddenly rang out, "OH DEAR!! Bley-essssssss yer little haaaaaaaa-errrrt"  I hate it when people say 'Bless your heart', because in the South it means, "Boy you're an idiot".
So the nurse took me right back, looked in my mouth and told me, "Nope. It's still back there".  Apparently, they sawed my tooth down in half on purpose and it's supposed to be like that.  I felt dumb, but I was really glad that I hadn't eaten the cap after all. At any rate, I'm not going to eat any more chips just in case they really meant it when they said it the first time.