Coie has been reading me daily selections from, The One Year Christian History, by E. Michael and Sharon Rusten (YWAM). You will not believe yesterday's segment, but it's absolutely true. I had to type it out.  It's well worth the time to read
***
Injustice From Within, Sept 7th
The Puritans of New England were great men and women of God, but they had blindspots when it came to accepting fellow Christians whose ideas differed from theirs.  In 1651 three Baptists, Obadiah Holmes, John Clarke, and John Crandall, walked 80 miles to visit an elderly friends, William Whitter.  At Whitter's home the four men had a worship service together.  In the middle of it, a marshal and his deputies broke in, arrested the three visitors, and escorted them to the Boston jail.  They were charged with holding a private church service and re baptizing persons who had already been baptized as infants.
After ten days the three were brought to trial.  The prosecutor was none other than John Cotton, the leading Puritan minister in Boston.  The accused sat in the prisoners box and heard Cotton in his misguided zeal declare them to be "soul murderers" since they denied the saving power of infant baptism.
Cotton then declared that this offence demanded the death penalty as would any other murder.
Governor John Endicott agreed they should be put to death but also challenged the three defendants to debate their Baptistic views with Puritan ministers.  They accepted the offer, but no puritan minister would debate them – including John Cotton who condemned them.
Finally, although the governor felt the three deserved to die he agreed to let them off with a fine.  But if they didn't pay the fine and leave Massachusetts immediately they would be publicly whipped.
Friends raised money to pay the fine, but two of the men refused to let the fines be paid because it would look like an admission of guilt.
Holmes was stripped to the waist and given 30 lashes.  Immediately after the whipping, two Baptists, John Hazel and John Spur, shook Holmes' hand as a gesture of comfort.
For their small kindness Hazel and Spur were arrested.
John Hazel's trial was held the next day.  Hazel, a frail elderly man, was asked whether he agreed with the actions of Obadiah Holmes in holding a private church service.  Hazel answered that he would not be questioned about the actions of another and demanded to know what law he had broken.
Governor Endicott sent him back to jail.  He refused to pay the fine and was kept and threatened day after day with a public whipping.  They ended up releasing him because they did not want the embarrassment of whipping a frail old man.  He died a few days after his release.
***                                
Can you believe that?  I reject the Reconstructionist / Dominionist movement – which, unfortunately, is gaining ground in the homeschool community today.  It is hard to understand how Christians let themselves get sucked into crusades to 'zealously stamp out sin'.  God save us from ourselves!  Yes, sin in the church needs to be dealt with… but if it's not dealt with biblically and properly it wreaks untold amounts of damage and drags Christ's name thru the mud.
OK, in more cheery news, check out this beautiful necklace that Emmiko made for me: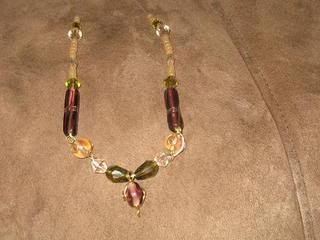 And no, unlike Dip's book, it's not for sale.  I'm going to have to cash in our retirement fund to pay that boy. But I have to say, you made his week.  He has been absolutely jumping around with delight with how well his first book was received.  You guys are so cool.
Lastly, one of my best friends is having her baby today.  Please pray for Annemarie, and if you can, maybe stop by to leave her a "congrats comment".  I SO love that lady.
September 8th, 2008 - Posted in Uncategorized | | 18 Comments
18 Responses to ' Why I'm Not A Reconstructionist / Dominionist '



Tell Emmiko that she needs to go into business! That is SO perty…… I would help her! I make jewelry to sell myself…..

Have a nice week!

~Hannah




Love the necklace. I am already prayong for Annemarie.
Have fun at baseball. I have a birthday girl tomorrow and need to go get her something so I will not be able to attend.

Love,
Maria




Wow. I think I'll have to add that book to my ever growing list of books that I have GOT to read. Me..I want to read it. 🙂




That is really quite a scary movement -Yeah, I reject that, too!

I LOVE that necklace, though! How pretty!
I just bought my oldest a bunch of beads, so I can't wait to see what she makes for her dear old Momsie! 😉




What retirement fund? hehe j/k but not really.

I sure liked that bit about Cotton and those Baptists. Both thought provoking and disheartening that people are still participating in this type of 'religion'/movement today (but really not surprising either). Tell Coie to send me that book for me to borrow when she's done with it (unless it's a library book- that would get expensive). It sounds highly interesting. YWAM is pretty good. I'll send her my Susanna Wesley one as a trade.

And tell emmi that the necklace she made you is just GORGEOUS and I want one. Tell her to make one for me and send it with that book. I'll give her $5 for it.




Jess, didn't I tell you? Me and Geoff have appointed YOU and CHARLEY as our retirement fund. Make me proud. I want to retire with an indoor swimming pool.

PS I DO NOT ENDORSE THE SITE I LINKED TO THAT GIVES A RUN DOWN OF THE DOMIN/RECON MOVEMENT. i just liked the way they (whoever they are) had summed it up




ooooooooooooh, I see. Boy does that make ME feel better. (we don't have one either).




WOW, first that sounds like a cool read something I will have to look into, second Seriously…there are people like this? I have met people who are slightly like this but never to this extreme! Well thanks for informing me about this kind of people, and taking the time to post the quote!

Latte




Ok, because I have time on my hands and am still in vacation mode, I followed your link. My head hurts now. 🙂




Hmmm… I am not sure how that story relates to dominionists and reconstructionists. This story is about aberrant Puritans who used their power unjustly and perversely. From the article:

"Its followers, called Dominionists, are attempting to peacefully convert the laws of United States so that they match those of the Hebrew Scriptures." There is no law in the OT that would have allowed the treatment of those men in that way as there was no baptism in the OT. So whatever "laws" these men were trying to uphold were made in their own minds and had nothing to do with D and R. Amongst the church today there is a very big difference in understanding of both baptism and the Lord's Supper between real bible-believing Christians. I know you and I differ on this yet you are still my sister in Christ! We could have a really good discussion on that! 🙂

I just don't think it is fair to lump bad men into the same category as those who claim Dominionism and Recontructionism. There are *so* many variations of these theologies – as many as there are variations of "Evangelical" Christian churches. Even the article itself addresses this here: "Of course, there exists diversity of opinion within the Reconstructionist movement. Not all followers will necessarily agree with all the above statements of the movement's leaders" I know several D and R folks and I don't think *any* of them would have advocated the kind of punishment those poor men received. To me it is apples and oranges.

For the record, I am not a D or an R. Just thought that was important to throw out there.

Love you!
Kate
(I bet you knew I would respond to this, huh. :))




Oh, and I really love the necklace! 😀
Love,
ME




thanks, kate! One of these days i will tell you what happened when Coie was in Kindergarten and going to a Reconstructionist run school. Their ideas stemmed from a Covenant Theology base and they very much wanted to re establish a Theocracy and rule the US based on the ten commandments. This, of course, creates a myriad of problems (in regards to the very fabric of our Constitution)but becomes even more problematic when the focus is on changing men's behaviour rather than changing men's hearts.

There is a delicate balance, of course, and I do want to live in a country that is 'moral', but I do not at all believe it is the work of the Christian to try to take over and dominate. Every 'religious' state (with exception of Israel which was led directly by God thru the prophets) has been disasterous. I don't want to try it again with America.

Wish we were discussing this on your front porch with raspberry drinks! love you miss you




Yikes, yeah, I don't agree with that either. And I do hate that I see that type of treatment by "Christians" toward Christians. Sad, blindness. Necklace, beautiful. Such talented offspring the Lord has given you!

Keep us in prayer. As of this morning, Hurricane Ike is headed right at us! If you see the projected track, we're right there on the gulf. Thanks for the prayers!!




I understand what you're saying, but I'm curious as to the practical ramifications of this. I know you probably don't want to list who is leaning this way within the homeschooling community, but what specifically are people who have D/R beliefs trying to do?

By the way, I love your blog and read it regularly – you always manage to make me laugh and make me think!!!




I wish we could chat about it too! I know which school you mean. I miss you too!

Love,
Kate




You are the only other person I know who has this fabulous book. We are reading through it again this year. I use it as part of my devotional time each day. Good to know the Igs are enjoying everyday, too.




Yahoo! I totally agree about the movement (one of a few, unfortunate ones) going thru the homeschool community- I also love your necklace, and your history lesson *U*
YOu would like CHuck Missler- Koinonia HOuse.org
He's a good teacher and that's how my kids get alot of their history and science to boot! The guy's a genius.
Especially his "Once and Future Church" DVD. Great history.




"Great men and women of God" do not whip people who disagree with them, even if they had "blindspots when it came to accepting fellow Christians whose ideas differed from theirs."
Leave a reply