The mornings are getting cooler; I am SO happy about that.  Ok, I have three announcements.First, It's a boy!! 
Second, some of you (or someone you know) may be interested in this:
Opportunity for Christian Dancers
Soli Deo Gloria Ballet, a professional-level ballet and performing arts company based in the Niagara region of southern Ontario, is actively seeking Christian dancers who can perform at a professional level and desire to honour and serve God with their art, serving on a short-term basis in an atmosphere of ministry and discipleship. We perform primarily in churches and nursing homes. Our upcoming tours will run from late November to December 14, 2008, and Spring 2009.
You can learn more about Soli Deo Gloria Ballet at www.solideoballet.com.
If you have any questions or would like to get to know us better, contact Carolyn Currey at 905-382-6036 or email us at solideoballet@gmail.com.
Lastly, a while back BHEA asked if I would speak at their upcoming 'mini convention'.  This year they are also featuring Linda Lacour Hobar, who wrote Mystery of History.  I am such a huge fan.  Anyways, I told them, "Sure, I'd love to be a part of things".
And then I started thinking about it.  And then I started obsessing about it.  And then it started keeping me up at nights, so finally, and only giving them a month's notice, I sent over a panicked email saying,
"I CAAAAAAAAN'T DOOOOOOOO  IT!"  I am *not* a speaker.  There is no way I could have stood up there all by myself. 
They were very gracious and we were able to work something out that will be much better.  Instead of me standing up there babbling for 45 minutes, I found two brilliant friends who will help lead a roundtable discussion on the pro's and con's of different Homeschooling methods. 
We're going to cover Classical Education, Co-ops, Boxed curriculums with set lesson plans, 'Charlotte Mason' style, Child directed, Unschooling and Eclectic.  Fun, eh?  I hope some of you can make it and lend your advice / own experiences to the discussion. 
Details:
Blount Home Education Association is excited to announce a day with Linda Lacour Hobar, author of the award-winning world history series The Mystery of History! We also welcome writer Jenefer Igarashi as our lunchtime roundtable hostess!
WHEN: Saturday, September 27, 9 a.m.-3 p.m.  (Sign-in begins at 9 a.m., keynote address begins at 9:30)
WHERE: The Blount County Public Library, Maryville.  Sharon Lawson Meeting Room.
COST: $5/members of BHEA  or $10 for general homeschooling public 
RSVP: You MUST RSVP for this event, as seating is limited. Please email Amy Brown at ARAJBrown1993@aol.com to get on the list and immediately send your check to her at 4050 Holston College Road, Louisville, TN 37777      >>>>>>>>>>>>>>>>. Your registration will not be considered complete until your check is received.
LUNCH: Will be brown bag if you plan to stay for the roundtable. If not, there are lots of restaurants in the vicinity. The library also has a cafe that serves desserts, coffee and other drinks 
In other news, my daughter, Ryann, spent three days at our pastor's house earlier this week.  I can't imagine why she likes it over there so much.  Here she is climbing their chimney.  Literally.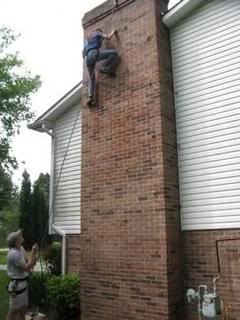 Is it just me, or is that weird?
September 11th, 2008 - Posted in Uncategorized | | 28 Comments
28 Responses to ' Brian Regan is Hilarious. This post has nothing to do with him. '



Ryann, you go girl!! That is funny and amazing! I can't call it weird, because my rock-climbing enthusiast sister would beat me up. You should see her muscles!




You get to sit with her, and talk with her, and eat with her…man I am so jealous! I tried talking to Linda at the Cirriculum Fair last year but she was so busy! However I went to ALL her classes!!! She is so the bomb! Have fun!

Latte




I'm glad you are coming!! Thank you so much!




I'ts just you.

It's COOL




The Blount county convention place (at the library across from Church?)has a 600 ft high rock climbing wall and they wanted to prove that even people that are afraid of heights can climb 600 ft if they tell themselves they can, so I volunteered (sp? I should know how to spell that word after living in TN 3 years) you. Don't worry, it's indoors.

There's a rock climbing place in/around Maryville I think within 30 minutes of Church. The place is call Top of The World. I really wanna go. Can you take me? djflknvdnvlkjadjflidj What would it take to get you to take me rock climbing? I know you can climb. Where else would have James gotten his Monkey climbing skills? Certainly not from Dad's side (imagine Grandma sally in a harness going down the zip-line).

You're keyboard is messed up again. Time to sign off. Can I have some grapes?
-Ryann
Oh, and those pictures aren't from this week. That was LAST time I went to their house.




I think you coulda done it, frankly. Just pretend everybody's nekkid. You'll either feel very confident or you'll laugh your booty off… one or the other. 😉

And Ryann… BE CAREFUL.

Sorry – it was the mother in me.




OK…where is Maryville? That might be worth the drive for me from Nashville…to come see you NOT speak! =)




I wish I could come and listen in on your round table discussion. too bad I have no clue about homeschooling. Or kids. Or round tables.




ps. tell Ryann I'd *totally* climb that chimney right along with her if I could. She's so cool.




Jess, your comment made me laugh out loud. round tables. I miss you!!

Kelliann — it's not too far! Come and hang out with me!




It looks like Ryann is having fun. I think you would do a great job speaking at a convention.
I'm glad to hear your friend had the baby ok.
I love the necklace Emmiko made for you.
Blessings,
Ruth




Yes Brian Regan is HYSTERICAL. Love him. I would love to come to your round table lunch….what fun that would be! 🙂




AHHHH, Ryan you get down from there!!!;)

OK, here goes. Jenn, I have been reluctant to comment on your "Palin" post due to all the many supporters and well wishers, but I feel that if I have wisdom from the scriptures that I should share it. SOOOOOO, when you say that it's not like she would be head of our church or homeschool program I would have to say that I agree, your right. The VP role is the head of the head of our church, homeschool & homes. They have the ability to strongly affect our rights and freedoms. First of all, she will be in the runner up position if something would so happen to the pres. The VP or Pres. has the ability to affect our church, homeschool or home. The scriptures are CLEAR that a woman is not to lead, period. I agree she might be a wonderful person, but if she was a true exerciser of the scriptures she would not choose to accept these leadership roles. You may think that it is her choice and we can't help what she chooses to do, but we do vote! It is no better to vote for McCain/Pailn or Obama/Biden, both are against God. You do have a choice, no matter how unpopular you can choose to either not vote at all or write in a more Godly candidate. Sure there is never going to be someone perfect for the role, but I don't want to have to account for my actions at that gate by telling God that I did the next best thing instead of the unpopular thing. I realize there are many out there who oppose me and I realize that, because the scriptures teach that we believers will face much persecution when we choose God over the world. May God be glorified when we do the unpopular Godly thing.




thanks for your thoughts, Megan! it has been interesting seeing all of the different positions.
: )
see you Sunday!




i love to read your blog..
email me when you have a chance so I have your email address.. we live too close not to make time to meet up sometime..
🙂




Wow! Ryann looked like she was having a blast! Was that a normal thing…having rapelling class at the pastor's place? ha ha ha! Next, she can teach you guys! Have fun Jen!




Like your title, this comment has nothing to do with this post…
But I just wanted to tell you that……….
We get to find out if they truly are cheaper by the dozen!!!!
I'm just super duper excited….for you know how I hate to run out of babies 😉
love and prayers,
Jaynee




Oh JAYNEE! i am SO excited for you; that is wonderful!!!!!




Oooo! Thanks for the update on Annemarie! Woohooo! That is SO exciting.

Ummm… chimney… yes, that is weird. But normal is boring so you get an A+ in that department.

I don't blame you for being chicken on speaking. I despise public speaking… I definitely prefer to hide behind written words, thankyouverymuch.

But you know what stood out the most to me?!

"The library also has a cafe that serves desserts, coffee and other drinks."

WHAT?!!! I need to go to *your* library!!!

Love,
Marshie




Hey Jen!

YAY! Maryville is close, I am def. coming. I sent an e-mail to the contact person you listed, but I have not heard back. Sending my check out today.
I am excited to see Linda speak and see you not speak (haha).

Still hoping to squeeze in a visit to your zipline. Maybe when the leaves begin to change, then it will be pleasant to be outside. Right now, I am afraid the mosquitos might carry us away!!

Your Chevy's soul-sistah~

PS~ I have moved (am in the process of) my blog to blogger. Take a look. =)




Brian Regan is hilarious! We love him. Also, Tim Hawkins is funny. Check him out on youtube.




Hey girlfriend…I'm trying to e-mail you and it gets sent back. Let me know if you changed your addie.

Blessings from Ohio, Kim<




it's still the same one! i will email you…




Hey Jen!

I'm so glad you were able to work out the speaking in public thing. I'm with you, girl, I just know I would fall apart if I had to get up and speak to a group of people – especially for 45 minutes! Bleah!

We had our first week of homeschooling this past week and all went well, but need to tweak the schedule a bit. It's my last year! Bawl!!!

Hmmm. . .interesting that she would climb a chimney. I'm sure it was fun for her, but personally, not my thing! LOL

Have a blessed week!

God bless you ~ Julie




OH GIRL!!! Your article that is on Crosswalk.com right now is AWESOME!!!!!!!!!!!!!!!!!!!!!! I have ALWAYS identified w/the woman who annointed the feet of Jesus…b/c of Jesus' forgivenes…I LOVE MUCH!

Blessings from Ohio, Kim Wolf<




Jen! It's so good to find your blog. I have been out of it as far as blogging goes for several months because of different issues, and today saw an incredible article you wrote on Hypocrisy for HEM. I don't get the magazine yet (keep saying I'm going to subscribe — love it), but saw your article today in a reprint by Crosswalk in their online homeschooling newsletter.

Regarding an earlier post, I, too, was heartbroken when I heard about Marsha's precious little boy. I don't know her, but had seen her comments quite a bit on your blog over at HSB. There are so many unanswered questions in this life. She and her family are still in our prayers.

Sally (JustGiveMeStarbucks at HSB)




P.S. — forgot to say that the article was EXCELLENT. INSPIRED. Thank you. 🙂




Jen..Jen…JENNNNNNNNNNNN….I am doing the BIG FAT ugly cry right now. Know why? Because I am a MORON and somehow missed yours and Maria's comments on my blog.

No kidding, I JUST read them here in my living room. I would have LOVED to meet up with you guys and I am so insanely sad that I didn't get those stinkin' comments because we SO could have done that yesterday. :*(

So bummed.
Leave a reply