Time is flying!  Is Sept really already half way over? How'd that happen?
Yesterday, my younger brother, Jay, joined the marines.  I am excited for him.  Jess and Choncho were able to meet my dad and step mom in Anchorage for his swearing in ceremony.  They have to make sure you can swear real good before you join the service.  I kill myself.  So congrats to Jay!  That is a real adventure, and I know our dad is proud. We all are!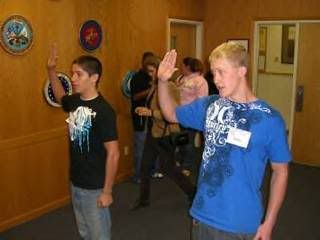 he's the massive blond headed one.
And speaking of Jay, over the last year or two he has worked part time at the Best Western, which is right on the lake that my dad lives on.  Anyhow, my dad told me that last week he was watching the news and when Charlie Gibson came on, my little brother said, "Whooaaa, hey, I was talking to that dude last week.  I said to him, 'Dude… what's goin' on with all the cameras 'n stuff?".  So, not only is he a Marine, he also rubs shoulders with important (biased) members of the media.  Impressive, no? 
If you're interested in seeing what it takes to become a marine, check out this link.   Pretty intense.  Yikes.
In other news, have you seen this?  It's a really lovely publication.  I have gotten a couple of issues and I like it.  It has a great focus on practical helps and hands on ideas for working inside the home (and homeschooling).  Good stuff.
I had something else to tell you, but I forgot.  Ok, I'm off to shower and meet my excellent friend at the park.  It is *perfect* park weather today!
Oh! I remember what I was going to tell you.  Our pastor has just started going thru the book of Daniel.  Ok, that is one interesting book.  He has been going thru the historical / background info for the last two weeks.  Daniel is one of the 'most attacked' book in the bible and is hotly disputed by secular 'experts'.  Our pastor has been going thru the arguments and defense of the book of Daniel and it is beyond fascinating.  You can download the messages here. The first one will be dated Sept 7.  Total mind blowing stuff.
September 16th, 2008 - Posted in Uncategorized | | 22 Comments
22 Responses to ' You Picked a Fine Time to Leave Me, Lucille '



Jen,
My son is a Marine!! The boot camp is brutal but he is doing great now!!! My other son is Navy and stationed in of all places…Hawaii!!!!!




First your brother is a super duper brave person!!! Second baahaha "biased" No not members of the media…surly not! Too funny!

Thanks for the download…I love biblical arguments.




hahahaahahaha "important biased members of the media". I wouldn't be that kind…




So he missed an opportunity to 'accidentally' step on Mr. Gibson's shoes and scuff them up? MAN. (just kiddin')

I'm proud for you….the Marines are AMAZING.




*sniff* What, the Army isn't GOOD enough for your brother? LOL

Seriously tho – congratulations to him. We wish him many safe days and happy memories as he serves.
Hugggggs Mel




i have been putting together an answer for your question on this post http://afamiliarpath.blogspot.com/2008/09/back-to-work.html
should have it up for you by tomorrow so check back.




oh and those lyrics, when i was a kid i thought it said 400 children and not a crop in the field.




Chickadee, I THOUGHT THE *SAME* THING!!!
and boy oh boy was 400 children a whole lot. Now that I run in homeschool circles, it doesn't seem as large as it used to.

looking forward to your answer… but I can't imagine you having one, except for, "You're right, it's not a real food"




Congrats to your brother! My bro-in-law is an ex-marine. Beware though, they can end up being a little scary sometimes.

And Crosswalk sent out your latest article via their newsletter. Aww, so proud of ya!! Hugs!




Hi Jen! I've been a blogging slouch lately, but I'm back…I think! It's always a pleasure to read your blog! Except for the mess I make when I spit coffee at the computer screen!

"Whooaaa, hey, I was talking to that dude last week. I said to him, 'Dude… what's goin' on with all the cameras 'n stuff?".

Okay…I'm all cleaned up now. So anyway, I posted some pictures from our trip to Tennessee back in June!

Hope you enjoyed the rest of your convention season. Wish I could have seen you more…maybe next year! And next time I'll let you drive.




Semper Fi!
Marines are awesome!
Thanks for your comments on my post! 🙂




Wow … I just went to download those Daniel sermons and read this intro on the page:

"Grace Community Church is committed to the expository preaching and teaching of the entire Bible. This approach to God's Word involves the in-depth explanation of each verse of Scripture in the context of the chapter and book in which it is found. This enables us to determine the proper interpretation of the meaning, as intended for the original audience, and then make proper application to the believers of today."

No WONDER you love this church! That is exactly the kind of thing we need so much more of. I worry about us homeschool kids because I think most of us are coming away with a sort of intuitive morality and principled approach to life, but are confusing that with solid Bible education. We shouldn't confuse the two — and the second is more important than the first!




amen Rachel! and that's why we drive three hours every Sunday (sometimes six if we go back and forth again on Sunday evening)




I keep telling my kids I'm going to send them to the marines if they don't behave! That's really neat about your brother though! Hope all goes well for him. I'm going to come back when I have a bit more free time and check out that message on Daniel, it sounds fascinating. God bless, hope you have a great rest of the week!

Mama J.




Hey girlfriend…I'm still getting any e-mails I send to you kicked back to me. 🙁

Blessings from Ohio…




When did you move??? Oh my gosh, it's been forever since I visited because I didn't even know you'd moved. How are things? Thanks for your sweet comment on my blog. Where does the time go? They grow up all too fast don't they?
Stop on by anytime.
julie




Kim… i just tried emailing you again. Let me know if you got it!




Deal, I'll pray for you too. Thanks for stopping by.

Mama J.




That's so neat Jen, my bro is one of the few and the proud. He did his time and got out, but once a Marine…well you know! So I guess he's off to Camp Leguene (sp?). I was 10 when my bro graduated from Boot Camp and I remeber vividly visiting that Camp. It's so crazy to see them leave with hair and so skinny and they come back buff and bald! My mom didn't even recognize her own son as they marched in to see us for the first time. Funny! I'll be lifting him up.




The Marines are tough stuff!

I'm so glad that you posted about your pastor teaching on Daniel. Our pastor is doing a study on the end times (Wed. nights) and it is SO interesting. This should fit in nicely!




Didn't get it. Did you send to wolfhomeschool@woh.rr.com ?




Congrats to your brother. I didn't know you had a brother. Ha. How many more siblings do you have hiding in igloos up in Alaska?
Maybe we'll run into each other one of these days!
A fellow hermit,
Letitia
Leave a reply