Aha! You see?  This was taken right off my back deck. Fall is coming.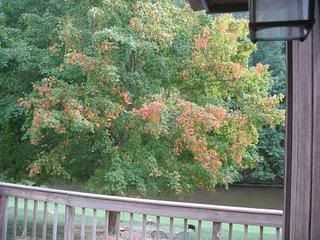 Matter of fact, it's been downright chilly in the mornings.  This is my absolute favorite time of the year.
About five years ago, my friend, Jennifer G (from MI) sent me a Thanksgiving Tree.  It started a new tradition in our home.  The first tree she sent did not make it over in the move from CA to TN, but that's been just as well because making the tree is half the fun.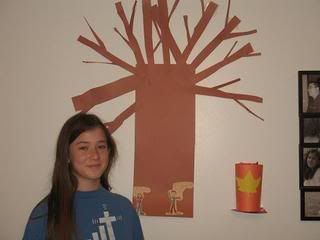 Yesterday Emmiko built the tree, and now, throughout the weeks leading up until Thanksgiving, my kids will trace (real) leaves onto colored construction paper, cut them out, and write what they are thankful for.  Normally ending a sentence with a preposition doesn't signify, but for some reason that last one is really bothering me.  Anyhow, these Thankful Leaves will then be taped onto the branches of the Thankful Tree.  I love this project.
In other news, and still speaking of being 'thankful', I really like my Blockbuster 'movies thru the mail' subscription.  We don't have a TV, but there are some things that I really want to watch. I can find almost anything on the Blockbuster site. Last week I found a show called Survivorman, hosted by a guy named Les Stroud.  My kids LOVE it.  He gets dropped off in the wilderness and demonstrates how to survive. 
And now, every day – EVERY DAY – James goes outside to gather firewood and build a shelter.  Yesterday Bo helped him with the frame.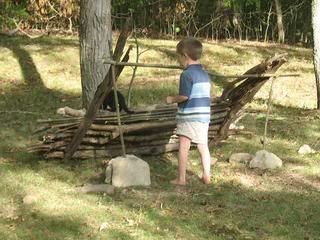 And here's James sizing up dinner…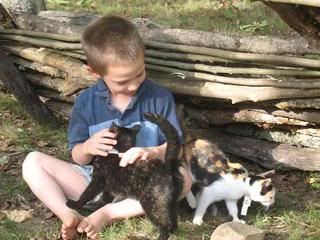 September 26th, 2008 - Posted in Uncategorized | | 17 Comments
17 Responses to ' SurvivorTot '



Wow, that is such a neat idea! I'm always looking for creative traditions we can start with our girls. That's a great visual reminder to be thankful every day as well! I love that your kids are all so industrious. I'm sure it takes a lot of work to get them that way! My kids used to get excited about helping me load the dishwasher or laundry. That didn't last long! I hope you guys are all doing well. God bless.

Mama J.




Yes, we know Survivorman. Watched every episode before we cancelled cable. I liked ol' Les. The kids loved it too, and I'd catch them trying to start fires with wooden train tracks, etc.

And enjoy your fall. We have no idea what that is down here. We have green trees, then brown, then bare, and all in about 2 days time. Thank the Lord for your oranges and reds. And can I steal your tree idea? Good. Thanks!




I know a guy who looks JUST like surviorman. What a neat Fall thankful tree idea. I wish I had kids to do that with. Wonder how weird it would be to just do that with Charley. I could make him get the leaves and I could trace them and stick 'em up on the tree. naaahhh. I'll wait for kids. Also, that's sure a neat shelter. I miss James so much. He's being exceptionally nice to those kittens too. that's refreshing. i also just commented back on your comment to me about your comment to me on your blog.




Oh girl…if you all like Survivorman you GOTTA put Man vs. Wild in the queue (qeue? queso? oh shoot, you know what I mean!) Bear Grylls does way cooler things and what is more awesome than his accent? (Well, I must say I'd like to be the insurance broker that gets the commissions off his life insurance hahahaha) Seriously though, we've watched both and Man vs. Wild was declared the winner by all, including the little prince (who was still in utero at the time – I swear he recognized Bear's voice from all that "mommy's going to lie down and watch this nice man eat disgusting things because she's going to throw up ANYway, so it might as well be instigated by something she can call learning for your sister").




Hey~ I love the thankful tree idea! we may have to try that around here…

You know what I'm thankful for? That I get to see you tomorrow! I'm crazy excited too! =)

That is all…




Okay, normally I stay away from on line debates, but I must say that Survivorman can woop that Bear guy blindfolded and with one arm tied behind his back! (Hey! Wouldn't that make a ROCKIN' episode?!) My kids call Bear "the fake Survivorman" because we believe he sets up his stunts and spends the night at the Hyatt Mohave each night. I read it, so it must be true.




I like the thankful tree idea. I think I may steal it and use it her.
Ok — I am thankful for your friendship. That is one thing already.

I also like fall. If life could be like a nice crisp fall day it would be just PERFECT to me.

Love,
Maria




Hey Jen…I wanted to let you know that although the Lord didn't move us to TN, He did move us to KY. (you had hooked me up with someone who knew something about homeschool stuff in TN, thanks, in case I forgot to email:)). I love the tree idea…since we just moved in Aug., that might be a good 'adjustment' thing to do w/the kids. Also, my kids would agree about the diff. between Bear vs. Les…Les is best…ha, my own joke there. Anway, Bear has a habit of umm, well, 'wetting' on things or in things (like a snake skin just a few weeks ago to save to drink)…yeah, yuck. Take care and God bless.




whooo hooo, phyllis — i'm super excited to see you, too!




That's a super high tech fort your (very young) boy made. I'm impressed. Not faking either…I'm really impressed!
Survivorman was good, don't watch Man vs. Wild. STUPID…and fakey.




Hi Jen! Your start-of-autumn pic looks amazing! It's the start of spring in Sydney… but that just means it's really hot already! Maybe I should cross the Pacific and wait out the summer 🙂

Survivorman sounds way cool. By the way your orange-brown-black spotted kitten there is considered to be a lucky 'Money' cat … I read in one of those Feng Shui/Chinese folklore books. Those kitties are so cute!!!

And right now I am thankful for strawberries and icecream and most especially a nice aunt who makes 'em into fruit shakes. And an internet connection so I can read this blog!!! ^-^ God bless!




Okay this is a line from a totally inappropriate movie (from my pre-Christian days) but it fits so well,

"We don't eat our kitties!"




Megan, I don't know what the movie is, but the line still made me laugh. And I suppose we can spare ONE kitty since we're getting one of yours. heh heh.

Sharmaine, you're welcome to wait out your summer here! It gets nice and chilly in East TN. And nothing would be more cozy than listening to your cool accent around a fire. : )




okay jen~ I'm here…where are you??? =)




You know that Survivorman is Canadian, eh?




Are you sure you didn't take that Fall picture off of *my* back deck? It looks eerily similar.




I love the thankful tree idea…. hmmm…. we may just have to start one, too.:)
Leave a reply