I like being 'sort of' sick because it's such a fabulous excuse to lay around and read.  But I'm not as fond of being *really* sick, where you just lay in bed and moan.  But losing several pounds is always a fair trade off.  At any rate, I'm pretty much feeling back to normal again.
My daughter Emmiko is definitely my creative one.  (Jess, you'll like this one…) today she asked for an old pillow case and then disappeared into the basement for a couple hours. And then she came back with this friendly looking fellow: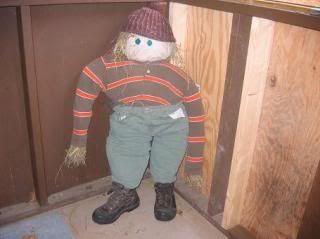 That girl never ceases to surprise me with her creative talents. She used clean hay to stuff it. I know for certain that she didn't get it from me.  My idea of a craft is purchasing a festive table cloth and then putting it on my table.  That's about as craft-ish as I can get.  It's not for a lack of trying, I just can't ever come up with anything clever, and I'm generally too lazy to try my hand at anything that comes with instructions.
In unrelated news… a while back there was a group of us at Maria's house and *somebody* asked an odd question.  She asked, "Do any of you guys swear in your head?"  And we all thought about it, and some of us did, some of us didn't, and some of us only swore in our heads using the words that weren't actually swear words in books from the 1800s.  Ok, so all of that to say, I don't think I am going to play Nintendo 64 any more with my husband.  I used to be a poor loser, but I keep thinking that I've grown out of it.  And if I can't win at Mario Kart every single time, then I'd better just not play it all anymore.    
Ok, I'm off to the library to return late books.  Again.  Those fines add up *fast
October 9th, 2008 - Posted in Uncategorized | | 20 Comments
20 Responses to ' This Is My Title '



I hope you feel totally better soon! Love the scarecrow. I need to make one of those with my kids too.




I love the scarecrow! And I really like your craftiness. That is about it for me too except I add fall garlands over my windows and light cinnamon candles! 🙂




At least you don't throw your controller and kick the foot stool across the room when you lose. Not that I do that or anything… And it doesn't help when your husband smiles and says, "oh, I'm sorry you lost. I wish you could just enjoy playing to play. You don't ALWAYS have to win you know. You ought to learn to control your emotions." not that he ever has to say that to me…

I love Emmi's scarecrow. It's a *little* creepy, but I guess that's just in it's nature… hence, 'SCARE'crow. nice sneakers. Is James shoe-less for a while then? Emmi has more creativity in one finger than you and me put together.

And finally, i am glad you feel better. I am NOT glad that you lost more weight. next time we visit, I'm going to feel like a house next to you. I. don't. like. that. I'm going to send you more candy. Poor Ryann… I will pray she gets better.




I don't think that I could come up with that scarecrow bit… even if you paid me! Way to go for Emmiko's creativity!:)

Glad you're feeling better!:)




At least it's been keeping the cats outta the cage.




Jess, I'm thinking that when you come down, maybe we shouldn't have a Mario Kart match after all. That could get extensively destructive




Mario? You're kidding, right?

I wish my malady had taken 5 lbs or so off. Instead, I still have a healthy appetite but can't move. I'm doing a little better. I think it's leaving my muscles and going back to my head. Oh joy! lol Really, I hope everyone at your house is better–the stitched up boy too.

There is actually a barn dance in Abingdon this year. GracEduators is doing it. I can't go tho. Well, I could, but Lucien won't be here till late that night and I ain't dancin' without my man!




Wow. You all have really been through the wringer lately, huh? Take your vitamins and clean out your bushes! I hope everyone is mending now.
How great that your son is coming for another visit so soon. I'm sure it means a lot to him as well. I know first hand how important it is to the adopted child to have that connection and learn more about who they are.




What do I live for if not to bolster your bloggy self confidence?

The most that I ever had in late fees at the library is $36. Can you beat that? Mark about had a cow. Which would have been great iffen we went for that raw milk thing, which of course we don't. :p

I think that I need to hire Emmiko to come be my craft instructor for the kids. I hate crafts. Doing them, I mean. I can appreciate them if someone else does them though. Rebekah is pretty crafty. Right now she is attempting to make her own perfume from carnation flower pedals.

I am off to read more in the Wizard book.

~Annemarie




Jen,

This is somewhat random but…when you were at a HS convention this summer, there was a booth that had character building curriculum…HUGE booth. What was the name of that curriculum? I thought you had a pic of "that" booth, but I could not find it in your archives. Thanks, dear!




Annemarie… my last fine was $42. Granted, part of the reason was because Bo lost the Redwall book that he'd checked out, but the rest of it was late fees

Gina D … um.. let me think, Character First is one, Doorposts is another one that is pretty popular, uh, I can't think of any other off the top of my head. hope that helps!




Jen, glad to hear that you're feeling better.

I love your idea of decorating. It's more than I do! Festive table cloths…who would've thunk it? LOL




ACK!




That is SO cute! Can she do that at MY house? You all are invited to come, too, of course. She may need one of you to drive her HERE. lol

Blessings from Ohio…




Hi Jen – I just came across your blog for the first time and know I will enjoy my time here. And yep….library finds are completely CRAZY in my opinion. You could buy a LOT of Redwalls for $42. 🙂




This post is lovely. Especially the part where your feeling better.
Now about the the words. I'm here to make a correction. My question..um rather..somebodies question was "Do you think in bad words?"
To which there were several responses and that one about the 1800's words. That was an interesting conversation. We probably shouldn't discuss it while you play any video games though.
You need to come visit me. You owe me. hehe
Have a blessed week my friend.
Love,
Maria




Hi Jen
It was so great to see the picture of your family's Thanksgiving tree! How cool that you guys are still doing that. This year we are extra thankful. On 9-11 the boys and I were hit by another driver and we totally ruined our truck and got really hurt. My youngest (10) almost died, but came out of it with just lots of broken stuff. We were in the hospital till last week. Praise God with us, He is SO good!
Jen G




Lamplighter…that's what it was, Lamplighter! Have an opinion?

Gina D.




Neato scarecrow, bad words…what are those? I think our big badish word around here is fart…but I live with nothin but boys, heck even the fish and two dogs are boys!

I am off to have someone sick cough on me I need to lose a few pounds!

Faith




Jen G… YIKES! I'm praising God with you that you're all ok!

Gina D… yep, Lamplighter is awesome — matter of fact, my friend Jennifer sells them. She'd be a great girl to talk to. You can get a hold of her thru her blog: http://www.homeschoolblogger.com/gabalot
Leave a reply