Ryann is not generally my cooker.  Emmiko dominates the kitchen and crafty craft-ish arena.  Ryann, on the other hand, has many other strong points like videography, computer knowledge and causing people everywhere of all ages to like our family because she is so generous, outgoing and personable.  She also has a smacking wit that almost scares me.  She's very funny. 
So anyways, when Ryann said she wanted to try a baking experiment I mentally snickered at her. You'll be pleased to know that I didn't snicker at her on the outside… outwardly I just told her, "Ok, you can try, but you better clean up your mess"
About three minutes later I heard her snorting and laughing and sputtering, so I went into the kitchen and saw her standing in front of the microwave.  Turns out, her best friend from church (who is a woman in her early 60s and has a sense of humor that matches Ryann's to a T), sent her this microwave recipe to make chocolate cake (from scratch) in a coffee cup.  And it works.  And it's actually pretty good.  But while it's baking in the microwave, the stuff grows upwards until it outgrows the cup by double.  It made me nervous.
As you can see, it shrinks down quite a bit when you open the door.  See the cake peeping its brown little head over the top? Yummmmmmy. But, still, I don't know – I'm not sure if I can fully support chocolate cake which is *that* fast and easy to make and eat.  It just doesn't seem biblical.
And by the way, Jess sent me that mug.  It has pictures of a bunch of famous authors on it.  Pretty neat-o, eh?
Anyways, here's my brilliant daughter, newly skilled in the ancient art of baking Microwave Chocolate Mug Cakes: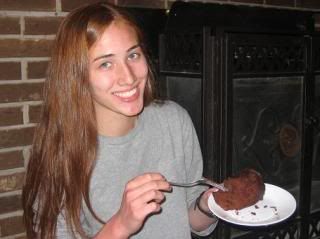 In other non-caloric news, you know something that really bothers me?  And I can't see that there is any sort of remedy for it, which adds to the botherization of it – It irks me that there is no general accepted consensus on how to spell the word "yeah / yah / yaaaa / ya" etc.  It is supposed to have the short a sound, like in "cat", but there are no letters to accurately spell it without the possibility of it also sounding like "yay" or "yahw".  It really does bug me. 
In other otherly news, I was poking around on Coie's blog page and I found an "About Coie" page that I hadn't seen before.   She must've added it recently. Happy Sigh.  What a nice little girl.  Please don't ever get married and leave, Coie.  No really… I mean it.
Lastly, I highly recommend Expelled.  We rented it when it came out on Tuesday.  Wow.  Entirely worthwhile… and then some.  Do rent it.  Or buy it.  Whatever.  Just make sure you watch it.  Highly interesting. Plus, it has a groovy soundtrack.
October 22nd, 2008 - Posted in Uncategorized | | 26 Comments
26 Responses to ' Cup Cakes er… *Mug Cakes*, rather '



Hey I need that recipe for those days when I am making Ryan's (my husband) lunch and he remarks, "are there no dessert's?" Yep, this recipe would be great to have for such occasions as those. Please send it to me Ryann (Jenn's daughter).




Ooooh, yes, please give us the recipe! BTW, the "ooooh" is supposed to be a drawn-out sound of the "oo" in "choose"… not like the long "o" sound in "chose". I just didn't know how to type it. 😉




Hi Jen, Oh my…that gets to me too! Here's my rules:

Yay! = good for you! Yippee! Sounds like hay, pay, say, and jay.

Yeah = yes.

Ya = You; like Love ya!

But what do I know, I'm from Texas…

I've heard of the microwave cake but, like you, that's just not biblical.

((hugs)) ~ Angela




Jen, I know you know this and I'm not telling you anything new but you have such a great family. It makes me want to move to Tn. Anyway, the cake in the microwave thing is neat. However, we don't have a microwave or my girls would want to try that. I love Coie's statement that her parents caught her respect and love at a young age. I pray that we have done that with our little arrows.

Thanks for sharing.
Trixi




Is your microwave really that clean or did you clean it and then take a picture?




Megan and Connie, I will have Ryann post the recipe later in my comments section. It is something that your little kids could do and be amazed with along with you. It really is fun!

Angela– yeah, you and I are on the exact same page. Yay! Gotta love ya for that : )

Trixi — move to TN!!

Sarah — Emmiko has to clean it. If it were up to me it would always look like a Jackson Pollock painting.




I am soooo sure! Posting a picture of the cake, but no recipe. I know that I couldn't eat it, because it probably is a huge gluten bomb, but isn't their some blogging etiquette about posting recipes? 😉




Yah, that has always bothered me so I've just decided on my own that I'll spell it like "yeah" although in my head I cringe and think "yay". Whatever.

Microwave cakes are good if you want something warm and gooey and can eat it right away– just add some chocolate chips or a nice blob of caramel in the middle of that batter before you nuke it. YUMMY!




Abbie made one of those mug cakes last week and deemed it "good enough to eat." But she said the next morning it wasn't a good idea to eat it right before bed – too much caffeine. I love your microwave. It's clean. I would never post a picture like that on my blog – my microwave is disgusting. Almost as bad as my carpet.

And it's "yeah." Because I said so. "Yea" is when you cheer about something, or give an affirmative answer. "Ya" is slang for "you." Any other grammatical issues that need clearing up, just call me. I am the self-declared grammar guru.




WOW! Ryann should really share that recipe. I have a five year old who always wants to cook cakes for the family but that seems like one she could do mostly by herself.

I always thought it was YEAH. I don't know if that is helpful and since I really can't spell in the first place….it probably isn't all that helpful.

That movie does look rather interesting.




Hey…so when are we going to get a copy of said recipe? Cause, really, a girl can NOT have too many recipes for chocolate cake.

Your microwave is way to clean. I'm convicted.

I'm not sure I can help you with your spelling dilemma. I guess it depends on what kind of 'y' word your are trying to get across. Maybe… YAY~celebratory yipee
YEAH~ as in yes
YA~ as in See Ya!

Lastly, I have not called to cement my visit to your farm arrangements because again, plans have to be scrubbed. My Sister-in-Law from FL is visiting this weekend. Sigh. We'll shoot for next month. That is, if you are free between all your road trips.




Righto, here's the recipe:
DANGEROUS CHOCOLATE CAKE-IN-A-MUG

> 1 coffee mug
> 4 Tbsp. cake flour (plain, not self-rising)
> 4 Tbsp. sugar
> 2 Tbsp. cocoa (unsweetened)
> 1 egg
> 3 Tbsp. milk
> 3 Tbsp. oil
> Small splash of vanilla
> 3 Tbsp. chocolate chips, optional

> Add dry ingredients to mug, mix well with a fork.
> Add egg, mix thoroughly.
> Pour in milk and oil and vanilla, mix well.
> Add chips, if using.

> Put mug in microwave, and cook for three minutes on 1000
> watts.

> Cake will rise over top of mug–do not be alarmed!

> Allow to cool a little; tip onto a plate if desired.

> Eat!

> (This can serve two if you want to feel slightly more
> virtuous.)
BTW, is says 'cake will rise over mug'. It DOES. It literally rose almost exactly twice the size of the cup, and it started to lean like the pisa (sp?), but it shouldn't flop over into the microwave. Mine didn't. And neither did Mom's 4 cups of it. No, just kidding. She only had one bite of mine and then my siblings all tried making their own.

If you try it, please let me know how it turns out!

-Ryann




Thanks so much for the recipe, Ryann! I'm going to try it today. YUM! Keep those chocolate recipes coming! And, the faster and fudgier, the better! 😉




it's "yah". I can't stand it when people spell it "yay". that's the way to spell a happy expression. "Whoohoo, YAY, my microwave chocolate cake turned out". By the way, I can't believe how BEAUTIFUL Ryann is. She's turning into a gorgeous young woman! Keep that girl inside!

and aww, I like Coie's about Coie. that's so sweet. I pray I have wonderful, godly, sweet, loving, hilarious children like you. From my advantageous standpoint, with memories of you in your late teens, all the way up til now, all I can say is you're one lucky momsie. Who'da thunk it? I hope I'm so lucky.




I'm not sure it's biblical YOU make me laugh! It's no wonder your daughter is witty. 😉

I share your Yeah irritation! It drives me crazy every time I type it, or read it. For what it's worth, I think Yay should be for Y long A, like I'm excited, and Yeah should be used for Y short a, like I'm too lazy or too much of a hick to say Yes. 😉




I can't wait to try it with a little bit of my canned frosting, what's cake without frosting. Hmmm, maybe I should start making birthday cakes this way. That would be hillarious to see dozens of mugs at our fellowship meal!!!




i make that here … in Papua … can you believe it? yep. an aussie gave us each the recipe, and a brit loaned me her microwave. jungle cake em i swit tu mas!




Absolutely, EEEEMommy got it! We hicks never actually pronounce y-e-s, c'mon….that's for when yer mad! 🙂




Wow! That chocolate cake looks suspicious to me, too! How can you possibly make cake in the microwave? I don't want to know. Anything that cooks up that fast and that easy cannot be good for this cake loving – chocolate loving gal!!

God bless you – Julie




Wow! That cake looks cool! I can see why she was snorting with laughter! I would be too! ha! ha! ha! I'm definitely trying this one ASAP!! Woohoo! Choco cake in a jiffy! Thanks!




That sounds like a blast to do with little kids who love baking, but have moms who don't have the energy to clean up after them! I have two preschoolers who love to "help" mom cook. That would be an awesome thing to try with them. Still have that recipe?

MamaJ.




We tried making these this morning…which also happens to be hubby's bday! We had one for his bday cake…and a couple to split between the kids! They turned out awesome and tasted great!! We added a little hot fudge, which made it terrific! Yummy and fast…thanks Ryann!




yeah / yah / yaaaa / ya / yay / yahw. Am I the only one who has absolutely no idea what you're attempting to say?! Maybe I'll read some other comments and discover it. It sounds very southern, so you'd think I would know.
That is one cutsie cake. She needs to share her secret recipe. Marissa would love doing that.




Yep, ours rose over the top of the mug as well! Quite hilarious each time the girls opened the microwave to see it up like that. The wattage of our micro is a little different, so we ended up adding a minute and a half to the original 3 minutes. The first one, I tried adding an extra 3 minutes…oops…the middle of the cake was rock hard. So, we perfected it at 4 1/2 minutes total. 🙂 I can now look forward to a quick yummy choco treat whenever the mood hits me. Yummy! Thanks again!




i made one earlier it was yummy
the bottom though was sadly hard
nice quick and easy cake




Way to go Ryann!:) What a GREAT job and how beautiful she is!:)
Leave a reply