Happy Reformation Day! This is one of the few holidays that I celebrate.  My friend, Julie Park, is having a Reformation Day party complete with a painted castle.  I really wanted to make that party.  I wonder if the Bluedorns will have a castle at their party.
In other news guess what I got?  Poison Ivy.  I think it's secondary poison ivy because it's decidedly more enjoyable than the last time I got it.  But it's still pretty itchy. And the Bluedorn challenge has gotten me so worked up that I actually started wondering if I could use it as biological weaponry.   But no, I suppose that wouldn't be fair.  Or legal.  Or socially acceptable in any degree what-so-ever.  I hate that last reason; it hampers the best of so many good ideas.
In other news, Coie is almost done with the benefit quilt.  We have a system that works really well for us.  She sews, and I morally support her by sitting on the couch reading.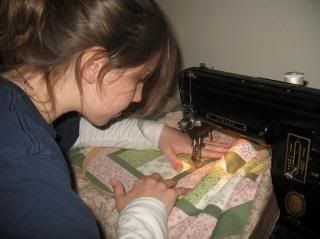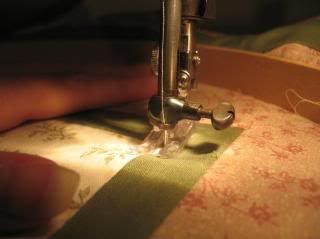 And Ryann was kind enough to take this picture in a way that emphasizes my size nines in the most delicate light.
See how I took a sharpy to the back of my book?  I did that because I don't like to be tempted to read the previews/overview.  I like everything to be a total surprise.  Unless I'm going to the doctor, then I make everybody talk real slow, and move real slow and explain in clear chronological detail what their objective is before they come anywhere near me.
Ok, I have laundry that needs to be scowled over.  Have a super weekend
October 31st, 2008 - Posted in Uncategorized | | 21 Comments
21 Responses to ' Reformed Itchy Sewing Feet '



I have to laugh because my 9 yr old son just asked if those feet were real? Hahaha lol.

As far as the party goes, I am so bummed that you're not coming and I completely expect you to set up a budget so you can make it for next year! Calvin's 500th Here we come!




Those glasses make you look like a nerd.

~A




This changes things. No way am I going to dance anywhere near poison ivy!




And the huge feet don't help much either.

:p




Have you ever gotten 3 comments in the first 15 minutes before? Exciting, isn't it?




hmmmm, perhaps 'psychological warfare' can be just as effective as biological warfare
:: insert evil genius laugh ::

Annemarie, i thought it would be appropriate to post something scary today.

Julie Park, it's a date!




You petite thing! I wear a size 11 (12 while I was pregnant). My 10 year old daughter has bigger feet than you. I laugh at your tiny feet!

I'm so, so glad that "the pois" (as my mom used to call it) isn't as bad this time!




You told me you'd read the back twelve times before you started the book, what was the point of the Sharpy?




Nice quilt! I haven't been here in forever. I don't have this blog on my google reader for some reason. Adding you now.




Dang it — I took those pictures specifically for *my* blog and you beat me to it…again. I'm going to start keeping my camera in my car again.




Whoops– that was your #1 daughter….

Coie




I like the idea of the Reformation Party – you could play "Pin the Thesis to the Door"!! 🙂 Hahahahaha!!! Luther would be proud.

Blessings from Ohio…




Your feet look bigger than your head. I wish I had people to sit on the couch and support me. They could play Strawberry Shortcakes or ANYTHING but no they tend to "help" which ended with me sewing my very ugly bridesmaids dress closed two days ago.




Poison ivy? boo hiss to that. Hope you are feeling better!




your feet aren't enormous. they just LOOK enormous in that picture. Guess what? My feet shrunk a size over the past 5 years. I used to be a 9.5 and now i'm an 8.5. nice huh? I love the pics of coie making her quilt. i wish i were there to watch, too. i sure miss you guys. when do you leave for that barn dance? when are you going to come see charley and me? did you see my new bling, or flair, or whatever its called on my facebook? i found homestar!! 😛




I can't really say anything about your feet…mine probably look bigger than yours! 🙂 Pin the thesis on the door? If that's anything like pin the tail on the donkey, then would we be aiming for a door knocker or what? Ha!




OK Jen,
I'm trying to encourage you on to love and good dancing:




Hey Jen…thanks for your kind words. My little one just cried and cried saying Bucky (the calf) really liked her. And my husband is taking it hard – rethinking, considering, praying, etc. We worked so hard on the fence where we finally allowed them to graze. It was Douglas' calf and he just said "It's behind me now, if I think about it, it just makes me more emotional." –

I can't believe you actually have a picture of your feet on the internet!! LOL…




Jul… I think it'd be more artistic if we moonwalked 16 beats down the center aisle instead of sashayed. Too bad we won't be doing the hustle!




I just knew I should have not come here when I read the word feet in your title! Well anyho cool quilt! Oh I think you should call Spike TV and ask them if they have a sport evolving fighting a bow ties…you son may have a new career.

Faith




We had a little Reformation celebration of our own, and tell Coie that her quilt is just beautiful!
Leave a reply