It's probably gonna take a full week or two before I feel back to normal.  And it's weird being home without Ryann and Bobo.  I'll be glad when Gramma Sally brings 'em back.  Ryann… tell Bubsie to email me.
I need a new computer.  First of all, this one is old.  Second of all, Coie's laptop busted a year ago, which means we have to share mine – and that hasn't been too big of a deal because she's not much of a 'play on the internet' type of girl.  Except now she's found a homeschool graduates networking site and spends large blocks of time reading thru posts laughing and snorting.  Homeschool Graduates are weird. 
In other news, and this is magnificently exciting, there are plans underway for another barn dance benefit gala extravaganza.  It's being planned for the NC / SC Spartanburg / Greenville area — there are a lot of homeschoolers in that area.  Plans will be forthcoming, so stay tuned.  If you are within three or four hours driving distance you really must come.
It is planned for Valentines Day 2009.  It's going to be grand!  We are waiting for Laurie to finish resting up before we start peer pressuring / badgering her into coming down for it.  In the meantime, here's a preview 
In other news, yesterday me and Emmiko cleaned out the woodstove and started the first fire of the season. C.O.Z.Y.  I love this time of year.  Fall is the best.
And here are two photos from the Bluedorn Ball (courtesy of Nathaniel Bluedorn).  I'm excited about the first picture because now, finally, after years and years of trying, we finally have a moderately decent family portrait.  Notice… all members are smiling.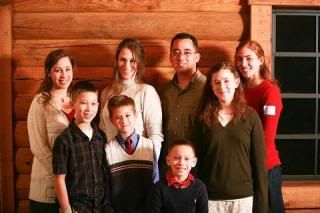 Ok, is it just me, or does James the Tyrant look mysteriously similar to Curious George?
And this picture of Coie is just plum pretty.  She's holding the newest Masloske member.  Just think, Jess, this summer we'll get to hold your new little pineapple pecan pie.
Ok, I'm off to think about considering the possibility of maybe perhaps doing school today.
November 12th, 2008 - Posted in Uncategorized | | 23 Comments
23 Responses to ' Announcement for All Homeschool Dancing Peoples of the American East '



Oh, you have a beautiful family. My girls are leaving to go to Nashville with my mom tomorrow morning and I am already missing them, so I know what you mean.
Have a great day, maybe schooling.LOL




Coie is a very beautiful girl.
Your family picture came out great! Getting a family picture of us would be to exhausting. There are just too many little ones!




What a sweet, smiling brood. Frame that one. That Mr. Bluedorn is gifted.




"Um, NO nonono, hehe, Ryann," *chuckles* "STOP. Can you please pull that down? I don't like talking. Stop, Ryann." *snort* *chuckles*

I told Bo I would type it out for him. I don't think he liked that.




ryann! be a nice sister!




WOW – that is a great family photo! (and Coie does look radiant in the photo of her with the baby.)
What a lovely family you have the Mrs Igarashi! 🙂

(Now if I can only get my 'hooligans' to sit still long enough so I can take on for OUR Christmas card….) ;-p

Michelle




That is a lovely family picture. You should have it framed. It's really nice.

Coie looks really at home with that baby…. EKKK!




I think your family photo looks wonderful! Maybe you should hire him for your yearly photos!!




how come you're so much more prettier than me? it's just not fair. Coie too. I need to dye my hair back to brown… (charley, pleeeeeeease??)




"how come you're so much more prettier than me"

… Jess, it is unhealthy, illegal and immoral to snort crack while you're pregnant.




Hi! Jen,
We are back from Disney and had a great time. We all loved it. I have posted some pictures on my blog. It has been so busy since we got back.
I love your family picture. You have a beautiful family.
Blessings,
Ruth




psshh. WhatEVER.




So do we have to harass Nathaniel Bluedorn for a copy of the portrait? 🙂 I hope you get a copy and email it to me. The one on our refrigerator is water stained and a tad old and rustic looking. 😀

I love the picture of Coie. So lovely!! She is, after all, a very lovely girl – inside and out.

Miss you!
ME




And really, if you are planning barn dances why don't you plan one in the WEST?! The west was won, you know, by barn dances. 😀
Kate




for sure, Mr. N. Bluedorn is a very talented photographer. He took about a billion pictures of the dance and party go-ers — for anybody who wants to see them all, they can be found here: http://picasaweb.google.com/nbluedorn/20081107WallaceBenefit#
: )




Oh, Jen! I loved you and your blog before, but now I totally am loving your last comment about maybe doing school today! That is SO me and our family! We are very relaxed (especially for me being a former public school teacher!) and I think it freaks my mom out sometimes (she lives with us). I think she's worried that they'll never learn anything (even though they are only 5, 4, 3, and 9 months). Keep it up, sister friend! You rock! (And I am beside myself excited about Jess' baby!)




That's a mighty fine family portrait!

And Coie's smile is just radiant.

I cannot wait for Jess and Prince Cha-Cha to have their baby! They are going to be fabuloso parents.




Woodstove!?! It is WAY too hot for that.




You can download high-res photos of the benefit at http://picasaweb.google.com/nbluedorn/20081107WallaceBenefit#




I love you! that's all.




Guess what? Ok, I'll tell ya. I used to live in Spartanburg and we still have family there (my MIL and my brother!)

SO..I might be able to swing your barn dance because we could absolutely stay with our family. Keep me posted, k?




Hey mom! Sorry I haven't commented for a while. Please tell everyone I said "Hi". Tonight the moon looked red then butterscotch and then normal.




bo, i like your description of a butterscotch moon. i like it better than cheese.

tell ryann to send me the pictures of your adventure today. it sounds blogworthy
Leave a reply