I hate it when I'm trying to sleep on my stomach and I can't find a sensible place to put my arms.  And I think I need a new bed.  Ours has pretty much had it.  It's a king sized bed but there's still not enough room for me to sufficiently sprawl out, and the springs have gone out on Geoff's side so everything slides towards the right (me included) which means every night I have to sleep on an incline.  Yes, as a matter of fact, I might complain thru this entire post.  I woke up on the wrong side of my dilapidated bed.
In other news, our Christmas tree went up, and we had a cozy time of it.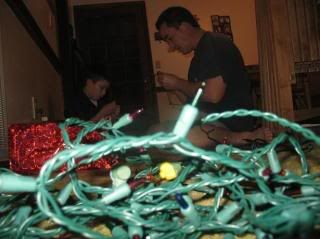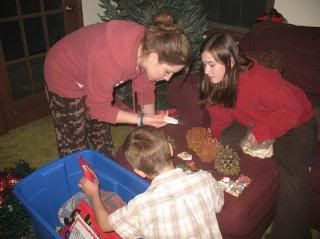 Of course hot chocolate with whip cream is a must for tree decorating.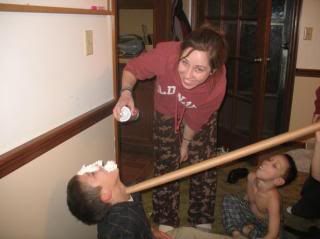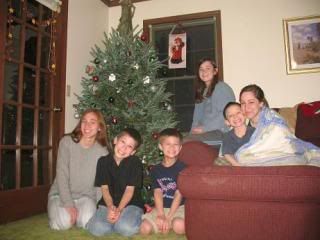 And here's Dip completing a real book with real words, from the library, out loud to somebody who can't read.  Thrilling beyond all expressive sentiments.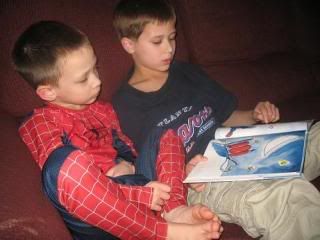 Lastly, my dad got Emmiko a violin for her birthday and we finally got her into lessons last month.  She loves LOVES loves her teacher and she practices her violin faithfully every day.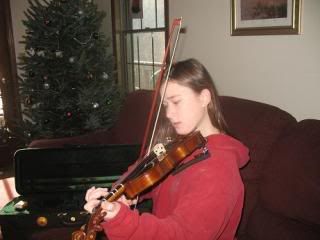 She can already play four songs.  One of my friends described the early days of violin lessons sounding like a cat being choked.  Pretty nearly.  But boy am I proud of my girl.  She is hoping to have Silent Night down within the next two weeks so we can accompany her with Ryann on piano, Coie singing, and me on guitar.  I need to start thinking up some catchy names for our new family bluegrass band.
December 3rd, 2008 - Posted in Uncategorized | | 21 Comments
21 Responses to ' O! Christmas Tree '



Looks like you all had a very good time putting your tree up! It's pretty…blue spruce?(I dunno really..just guessing. lol!) And don't ya just love those pics of siblings reading to one another? I have one similar of my 10 yr old reading to my 4 yr old…so cute. And she hated reading before, but loves to read to sissy now! My older sis used to play violin…for about 1 1/2 yrs. It didn't last that long with her, but nothing really did. And yes, it did sound a lot like a choking cat! lol!! I'm sure Emmiko sounds better though, with all the practicing she's doing. My sis never practiced. lol!




a choking cat…HA!
Love the whipped cream! 🙂




I have a King mattress with the box springs that you can have…free. It's in storage now, but we bought it new and used for less than a year. We had to put it in storage because it simply does not fit in our bedroom in the house where we live now. Let me know if you want more details.

I see you caved and got a real tree, not me…fake, pre-lit. I was always afraid there would be something living in the tree that would come out in my house.

I think I am less of an outdoorsy girl than you claim to be!




H.Y.
Just leaving you a comment.




No, it sounds like Dippy with a sore throat.




The tree decorations…you know, the white ones? They're my favorite.

How nice of your dad to get her a violin! How awesome that he's involved in that way.




Hey Gina! I'm gonna email you. How could I possibly pass something like THAT up?? And this confirms my life-long suspicion that it *does*, indeed, pay to whine.




Oooh… I 'd better not let my bunch see that whipped cream shot, or we'll be cleaning it off the ceiling!

Very cool about the violin lessons (and it can't sound any worse than me as a beginning BASSOONIST…now that was awful! We lived in an apartment, too – I'm shocked we didn't get evicted!)




Dude! I so need to whine on my blog…but I don't think I get near enough traffic to pull off a NEW BED! Lucky you! I have a bed a lot like yours, the springs in my mattress are eating the box spring below! At first I thought mice were eating my bed! Then I realized, no my bed is JUST TOO OLD TO HOLD MY BUTT any more!

Loved the cool whip picture.

I so think a family band thing would be cool! Maybe you guys could do something totally rockin like this band did on America's Got Talent

http://www.nuttinbutstringz.com/

Um but I don't think you would have do the whole black gangster look and all, it's just good music!

Faith




I love this post… I miss you guys so much.




why does bo (i think i got that right) have a pole protruding from his neck in the whipped cream shot? its hurting me. and i've tried to sit here and figure out what it could be, but i can't. you'll have to explain.




it's an emptty wrapping paper roll and he's being knighted by one of his brothers. In the neck. He may need his vision checked.




Coie is SO pretty. All of your girls are pretty. That picture of Bo getting stabbed in the neck and not seeming to mind at all is very amusing. Tell Ryann to call me. I will call her back. I forgot to ask for her again before I got off the phone with you earlier. She probably totally feels jipped.




We always joke about having a family band and my 7 year old always names off the instruments that everyone will play and then he looks at me and says, "And Mommy, you can dance."




I'm making the trip to TN for next year's tree decorating–we never have whipped cream when we decorate ours!




Looks like a fun time setting up that tree. My son likes the violin. I need to find him a teacher. My dad was teaching him but hasn't in a while for various reasons and now he isn't practicing. Sad. I would like him to pursue it.
Blessings,
Ruth




Your decorating looks like so much fun. We did ours this past weekend and it was a blast.

We just sold our violin, as my daughter has now decided to take up the guitar. She is buying it all so I just put my hands up and say whatever. I love the sound of the violin though!!
Blessings,
Trixi




oh boy!!! I can't wait to get our tree this weekend as we venture out to buy a natural tree at a commercial store 😐 But at least it's home depot, Coie stomping grounds :). We have to get out there to see you guys and hopefully hear the up and coming band. Hey maybe you should call yourselves, "Proverbs 31" 🙂




I am sorry to hear about the bed. That does make for a bad night's sleep. Hopefully the Lord will provide a new one soon. Musical families are cool. Congrats on Dip's reading! It does indeed feel very, very good to see that.

Have a great weekend!~

Susan




Hey Megan, I wish you'd hurry up and come for a visit. Megan Reed wants to see you again and show you her neat trick of climbing up the screen. ha ha




Yeah, that's my GRANDkids. Good looking, smart, kind, funny, well-liked, talented; they remind me of me. No wonder I love'em.
Leave a reply