My little brother, Jay, is officially a Marine.  Is that totally cool, or what?  He's also an accomplished break dancer.  Anyhow, as you probably can imagine, becoming a full fledge Marine is hard work, and I could not be prouder.  He's a handsome little bugger, isn't he?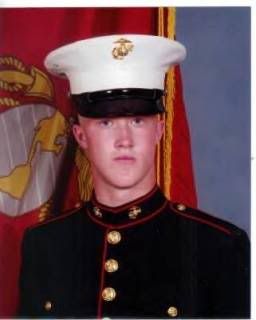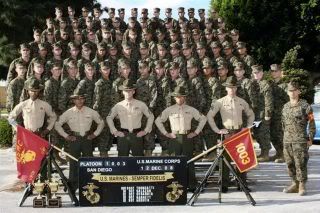 Our whole family is just pleased and proud as peach punch.  And who doesn't like peach punch?  Specially if it has ice cream and Seven Up in it.  Um, where was I?  Ah yes.  Pleased and Proud.  Perhaps I've had enough punch.
In other news … I have a grave dislike of Christmas traffic.  Even in our little tiny town there was a decided mark up of cars buzzing to-and-fro in a most Un-Southernly-Slow manner.  But we did make it to the post office and sent off all the things we meant to mail.  It was not much. 
I'm going to try and post the Christmas Card DVD that Ryann put together within the next couple of weeks.  She really is a talented girl.  This season we have definitely slacked off, tho.  Coie made no Christmas Candy.  I think that's a first in five years.  I'm not sad, tho.  The amount of weight I've already gained is startling.  I hate tight clothes.  Hate them.  It makes me claustrophobic.  I don't need any Coie Christmas Candy.  What I really need is a new workout video.
Ok, I gotta run.  I gotta get back to Middlemarch.
PS Congrats to Jess — nearly TEN weeks pregnant!  As cool as my brother is, that's something he's not been able to accomplish.