Everybody needs a partner.  It started with Adam.  When he named the animals and saw them all paired up, the poor fellow figured out he was lonely.  So God arranged Eve for him.  Such is life.   
So Coie, my oldest daughter, also looked about her and realized something was missing.  There was something wanting.  There was a void and an emptiness.  And… being the kind soul that she is, she went out of her way to remedy this deficiency. 
Thus, she found a wife for Banjo, our Great Pyrenees.
Is that not the most fluffiest sweetest bit of puffery that's ever walked on four legs?  Coie named her Fiddle.  And hopefully in a year or so Banjo and Fiddle will produce a basket full of duplicate Great Pyrenees.  Who says arranged marriages aren't glorious?
I have a sausage jingle stuck in my head.  It's so catchy that I can't get it out.  I hate that sausage jingle.  I will never buy Wampler's even if it is "…the best in all in the land".
Ok, in non sausage news, we had a superbly brilliant Christmas.  Once again Charley and Jess (our favorite North Pole Elves) sent the most incredible presents imaginable.  No, seriously, they should get some sort of award.  They just seem to instinctively know what to get to make people go thru the roof.
I won't list all 500 things they sent, but the highlights include a new handmade wooden butterfly necklace for me (I cried when my last one broke), an espresso/coffee maker, an Alaskan survivor video from the late 60s that puts Bear Grylls and Les Stroud to shame and other sundry delights.
The only thing Coie really really wanted was Lazy One pajammies and a wooden thumb ring, and Jess and Charley came thru big time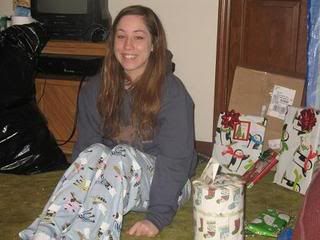 But the funnest thing they sent was an Xbox with games.  Geoff the Great and all the kids think it was the best present of all.  Me? I am happy they are happy.  For now.  But I'm guessing in about a week I will probably turn into the Xbox Game Warden Nazi.
Even the cat had fun