So guess who is TWENTY today?  Good golly… one minute she's one year old and dropping doodies on the window sill, and then the next thing you know she's a grown up, beautiful adult.
I have two words for you.  Bitter.  Sweet.  But it's still mostly 'sweet' because I still get to see her every day.  Holy Mozers it has gone by fast.  And I can honestly say that she is one of the best (and godliest) people I have ever known. And possibly the smartest.  But most definitely, hands-down, she's the most uncoordinated least groovin' dancer I've ever met – oh wait, that's not counting Geoff the Great.  My daughter aint got no groove.  Don't ask her to Disco dance with you cause it simply won't happen.  Bobo and Emmiko, on the other hand, got the mama's funky moves.  Lucky them.  Although Coie can swing through a mighty sharp Virginia Reel.  Yet, I digress.  We're supposed to be complaining about how old Coie is.  Me, Jess, Coie and Ryann are going to spend the day shopping and eating and eating and eating.
I love you, Mookies.  But I'm sort of disappointed that you keep getting older.  No really. Stop it.  It's rebellious.
In other news, this is the best week so far of 2009.  Charley and Jess are indescribable.  Think of the most fun you've ever had, and then times it by twenty.  That's what spending a day with them is like. We love them so much and are incredibly blessed to have them in our lives.
And they are big time present givers.  I won't even go in to everything they've done, but the highlights have been a spankin' brand new ruby red Dell laptop that Jess decided to just run out and pick up for me – they also took our entire family to Wonderworks, out to eat several times, fixed our broken oven, plus got me set up with a trippy little doo-dad that plugs into the side of my laptop and gives me fast internet.  I am now officially off dial up.  That last one has been my favorite.
Some of the other highlights have been seeing the end result of Jessica's hair cutting talents:
And then, naturally, Charley felt compelled to, um, "fix it".  And no, that's not photoshopped. That's the real deal.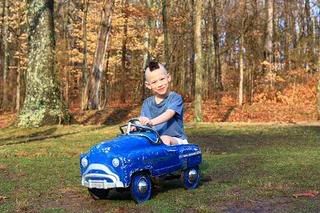 And to round things off with a weather report, today our property flooded.  But it was a fun flood.  No damage, just neat-o conditions for Charley to take really cool pictures.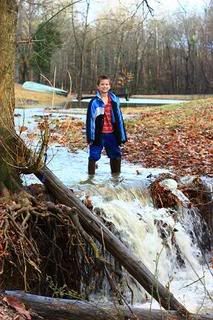 PS Congrats to the lovely Austins for putting together such a sublime Barn Dance Benefit.  Click here to see the fabulous pictures